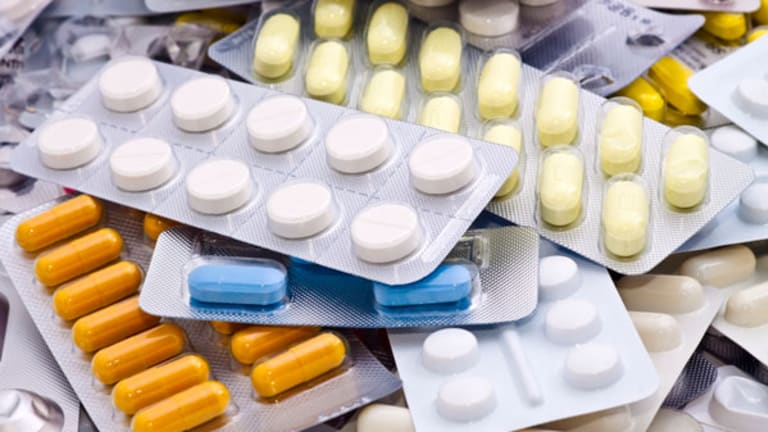 Publish date:
Big Swing Trade Ideas for Monday, May 12
Today's trade ideas focus on Meritor, Halcon Resources and Avanir Pharmaceuticals.
Today's trade ideas focus on Meritor, Halcon Resources and Avanir Pharmaceuticals.
NEW YORK (TheStreet) -- Good morning traders!
Today's top picks are Meritor (MTOR) - Get Report, Halcon Resources (HK) , and Avanir Pharmaceuticals (AVNR) .
1. First let's look at Meritor, which designs, develops, manufactures, sells, markets, distributes, services and supports integrated systems, modules and components to original equipment manufacturers and the aftermarket for the commercial vehicle, transportation and industrial sectors.
Friday's range: 13.23 - 13.67
52-week range: 6.09 - 14.15
Friday's volume: 1,469,602
3-month average volume: 1,314,550
Meritor is looking good at this level, as shares spiked after earnings on May 1. Shares have been consolidating since earnings, then retraced back to the t-line (8 exponential moving average, or 8 EMA).
[Read: How to Buy a Piece of Apple or Coke at a Fraction of the Price]
The chart is forming a bullish flag signal, with a breakout level of about $13.70. Watch for increasing volumes on the breakout. I'd enter this trade on any positive strength. I'd start with a 1/4 position and add to this position above $14 on the confirmed breakout.
This chart also looks like it is setting up for a j-hook pattern, which can be very profitable -- as much as 17% or more.
Meritor is up over 30% since the start of 2014, and shares have more than doubled in the last year. Plus the company keeps reporting strong earnings.
Meritor looks to be holding strong, so get in while the strength is on its side.
[Read: Apple's Next Major Acquisition After Beats]
Target the top of the current trend channel. I'd set a stop at about $12.75. Stay long until you see a confirmed sell signal or a close below the t-line.
2. Next up is Halcon Resources, an independent energy company. Halcon is engaged in the acquisition, production, exploration and development of onshore oil and natural gas properties in the U.S.
Halcon stock traded lower on Friday, closing down 1.56% to $5.69 a share.
Friday's range: 5.65 - 5.87
52-week range: 3.16 - 6.75
Friday's volume: 7,198,227
3-month average volume: 6,267,610
Halcon was a "rounded bottom breakout" back on March 27, and has traded up 52% since then. This is the perfect example of the rounded bottom breakout's potential.
As of now, shares need to consolidate for a few days, as the trajectory is a bit too steep to sustain. Watch for that this week. Plus, last Friday, the chart formed a "dark cloud cover" signal, which means it will likely trade lower today. A little consolidation will offer us a better entry price.
I'd like to enter a position in the $5.50 range, and set a stop at about $5.20. There is a gap down that has yet to be filled. And gaps always get filled. A gap down happened back in August 2013, and gaps are considered resistance. The gap resistance level goes to $5.87. Then there is resistance at about $6, $6.30 and $6.75.
Target the 52-week high at $6.75, and stay long until you see a confirmed sell signal or a close below the t-line.
[Read: Your Car Reveals Your Credit Score]
3. Avanir Pharmaceuticals, together with its subsidiaries, is engaged in acquiring, developing and commercializing novel therapeutic products for the treatment of central nervous system disorders primarily in the U.S.
Avanir traded positively on Friday, closing up over 5% to $4.87 per share.
Friday's range: 4.52 - 4.89
52-week range: 2.62 - 6.00
Friday's volume: 4,426,48
3-month average volume: 2,928,490
Avanir formed a j-hook over the last few months, and it is setting up for another j-hook now. The breakout level is at about $5, so watch for increased volumes through this level.
Avanir will likely pull back today, as it is a bit far from the t-line, and needs to consolidate a bit. I'd look to enter at about $4.50, and set a stop at about $4.30. There is heavy resistance at $5.00, so a break above that would be a great time to add to this position.
There isn't much more resistance to speak of until the 52-week high of $6.00, which would be roughly a 20% move from Friday's close.
Stay long until you see a confirmed sell signal or a close below the t-line.
Good luck traders -- and luck favors the prepared.
>>Read More: Allergan Calls Valeant Unsustainable, Rejects $45B Offer
>>Read More: Greenberg: Is Boulder Brands' Gluten-Free Bet Stalling?
At the time of publication, the author held no positions in any of the stocks mentioned.
This article represents the opinion of a contributor and not necessarily that of TheStreet or its editorial staff.