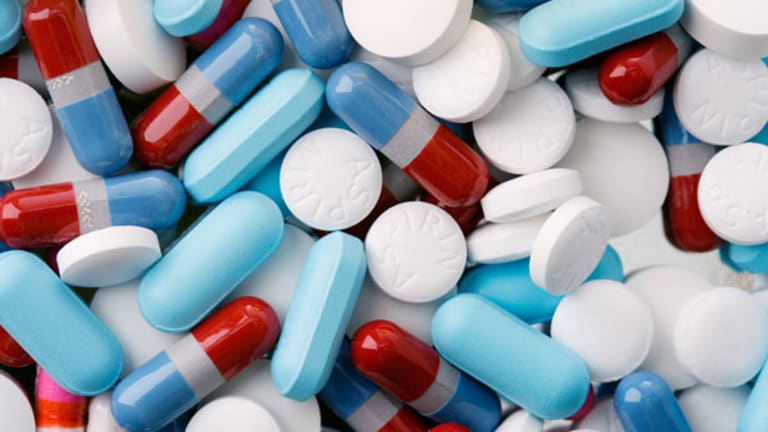 Big Pharma Stocks: Year in Review
Expect drug stocks to make new highs in 2014. But be selective.
NEW YORK (TheStreet) -- I wasn't, well, high on drug companies entering 2013. But I did make some quite good calls for stocks to buy, if I do say so myself.
I had to block out quite a bit of noise and investor angst to make those calls, and it was worth it. Think of, say, AbbVie (ABBV) - Get AbbVie, Inc. Report and Pfizer (PFE) - Get Pfizer Inc. Report, which have posted gains of 61% and 24%, respectively.
Now, I also had some regrettable calls. While I've always liked Johnson & Johnson (JNJ) - Get Johnson & Johnson Report, I've pleaded for more diversification in the business. The company was being carried buy its drugs business, while producing weak organic growth in areas like medical devices. I argued that J&J weakened its position against the likes of Abbott Labs (ABT) - Get Abbott Laboratories Report, which seemed more nimble.
[Read: Greenberg: And the Worst CEO of 2013 Is...?]
The Street saw it another way.
Not only has Johnson & Johnson posted gains of 33%, outperforming giants like Merck (MRK) - Get Merck & Co., Inc. Report and GlaxoSmithKline (GSK) - Get GlaxoSmithKline Plc Report, but with J&J's recent $650 million acquisition of privately held Aragon Pharmaceuticals, the company has now positioned itself for an even better 2014. It will look to attack Medivation (MDVN) , which has a strong oral medication that rivals J&J's top-selling prostate cancer drug Zytiga.
For other drug companies, there was very little to get excited about.
In what has been a fairly good year for the entire sector, Eli Lilly (LLY) - Get Eli Lilly and Company Report, which posted gains of just 3%, was a relative disappointment. I say "relative" here because I don't believe that I had read anything positive about the company at the beginning of 2013. In fact, most of the rumblings were about the company's pending "patent cliff," in which Lilly would become too exposed to generics competing with its top-selling drugs.

In fairness, some of these fears were right on target. Lilly's top-selling antidepressant drug Cymbalta, which accounts for more than 25% of the company's revenue, recently fell off patent. As 2014 approaches, Evista, Lilly's breast cancer reduction drug, will follow. Given that Evista generates close to $1 billion in revenue, this means that almost two-thirds of Lilly's 2013 revenue will be essentially up for grabs.
But as I've said, these facts were all well-known prior to the start of 2013. Many cited them as reasons to avoid the stock. With Lilly's meager gains of 3%, I will say that investors listened. But the timing and the expected/proposed outcome was always too exaggerated. And investors shouldn't assume that Lilly's stock will remain depressed indefinitely.
Eli Lilly is still a strong name with capable management. With the stock trading around $50 per share, I expect the Street will soon come to its senses and appreciate how cheap these shares are -- at least on a relative basis compared to Glaxo and Sanofi (SNY) - Get Sanofi Report.
[Read: So Your Credit Card Was Hacked, Now What?]
Glaxo didn't outperform AbbVie or Bristo-Myers Squibb (BMY) - Get Bristol-Myers Squibb Company Report, which both posted gains of more than 60%. But with gains of 23%, Glaxo did surpass what many believed it deserved.
The year brought to light more than its share of scandals, and Glaxo and Sanofi both got singed.
In a July report, Glaxo was alleged to have secretly funneled close to 3 billion yuan, or what amounts to almost $500 million in U.S. dollars to travel agencies. Allegedly these funds were to be used as bribes to Chinese officials and doctors to prescribe Glaxo-branded drugs. This news prompted an immediate probe by the Chinese police.
Not to be outdone, Sanofi's name emerged in a similar scandal over bribes to Chinese doctors. A New York Times report cited China's 21st Century Business Herald regarding payments of roughly $274,000 to over 500 Chinese doctors -- payments disguised as "grants."

It's worth noting here that while an official resolution remains pending, both companies have since taken measures to become more transparent in their business practices. Also, they're working with Chinese officials and other regulators to settle these claims. Sanofi shares, meanwhile, still managed to outperform Eli Lilly by 100%. What does that tell you?
To me it says that the Street appreciates any means of profit growth. Investors will punish companies that  are unable or unwilling to satisfy that insatiable appetite.
That said, I do expect drug stocks to continue making new highs in 2014. But aside from Lilly, I would be careful with those with off-patent exposure. I'd also be wary of those that resort to strict cost-cutting measures to boost earnings.
At the time of publication, the author held no position in any of the stocks mentioned.
Follow @saintssense
This article was written by an independent contributor, separate from TheStreet's regular news coverage.