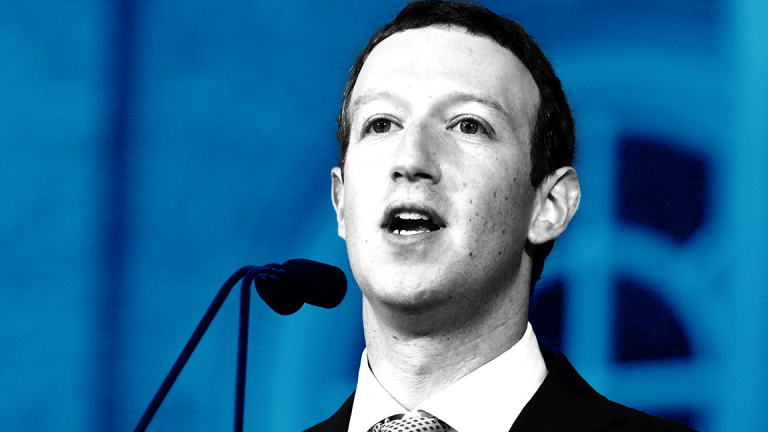 Verizon and Facebook Spending Plans Give Strong Clues to Tech Earnings
This earnings season is already showing that capital spending from cloud giants remains far stronger than spending from traditional carriers. That affects quite a few hardware and chip firms.
For hardware, chip and component suppliers depending on service provider spending, it's both the best of times and the worst of times, depending on which types of service providers they're relying on. For proof, just take a look at Verizon (VZ) and Facebook's (FB) 2018 capital spending budgets.
Though this earnings season still has a ways to go, it already looks as if a trend that was already quite pronounced during much of 2017 has intensified as of late: Capital spending by cloud services providers is much stronger than capex from telecom carriers.
Over the last few days, Texas Instruments (TXN) and contract manufacturer Sanmina (SANM) have each helped drive home just how challenging the telecom capex environment remains. Though it slightly beat Q4 revenue estimates, TI guided for Q1 revenue of $3.49 billion to $3.79 billion, which at a $3.64 billion midpoint was below the quarter's consensus by $100 million. Sanmina, meanwhile, warned it now expects to report fiscal first quarter (December quarter) revenue of $1.74 billion, below prior guidance of $1.75 billion to $1.8 billion.
TI's shares, which had run up strongly since October, fell 8.5% on Wednesday, Jan. 24 in response to its outlook. Sanmina's shares fell over 23% on Monday, Jan. 22 thanks to its warning; shares of contract manufacturers such as Flex (FLEX) and Jabil (JBL) fell in sympathy, as did those of optical component/module suppliers such as Lumentum (LITE) and Fabrinet (FN) .
On its earnings call, TI noted that while its auto and industrial chip sales remain strong, demand from the telecom equipment market has slumped. "We did see changes in [telecom] equipment," said investor relations chief David Pahl. "I wouldn't describe that as something that's necessarily a macro effect. It is just what it is, that continues to be a choppy market for us, but a good market."
TI also noted that customer demand from the "personal electronics" space, which covers PCs, mobile devices and TVs, was mixed. Some analysts think the weakness in this field stems from light demand from Apple; TI supplies battery-charging and power-management ICs that go into iPhones.
Sanmina blamed its warning on "slower than expected new program ramps and an unfavorable program mix." During its October earnings call, the company referenced new optical networking, automotive and wireless infrastructure program ramps. RBC thinks optical is to blame, and declares Sanmina's warning fits with supply chain checks pointing to "continued softness" in optical through the June quarter.
Quite a few optical component vendors had a rough time in 2017. Chinese telecom capex pauses weighed on the group, and in some cases order lumpiness caused by customer migrations from the older CFP and CFP2 transceiver form factors to the newer QSFP28 form factor took a toll.
Meanwhile, Verizon and Comcast (CMCSA) have both issued conservative 2018 capex forecasts this week. Verizon, whose capex has remained in the $17 billion to $18 billion range each of the last four years, expects more of the same in 2018: It's guiding for full-year capex of $17 billion to $17.8 billion. Comcast, for its part, forecasts the percentage of its cable revenue that's dedicated to cable capex will drop by half a percentage point this year.
The fact that so many carriers in the U.S. and Europe are seeing little to no revenue growth remains a big headwind. It also doesn't help that 5G network rollouts are likely a couple years away from ramping. Mobile infrastructure giants Nokia (NOK) and Ericsson (ERIC) saw declining equipment sales in 2017, and they could be in store for more of the same in 2018. And due to soft demand from both mobile and wireline carriers, Cisco Systems' (CSCO) service provider orders were respectively down 6% and 7% annually during its October and July quarters.
On the flip side, there's little evidence that a capex binge by U.S. and Chinese cloud giants running hyperscale data centers is meaningfully slowing down. Japan's Nidec, a top supplier of hard drive motors, arguably provided fresh evidence during its Jan. 24 earnings call when it reported seeing strong demand for high-density helium hard drives. Cloud giants have been avid consumers of helium drives; Western Digital (WDC) has been the largest supplier of them.
In November, Facebook forecast its capex would roughly double in 2018 from a 2017 level of $7 billion, which itself represents 56% annual growth. Amazon.com (AMZN) reported its purchases of property and equipment via capital leases, which is largely driven by Amazon Web Services (AWS), grew 65% annually in Q3 to $2.3 billion. And Alphabet/Google (GOOGL) reported its capex grew 48% in Q3 to $3.5 billion.
The likes of Microsoft (MSFT) , Apple (AAPL) , Baidu (BIDU) , Tencent (TCEHY) and Alibaba (BABA) are also believed to be spending heavily on data center capex. Beneficiaries include Arista Networks (ANET) , whose low-latency data center switches are quite popular with cloud giants; Nvidia (NVDA) , whose server GPUs are heavily used to train AI/machine learning algorithms and (increasingly) run those algorithms against real-world data; and Intel (INTC) , which -- though starting to see tougher competition -- still accounts for the lion's share of the server CPUs going into cloud data centers.
Look for fresh signs of this still-widening chasm between the spending habits of telco/pay-TV service providers and cloud giants as earnings season progresses. The first group continues facing major top-line pressures, and is spending very cautiously because of it. The second group is seeing much better business conditions, and is comfortable making giant investments both to roll out new services and meet the considerable infrastructure needs of existing ones.
This column originally appeared on Real Money, our premium site for active traders. Click here to get more great columns like this.
Jim Cramer and the AAP team hold positions in Facebook, Comcast, Nvidia, Alphabet, Microsoft and Apple for their Action Alerts PLUS Charitable Trust Portfolio. Want to be alerted before Cramer buys or sells FB, CMCSA, NVDA, GOOGL, MSFT or AAPL? Learn more now.
More of What's Trending on TheStreet: