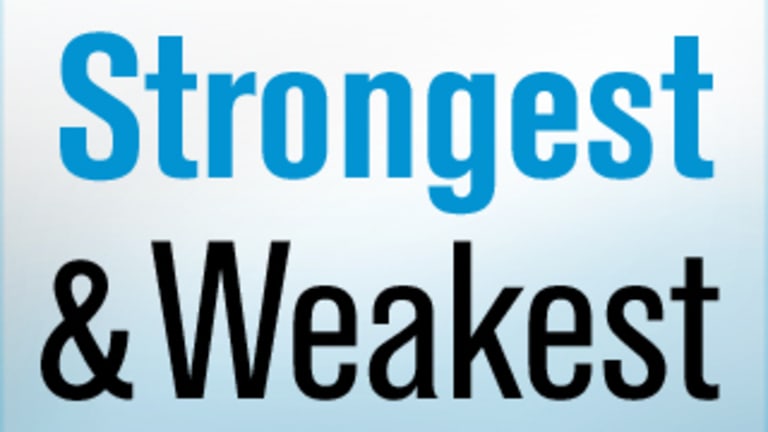 Big Georgia Banks See Profits Rise
Most of the largest banks in the Peach State saw earnings improve during the second quarter.
ATLANTA (
) -- Most large Georgia banks saw significant improvements in operating profit during the second quarter, as the shakeout of weaker community banks continued.
According to data provided by SNL Financial, 33 of Georgia's 247 banks and thrifts were
per ordinary regulatory guidelines as of June 30 and were included on
TheStreet's
second-quarter
, excluding five institutions that have failed since the list was published.
Regulators have shuttered 19 Georgia banks so far in 2011.
Since the
TheStreet's
second-quarter Watch List is based solely on capital ratios, we take a different approach on our quarterly coverage of banks in key states, by looking at overall credit quality to identify troubled institutions.
Georgia Banks with Weakest Asset Quality
The following list includes all banks in the state with nonperforming assets comprising more than 15% of total assets as of June 30. Please click the image to expand the table.
Nonperforming assets (NPA) include nonaccrual loans, loans past due 90 days or more and repossessed assets. Government-guaranteed loan balances are excluded. The ratio of net charge-offs to average loans is annualized. The total risk-based capital ratios needs to be at least 8% for most institutions to be considered adequately capitalized by regulators and 10% for most to be considered well-capitalized. Most of the undercapitalized banks on the above list are operating under regulatory orders to achieve and maintain total risk-based capital ratios higher than 10%.
The list also includes financial strength ratings provided by
Weiss Ratings
. Weiss Ratings uses a very conservative ratings model, placing the greatest weight on capital strength, credit quality and earnings stability to assign ratings ranging from A-plus (Excellent) to E-minus (Very Weak).
The Georgia bank with the highest nonperforming assets ratio as of June 30 was
Douglas County Bank
of Douglasville. The bank was included in
TheStreet's
second-quarter Bank Watch List, because its total risk-based capital ratio was 6.70%, which was below the 8% required for most banks to be considered adequately-capitalized under regulatory guidelines.
The largest Georgia bank with nonperforming assets exceeding 15% of total assets as of June 30 was
First State Bank
of Stockbridge, with $564 million in total assets. The bank was also undercapitalized as of June 30, with a total risk-based capital ratio of 4.21%.
Georgia's Largest Banks
Here are the 10 largest banks in the state, along with key metrics as of June 30:
SunTrust Bank
of Atlanta is, by far, the largest institution in the state, and is the main subsidiary of
SunTrust Banks
(STI) - Get SunTrust Banks, Inc. Report
. Based on the most recent deposit market share data provided by the Federal Deposit Insurance Corp., SunTrust Bank had a 16.6% deposit market share in Georgia as of June 30, 2010, followed by
Wells Fargo Bank NA
(the main banking unit of
Wells Fargo
(WFC) - Get Wells Fargo & Company Report
), with a 15.2% market share;
Bank of America NA
(the largest subsidiary of
Bank of America
(BAC) - Get Bank of America Corp Report
), with an 11.2% deposit market share; and
Synovus Bank
of Columbus, Ga., in fourth place with a 7.6% deposit market share in its home state.
SunTrust Bank reported its fourth-straight quarterly profit, earning $187.3 million during the second quarter for a return on average assets (ROA) of 0.46%, improving from net income of $94.7 million and an ROA of 0.24% in the first quarter. The bank's provision for credit losses declined to $395 million in the second quarter, from $451.3 million in the first quarter and $702.9 million in the second quarter of 2010.
The second-largest Georgia bank is Synovus Bank (held by
Synovus Financial
(SNV) - Get Synovus Financial Corp. Report
), which reported a small second-quarter profit of $4.4 million, following a first-quarter net loss of $57.4 million. The parent company owes $967.9 million in government bailout funds received through the Troubled Assets Relief Program, or TARP, in December 2008. The holding company is still in the red, reporting a second-quarter net loss to common shareholders of $53.5 million, or 7 cents a share.
United Community Bank
of Blairsville is the third-largest Georgia institution, with $7.4 billion in total assets as of June 30. The bank is the main subsidiary of
United Community Banks
(UCBI) - Get United Community Banks, Inc. Report
, which owes $180 million in TARP money. United Community Bank reported a second-quarter profit of $8.9 million, following posted a first-quarter net loss of $140.9 million, mainly because of the holding company's aggressive actions to reduce nonperforming assets through bulk sales.
The best-performing subsidiary of a publicly-traded holding company among the largest 10 Georgia institutions during the second quarter of 2011 was once again
BB&T Financial FSB
, which is a smaller but lucrative subsidiary of
BB&T Corp.
(BBT) - Get BB&T Corporation Report
, with $2.6 billion in total assets as of June 30. BB&T Financial FSB earned $32.6 million during the second quarter, for an ROA of 5.09%. The thrift subsidiary focuses on credit card lending and also has a subsidiary specializing in issuing retail gift certificates and a wholesale mortgage lending unit.
Strongest Georgia Banks and Thrifts
Based on second-quarter financial reports, 14 Georgia institutions were rated B (good) or above by Weiss Ratings:
The only bank on the list that is a subsidiary of an actively-traded public company is
Invesco National Trust Co.
, which is held by
Invesco PLC
(IVZ) - Get Invesco Ltd. Report
.
Thorough Bank Failure Coverage
Since the current wave of bank closures began in 2008, Georgia has had the highest number of failures, with 70 institutions closed by regulators. Next is Florida, which has had 56 failures, then
with 45 and California, with 38.
All 395 bank and thrift failures since the beginning of 2008 are detailed in
TheStreet's
interactive bank failure map:
The bank failure map is color-coded, with the states having the greatest number of failures highlighted in dark gray, and states with no failures in light green. By moving your mouse over a state you can see its combined 2008-2011 totals. Then click the state to open a detailed map pinpointing the locations and providing additional information for each bank failure.
RELATED STORIES:
Illinois Banks See Earnings Drag >>
--Written by Philip van Doorn in Jupiter, Fla.
>To contact the writer of this article, click here:
.
>To follow the writer on Twitter, go to
http://twitter.com/PhilipvanDoorn
.
>To submit a news tip, send an email to:
.
Philip W. van Doorn is a member of TheStreet's banking and finance team, commenting on industry and regulatory trends. He previously served as the senior analyst for TheStreet.com Ratings, responsible for assigning financial strength ratings to banks and savings and loan institutions. Mr. van Doorn previously served as a loan operations officer at Riverside National Bank in Fort Pierce, Fla., and as a credit analyst at the Federal Home Loan Bank of New York, where he monitored banks in New York, New Jersey and Puerto Rico. Mr. van Doorn has additional experience in the mutual fund and computer software industries. He holds a bachelor of science in business administration from Long Island University.