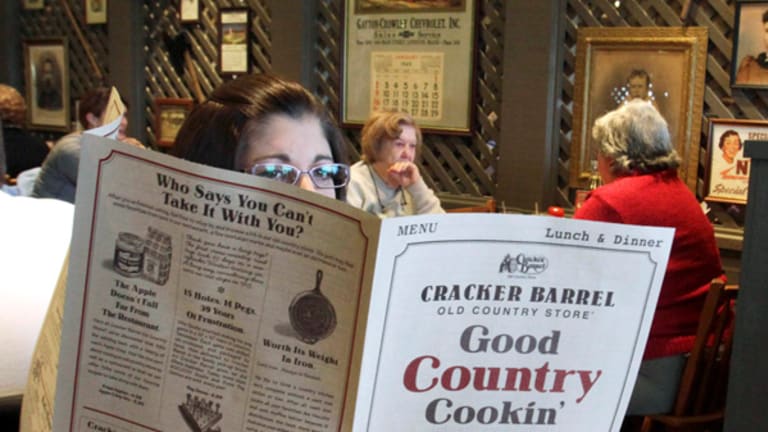 Big Changes at Cracker Barrel Not What You'd Think
Biglari should try the new Wholesome Fixin's menu at Cracker Barrel.
NEW YORK (TheStreet) -- Change is in the air at Cracker Barrel (CBRL) - Get Cracker Barrel Old Country Store Inc. Report, casual dining's answer to country cooking in a chain format, and it's not because activist investor Sardar Biglari, whose company effectively controls nearly 20% of Cracker Barrel shares, was successful at having his name and fellow Biglari Holdings (BH) - Get Biglari Holdings Inc. Class B Report nominee Phil Cooley added to the company's slate of board of director nominees for 2013.
In fact, not surprisingly, yesterday, Cracker Barrel's nominating committee unanimously voted to keep the duo off of the slate. Now it's up to Biglari to determine whether he will instead wage yet another expensive proxy fight to gain seats on the board. There's never a dull moment in the Biglari Holdings-Cracker Barrel feud.
The real change I am referring to occurred yesterday, as the restaurant chain rolled out its answer to the growing trend among restaurants of offering a line of healthier menu items. Long known for its focus on beef and chicken dishes with gravies, biscuits, corn muffins, and other higher calorie items, the new Wholesome Fixin's menu is an attempt to draw in more health-conscious customers.
The new menu features several new items for breakfast, lunch and dinner, with lower calorie counts than Cracker Barrel's traditional offerings. New breakfast items, all below 550 calories, include dishes with fresh fruit, egg beaters, turkey bacon, and low carbohydrate bread. It's a long way from sausage, bacon, sawmill gravy, biscuits, pancakes, and hashbrown casserole that Cracker Barrel is known for.
The new lunch and dinner menu features six new items, all with less than 600 calories, and 13 lighter than normal side dishes. You can have the new pecan crusted catfixh, buttermilk oven fried chicken breast, pepper grilled sirloin, spice rubbed pork chop, grilled chicken 'n' fresh vegetable salad or wholesome vegetable plate, and perhaps walk away feeling less guilty, and full, than if you'd consumed the roast beef dinner, with three sides plus corn muffins and buttermilk biscuits.
This is an interesting move by Cracker Barrel, and should draw in some new faces. I am often shut out by the female members of my family from going to our local Cracker Barrel because they equate it with heavy foods, high in calories. I'm anxious to have them try some of the items on this new menu in order to see if it will change their perceptions.
The one thing Cracker Barrel does not want to do, in my opinion, is chase away its typical patrons, those that eat there because of the southern influenced, higher calorie count dishes. It's comfort food at its best (at least from a chain restaurant), and it would not be wise to deviate too far from that.
To that end, it appears that the company is handling its new menu in the right way, by keeping the rest of the menu intact, and trying to reach a broader audience with the lighter items.
As for Sardar Biglari, I wonder what his take is on the new menu? Probably not positive, I'm guessing. Now we'll wait to see if he wages another proxy fight.
This article is commentary by an independent contributor, separate from TheStreet's regular news coverage.
At the time of publication, Heller was long BHI.
Jonathan Heller, CFA, is president of KEJ Financial Advisors, his fee-only financial planning company. Jon spent 17 years at Bloomberg Financial Markets in various roles, from 1989 until 2005. He ran Bloomberg's Equity Fundamental Research Department from 1994 until 1998, when he assumed responsibility for Bloomberg's Equity Data Research Department. In 2001, he joined Bloomberg's Publishing group as senior markets editor and writer for Bloomberg Personal Finance Magazine, and an associate editor and contributor for Bloomberg Markets Magazine. In 2005, he joined SEI Investments as director of investment communications within SEI's Investment Management Unit.
Jon is also the founder of the
, a site dedicated to deep-value investing. He has an undergraduate degree from Grove City College and an MBA from Rider University, where he has also served on the adjunct faculty; he is also a CFA charter holder.