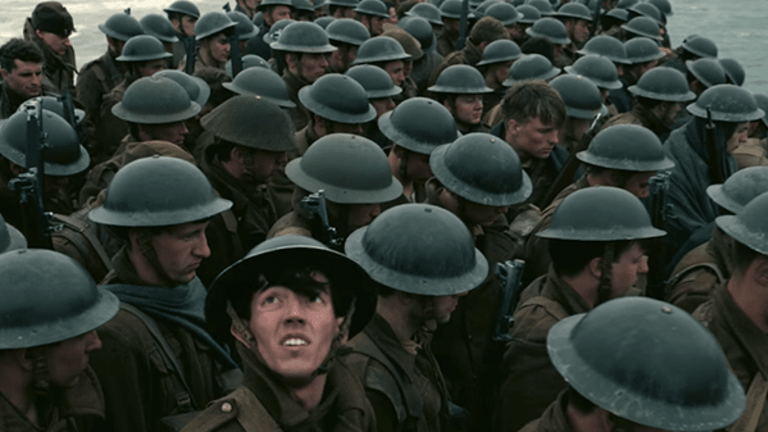 Big-Budget 'Dunkirk' and 'Valerian' Hope to Dazzle at Weekend Box Office
'Girls Trip' also looks to be a strong earner as 'Dunkirk' and 'Valerian' will aim to make good on their hefty price tags.
Things look to get crowded at the box office this weekend as three new wide releases enter theaters to battle reigning champ "War for the Planet of the Apes."
Warner Bros.' (TWX) "Dunkirk," a $150 million war film helmed by blockbuster director Christopher Nolan, looks like the strongest contender to seize the No. 1 spot. Universal Studios' (CMCSA) - Get Comcast Corporation Class A Report "Girls Trip," however, should be a not-so-distant second, as it looks to be the first R-rated comedy of the year to break out.
Elsewhere, the expensive "Valerian and the City of a Thousand Planets"from STX Entertainment LLC will attempt to corner the sci-fi market, but it will be tough to conquer the second weekend of "War for the Planet of the Apes." The top 12 films should gross roughly $170 million, up about 8% from last weekend but down 7% from the same frame last year.
Over the past decade, there has been no director more reliable than Christopher Nolan at the box office. That is why Warner Bros. has worked so hard to keep him in the fold -- the studio has had a distribution deal on all of Nolan's major movies since 2002's "Insomnia," with the only exception being 2006's "The Prestige." Nolan, of course, is best known for directing the "Dark Knight" trilogy, a billion-dollar franchise in the U.S. that arguably set the tone for all of Warner Bros.' future DC films.
War films have historically not been as financially successful as superhero films, though, which is why the studio is only projecting a $35 million to $40 million opening for "Dunkirk." That would mark Nolan's lowest opening weekend since "The Prestige," but it would not be a bad start by any means.
Indeed, with an impressive 95% rating on Rotten Tomatoes, word of mouth should bolster "Dunkirk" for the rest of the summer, as was the case for Nolan's dream-heist film "Inception." That movie also debuted in mid-July, and it made only a fifth of its overall $292.6 million domestic gross on its opening weekend (most films make roughly a third of their overall gross in their debut).
If "Dunkirk" has similar legs to "Inception" -- and given that it looks like a particularly weak August slate this year, it should -- a $35 million to $40 million opening weekend would be a solid figure.
Still, there are several reasons to think that "Dunkirk" might fly higher than Warner Bros.' estimate. For one, the glowing reviews could convince moviegoers who were on the fence about the movie to check it out. Nolan fans are sure to come out in full force thanks to the overwhelmingly positive buzz, which already includes Oscar chatter. And though Warner Bros. has not emphasized the film's cast in the marketing, "Dunkirk" does feature some big names in Tom Hardy and Harry Styles (of One Direction fame). The inclusion of Styles, in particular, could help "Dunkirk" attract a larger female audience than it otherwise might have.
All of these positive factors should help "Dunkirk" blow past studio expectations with a $50 million to $52 million opening weekend.
"Girls Trip" should party its way into second place, as the film looks to outstrip the opening weekends of this summer's past R-rated comedies such as "Rough Night" ($8 million) and "The House" ($8.7 million). That should not be too difficult, as "Girls Trip" has a laugh-out-loud trailer and features popular actors Queen Latifah and Regina Hall. Positive reviews (92% on Rotten Tomatoes) also should help drum up enthusiasm. The film is also backed by popular producer Will Packer, who has had success in recent years with the "Ride Along" and "Think Like a Man" franchises.
Comcast Corp.'s Universal proved to be a savvy scheduler in dating the film. "Girls Trip" is opening over the same corridor as last summer's "Bad Moms," a sleeper hit with $113.3 million domestically. (A sequel, "A Bad Moms Christmas," is scheduled for Nov. 3.)
The film is also excellent counter-programming to "Dunkirk" -- as "Mamma Mia!" was able to break out while opening against "The Dark Knight" in 2008, so too should "Girls Trip" be able to corner the girls-night-out market this weekend. "Mamma Mia!" opened to $27.8 million; expect "Girls Trip" to exceed that figure with a $32 million to $34 million opening weekend.
In third place we find last weekend's box office champ (chimp?), "War for the Planet of the Apes." The Fox (FOXA) - Get Fox Corporation Class A Report trilogy capper debuted to $56.3 million last weekend, down from its predecessor's $72.6 million opening as franchise fare continues to struggle at the box office this summer. Fortunately for the "Apes," they have positive reviews and word of mouth in their corner. (The film sits at 95% on Rotten Tomatoes and has an 88% Flixster Audience score.)
Though the film may suffer a sharp decline this weekend, as sequels are wont to do, the positive buzz may help "War for the Planet of the Apes" stabilize down the road. Expect the film to drop close to 60% for a $23 million to $24 million weekend and a domestic cumulative total just over $100 million.
"Spider-Man: Homecoming" should be close behind, as the Sony (SNE) - Get Sony Corp. Report /Marvel Entertainment (DIS) - Get Walt Disney Company Report team-up continues to capitalize on enthusiastic word of mouth and a lack of family-friendly offerings in the market. "Homecoming" already has shot past the $202.9 million domestic gross of the last Spider-Man film, 2014's "The Amazing Spider-Man 2," and has the $262 million domestic total of 2012's "The Amazing Spider-Man" next in its sights.
Expect "Spider-Man: Homecoming" to gross $22 million to $23 million this weekend for a domestic total of around $250 million.
The film rounding out the top 5 is also the most expensive film of the bunch, as the $180 million "Valerian and the City of a Thousand Planets" will hope not to get trampled in its debut. The film, based on a French graphic novel, has long been a dream project of director Luc Besson, who also helmed such sci-fi hits as "The Fifth Element" and "Lucy."
Besson produced the spectacle through his own French film production company, EuropaCorp, and raised a lot of the budget for the movie through foreign presales. The savvy director also covered some of the cost through equity spending and tax subsidies, leaving EuropaCorp's exposure on the film at a reasonable $40 million to $50 million.
A bulk of that exposure comes from the U.S., because EuropaCorp is ceding upside to distributor STX Entertainment. Big-budget sci-fi is hit and miss with domestic audiences -- for every success like "Avatar" or "Inception," there's a flop like "John Carter" or "Jupiter Ascending." Domestic success usually correlates with positive reviews for sci-fi ventures, which is good news for "Valerian": the film sports a solid Rotten Tomatoes score of 61%.
While that is deemed a 'Fresh' rating, it's not necessarily one that will convince moviegoers to rush out to theaters without added incentive. The cast's only big name is Rihanna (who, as "Battleship" proved, is not a box office draw), and "Valerian" will have a hard time not being overshadowed by "Dunkirk" despite its more escapist leanings. "Valerian" should chart a debut around $16 million to $18 million, which would be a disappointing -- but not disastrous -- start for this expensive picture.