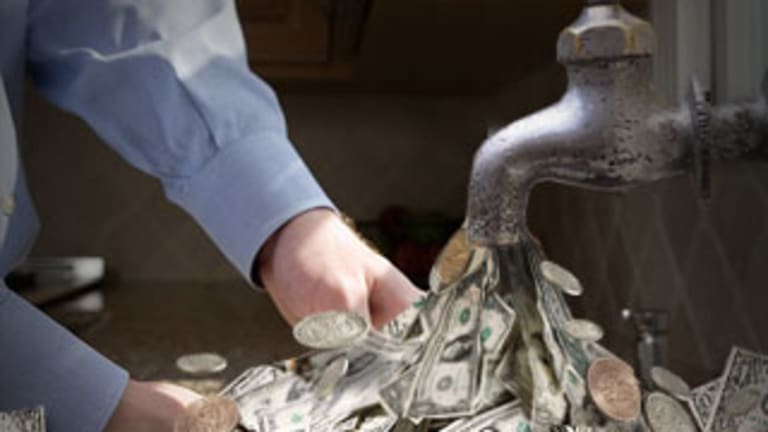 Big Banks Look More Like Utilities Every Day
Regulation has gotten banks out of the casino business. Now they look more like the power utility, but without those pesky dividends.
NEW YORK (TheStreet) -- Not that long ago, big banks were said to be run like "casinos," but the comparison is losing steam. Regulatory crackdowns are making financial firms look more like heavily-regulated utilities every day.
The government has done a sharp 180-degree turn from lax regulatory practices of the past: The president has heated up anti-Wall Street rhetoric; Congress has rendered some business lines unviable; federal regulators are micromanaging capital decisions; state attorneys general are railing against practices that consumers aren't fond of.
Economist: Turn Banks Into Utilities
Given the midterm-election battle approaching in Washington, one has to wonder whether the tighter regulation will last far beyond November. But for the time being, nearly every type of financial service is being targeted by the government in some way, shape or form.
Mortgages?
Check.
Derivatives?
Check.
Credit cards?
Check.
Debit cards?
Check.
Trading?
Check..
Life insurance?
Check.
Even
pet insurance has been targeted by lawmakers in California.
About the only thing banks can do these days without the government casting a stink eye is take in deposits.
"There is little question that with the present setup at the White House and
Democratic control of both Houses, the view of 'Wall Street' will remain hostile," says John Alan James, a professor at Pace University's Lubin School of Business, who spent decades consulting multinational corporations on regulatory issues.
The reaction from the banking industry - and its investors - has been fierce.
Big banks like
Bank of America
(BAC) - Get Bank of America Corporation Report
,
Citigroup
(C) - Get Citigroup Inc. Report
,
JPMorgan Chase
(JPM) - Get JP Morgan Chase & Co. Report
,
Wells Fargo
(WFC) - Get Wells Fargo & Company Report
,
Goldman Sachs
(GS) - Get Goldman Sachs Group Inc. (The) Report
and
Morgan Stanley
(MS) - Get Morgan Stanley Report
poured millions of dollars apiece into
lobbying against various proposals before the Dodd-Frank reform bill was signed into law. They're now working with regulators to make sure the implementation goes smoothly. (Small banks have done the same
for their own issues, but found a more conciliatory ear.)
Since the regulatory crackdown touched off with fraud charges against Goldman Sachs in mid-April, those six stocks have lost roughly 25% of their market value. Bank of America - the country's largest bank, which outlined heavy exposure to reform costs - is down 35%. None of those banks have been able to restore any part of their tattered dividends, even though capital levels are at historic highs.
"Our Tier 1 is now higher than it has ever been in my 30 years with the company," John Stumpf, CEO of Wells Fargo, said last month. "Our Tier 1 common now is as high as it has ever been. We are generating it at very rapid speed...And, frankly, it's time we start rewarding our owners, our stockholders, with a more representative dividend given the performance of this company. And that is job one around here. We want to get that done."
What's standing in the way? Regulation.
Impending changes to capital requirements have kept some firms hesitant about raising dividends. Others must consult with regulators who would like to see banks use money for lending rather than shareholder rewards. For instance, Bank of America is operating under a "memorandum of understanding" with federal regulators, and cannot lift its dividend until the MOU is lifted.
In other areas, Goldman and Morgan Stanley earn their keep on Wall Street, clearly leaving both firms in the regulatory crosshairs. JPMorgan is also at the crux of the issue, with a large trading business, a large derivatives business and a huge consumer-banking operation. Meanwhile, Citigroup isn't just regulated by the government but 18% owned by the Treasury Department. Wells Fargo is arguably the
least affected by financial reform out of the six big banks, but still
stands to be impacted, particularly by a new rule limiting fee income.
Still, it's not clear what the true impact of regulatory reform will be.
New laws have made significant structural changes to the financial services industry. But most of them won't be implemented for years, giving banks the time they need to adjust. Additionally, the Dodd- Frank Bill sought to provide a broad framework within which regulators have leeway to structure sound rules. In theory, the implementation will protect the financial system without clotheslining the banks that operate within it.
When all is said and done, it's questionable whether banks will actually look anything like utilities or operate within the same tight restrictions.
"To me it's totally hyperbole," says Herb Kaufman, a former
Fannie Mae
(FNMA.OB)
economist.
Kaufman consulted financial institutions and the Treasury Department on regulatory issues before becoming a professor at Arizona State University's W. P. Carey School of Business. He notes that the industry has already been adapting to recent changes.
For instance, banks have argued that their ability to price risk is now micromanaged by rate and fee restrictions - similar to utilities, which have to get rate hikes approved by Public Utility Commissions, or PUCs. But unlike utilities, banks offer many different kinds of products and services, not all of which are restricted and none of which need direct approval for rate hikes.
"Utilities are utilities," says Kaufman. "You think of a utility, and what does it sell? It sells electricity. It can't change its product mix from electricity to pizzas. The banks can invent and innovate new products all the time, still within the general category of financial services."
Ultimately, says Kaufman, financial firms will find profits hidden in the wiggle room of the more acerbic rules. If push comes to shove, he adds, the industry can move certain operations to friendlier locales: "A utility can't move from North Carolina to London," he quips.
The comparisons between financial firms and other heavily regulated industries may be useful in another sense, though.
Airlines were tightly monitored by the Civil Aeronautics Board for about 40 years, through the late-1970s. The CAB was responsible for keeping fares low, as well as monitoring safety, routes and schedules. Yet the absence of CAB hasn't necessarily made airlines a better investment for shareholders.
When restrictions seemed to be hindering the airline business the most, in the 1960s and 1970s, the industry's revenue grew 13% and 12%, on average, according to the Air Transport Association. In the 2000s, revenue grew just 3% and the range of profts and losses became a lot more volatile.
Additionally, while the smokestack-sector's profits don't hold a candle to those of financial firms during boom times, they're a lot more reliable. The Dow Jones Utility Index has outperformed the KBW Bank Index over the past year, five years and 10 years as investors fled volatility and flocked toward safety.
Still, James doesn't foresee the tense regulatory atmosphere lasting very long, once definitive rules are established: "Do I see the Fed, Systemic Risk Council, FDIC, exchanges take on the rigidities of the PUC? No."
--Written by Lauren Tara LaCapra in New York.
>To contact the writer of this article, click here:
Lauren Tara LaCapra
.
>To follow the writer on Twitter, go to
http://twitter.com/laurenlacapra
.
>To submit a news tip, send an email to:
.
Disclosure: TheStreet's editorial policy prohibits staff editors, reporters and analysts from holding positions in any individual stocks.