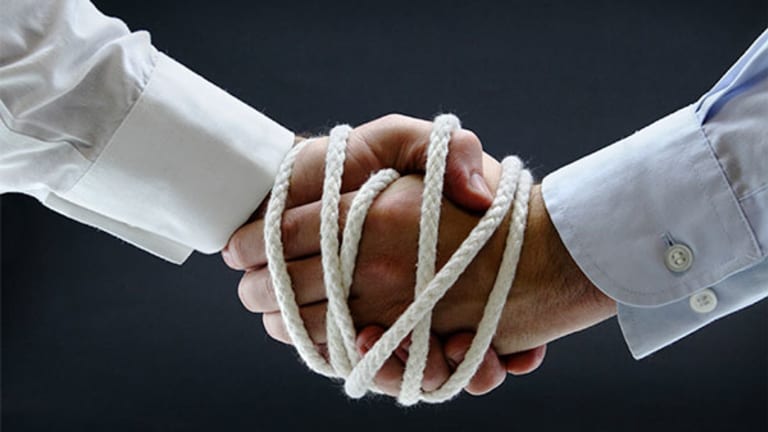 Big Banks and Tiny Fin-Tech Start-ups
Big banks are partnering with tech startups and moving away from traditional banking. But the combination of the two raises serious concerns for the financial system.
"If you can't beat them, join them," Jim Henson, the legendary puppeteer best known for creating The Muppets, liked to say. And that's exactly what some big banks have been doing as they move away from their traditional style of banking to a more technology-driven environment.
In the past few years, financial technology start-ups have upped the ante as they have thrived in a low-interest rate environment. Big banks, including Bank of America, Citibank and Wells Fargo, paid attention and started pouring money into these "fin-tech" start-ups in order to meet their own challenges.
So much so that, by 2014, Stephane Dubois, CEO of market data provider Xignite, told Markets Media that financial services technology had become "one of the fastest-growing areas for venture capital investment." In the first quarter alone, $1.7 billion was invested and 167 deals closed. Goldman Sachs and JPMorgan Chase began working with Motif Investing, identified by CNBC as No. 4 on its list of the top 50 "disruptors" in financial technology start-ups in 2014.
Banks have followed different strategies in partnering and investing in "fin-tech" start-ups. While some banks already have their own venture capital firms, such as Wells Fargo's venture capital unit, Norwest Venture Partners, others preferred to partner with start-ups to reduce information technology costs. After drawing 200 participants to its popular annual innovation summit, Bank of America offered deals to 30 start-ups.
But banks are willing to pay big to invest in start-ups and to compete with each other, offering start-ups from $50 million to $250 million to get into the game. In 2014, HSBC agreed to invest up to $200 million to improve the bank's financial technology, and Citi Ventures, Citigroup's venture unit, invested in technologies to benefit its multinational banking operations. The start-up On Deck followed a different path altogether. In 2013, it got an approval of an additional $17 million in investment from Google Ventures and PayPal co-founder Peter Thiel, went public in 2014 and raised $200 million, and in 2015 teamed up with JPMorgan to speed up credit to small business owners, which is set to launch in 2016.
But the combination of fin-tech start-ups with some of the biggest banks may not be as simple as it sounds. The problem lies not in their collaboration, but in their complicated functioning.
One concern, which remains unaddressed, is the unregulated area of the banking systemknown as the "shadow banks". Shadow banks were criticized for their risky trading activities during the 2008 financial crisis.
In addition, big banks continue to be condemned for their size and complicated structures. Some of the biggest banks, such as JP Morgan Chase, Bank of America, and Wells Fargo, are already 80% bigger than they were since they were bailed out. Moreover, many were part of huge scandals for their alleged roles in the subprime mortgage crisis. Recently, Wells Fargo settled a claim that would require the bank to pay $1.2 billion over bad government-backed mortgages.
As a result, the future of tech start-ups remains unclear. By going public, the financial strength, business models and private valuations of many start-ups can be put to a test. With exorbitant valuations, many have delayed their IPOs and have been operating in a low-cost environment since the financial crisis. The December rate hike may force many venture capitalists to exit if the cost of borrowing gets more expensive. 
Market discipline and rigor may compel many tech start-ups with weak financials to either exit through IPOs or through selloffs. But since these venture capitalists include some of the biggest banks, IPOs are not likely to happen anytime soon, creating a series of excessive, unregulated and unjustified valuations in the meantime. 
This article is commentary by an independent contributor. At the time of publication, the author held no positions in the stocks mentioned.