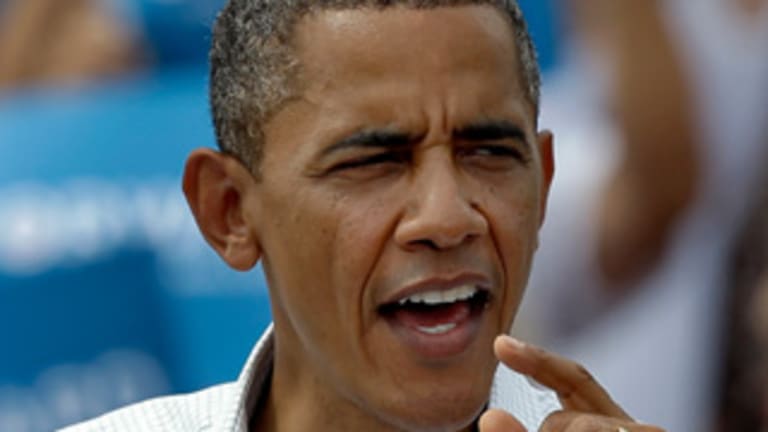 Publish date:
Beyond the Obamacare Disaster
As if the Obamacare rollout hasn't been bad enough, don't forget about the looming budget and debt-ceiling crises.
As if the Obamacare rollout hasn't been bad enough, don't forget about the looming budget and debt-ceiling crises.
NEW YORK (TheStreet) -- It reads like the script of a bad movie, as our nation confronts crisis after crisis in the midst of a still very challenging economy.
Fallout from the Obamacare rollout continues to emerge daily, and it seems there's no end in sight. That the website is a train wreck -- a fact that I can attest to, given dozens of attempts and many hours just to try and get to the details and costs of the plans offered in my state -- seems to be the tip of the iceberg. That should have been the easy part, an automatic. Instead, it is a debacle that will one day be the basis of graduate-level case studies on bad management.
But it doesn't end there; the unintended (or perhaps intended) consequences of the new law are separating millions of people from their policies. Some of us happened to like our "substandard" policies and don't take kindly to bureaucrats telling us what we need. I'm quite certain that I no longer need maternity coverage or pediatric dental.
Then there's the sticker shock of the new Affordable Care Act policies, you know, the "Bronze," "Silver," "Gold," and "Platinum" plans, which I've renamed as follows, and in order "Expensive," "Expensiver," "Are You Kidding?" and "That's More Than My Mortgage." After finally seeing the premiums, I understand why they were made to be so difficult to access.
The bottom line is that another needless crisis has been created, and this one is hitting Americans squarely in the wallet and may affect who gives them their next checkup. It doesn't get much more personal than that.
Then there's the next potential shoes to drop: the federal government will lose its authority to spend on Jan. 15 when government agencies will no longer be funded and then will hit its borrowing limit on Feb. 7. Unfortunately, with the focus on fixing "healthcare.gov" and dealing with the other problems with the ACA rollout, this issue seems to have been all but buried. Perhaps some in Washington have their eyes on this, but it's hard to tell.
Oh, and did I mention that Jan. 1 is the day that new Obamacare policies become effective? That's just six weeks away and the website still doesn't work. That's a lot of potential crises packed into a very short period.
Up until now, markets have all but shrugged these circumstances, but it could get rocky as the debt ceiling approaches. Washington is in such chaos at this point that it's anyone's guess as to the resolution.
With the Democrats on the ropes over Obamacare and the Republicans perhaps still smarting to a certain extent from the government shutdown, my bet is that they "play nice" and reach an agreement to "kick the can" farther down the road.
Markets would likely welcome that, at least in the short term, rather than have a serious debate and come up with real solutions to our growing national debt. But little would surprise me at this point, and the markets don't like surprises.
All of this chaos is reminiscent of a bad movie, which most have probably never seen,
Americathon
, released in 1979. Starring John Ritter as the President and set in 1998, the country is in deep trouble, having run out of oil and being close to bankruptcy. In order to save the nation, a telethon is held to raise money. That's about all that I remember. The premises of this movie seemed ridiculous to me at age 13 when I was among the few who saw it in a theater, but perhaps not appreciably more ridiculous then what we are grappling with now.
Perhaps a little dry powder in the portfolio heading into January is warranted.
This article is commentary by an independent contributor, separate from TheStreet's regular news coverage.
At the time of publication, Heller was long XXXX.
Jonathan Heller, CFA, is president of KEJ Financial Advisors, his fee-only financial planning company. Jon spent 17 years at Bloomberg Financial Markets in various roles, from 1989 until 2005. He ran Bloomberg's Equity Fundamental Research Department from 1994 until 1998, when he assumed responsibility for Bloomberg's Equity Data Research Department. In 2001, he joined Bloomberg's Publishing group as senior markets editor and writer for Bloomberg Personal Finance Magazine, and an associate editor and contributor for Bloomberg Markets Magazine. In 2005, he joined SEI Investments as director of investment communications within SEI's Investment Management Unit.
Jon is also the founder of the
, a site dedicated to deep-value investing. He has an undergraduate degree from Grove City College and an MBA from Rider University, where he has also served on the adjunct faculty; he is also a CFA charter holder.