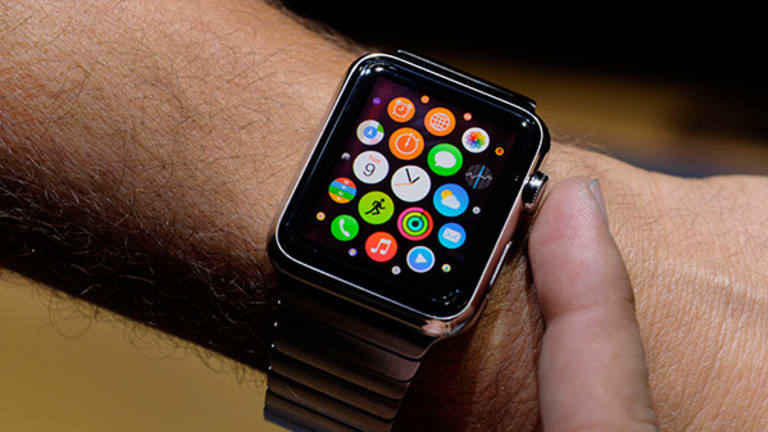 Beyond iPhone: Apple Needs Deeper Enterprise Ties, Strong Watch Launch
Apple posted monster first-quarter revenue, profit and phone shipment numbers. But moving more heavily into the B2B space could be one way to sustain growth long term.
NEW YORK (TheStreet) -- After posting excellent first-quarter revenue and phone shipment numbers, Apple (AAPL) CEO Tim Cook faces a balancing act of maintaining the company's premier place in the consumer segment, while expanding its efforts in the enterprise market.
Apple's strong position in smartphones and tablets is not likely to waiver, but at the same time it should leverage its product portfolio to grab a bigger slice of the business-to-business pie to position the company for additional growth.
"Apple has to work hard on the enterprise sector. The consumer is critical for Apple as far out as I can see, but the company must increase enterprise penetration for future growth and to help maintain average selling prices," said Danielle Levitas, group VP and GM of IDC's consumer, broadband & digital marketplace team.
Levitas pointed out how deals like the one Apple recently inked withIBM (IBM)   are the model the company should emulate. The IBM agreement has iPhones and iPads being sold to companies using IBM's cloud and analytics services.
At the same time, Apple has to keep up its consumer momentum with a strong launch of the Apple Watch this spring, according to Ian Fogg, IHS Technology senior director and head of the mobile and telecom. But at the same time the company must avoid several potential potholes with the Watch launch, Fogg said.
"Apple's biggest problem with the launch will be making [the watch] reliable and managing expectations. The watch is not likely to be subsidized and it only works with the newer iPhones. The smartwatch is a much different space. People know what a smartphone can do, but with the watch it is still very early," he said.
Levitas expects Apple to do very well in the wearable space, possibly grabbing one-third of the expected $63 million wearable market, but she noted that the company has to look past the watch and at other wearables that will appeal to Apple's high-income clientele. Levitas said Apple should consider adding bands and glasses for both consumer and business use.
Apple should keep an eye toward entering new distribution channels outside of their own stores and retailers like Best Buy (BBY) , she said.
The Chinese market will also pose some specific challenges for Apple. Even though the company increased shipments there by 70% in the first quarter, challenges from companies likeXioami may eventually force Apple to change its go-to-market strategy down the road.
Apple will continue to dominate the high end of the smartphone market in China, but over time it may need to add a mid-priced model to compete. Levitas suggested this could be accomplished by rolling out a more moderately priced sub-brand for the Chinese market.
Last year Chinese carriers announced cuts to handset subsidies, which may accelerate this shift.
"Given China's position as the largest smartphone market and supplier, a reduction in subsidy will accelerate the move in smartphone volume from high-end ($400+) to mid- and low- (sub-$200) tiers, placing further pressure on high-end vendors such as HTC, Samsung (SSNLF) , Sonyundefined , and even Apple," said ABI senior practice director Nick Spencer.
For its first quarter, Apple posted an $18 billion profit on revenue of $74.6 billion, compared to a $13.1 billion profit and revenue of $57.6 billion during the same period last year. The company shipped 74.5 million iPhones.
The huge iPhone shipments were fueled by pent-up demand for a larger-screen model. Apple could have shipped many more during the first quarter if supply had kept up with demand, Fogg said.
For the current quarter, investors should probably not expect Apple to perform as well, but the numbers will still be up. "Historically I would expect this quarter to be lower, but still higher year over year," Fogg noted.
This article is commentary by an independent contributor. At the time of publication, the author held no position in the stocks mentioned.