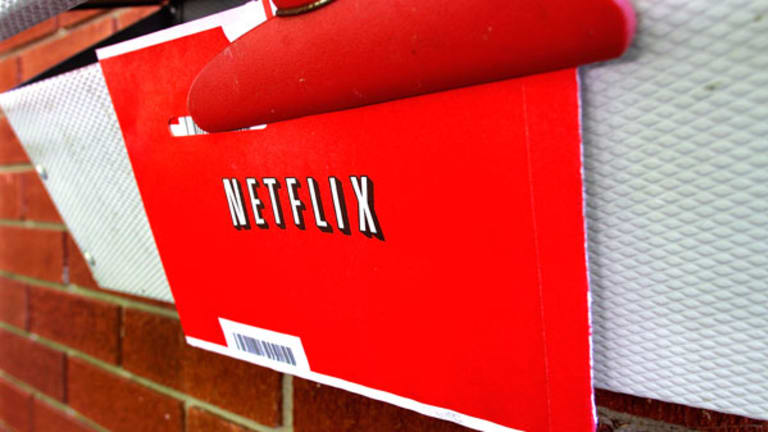 Beware Deteriorating Cash Flow in Netflix, Amazon, Google Earnings
Rising profits and falling cash flow at Netflix, Amazon and Google is a risk for investors.
NEW YORK (
) -- When it comes to judging the earnings growth of top-performing tech and media giants such as
Netflix
(NFLX) - Get Netflix, Inc. (NFLX) Report
,
Google
(GOOG) - Get Alphabet Inc. Class C Report
and
Amazon
(AMZN) - Get Amazon.com, Inc. Report
, investors need to follow the money and not just the hype.
A paper chase for cash from the respective leaders in streaming video, Internet search and e-commerce indicates each company is prone to a deterioration in operating cash flow, which raises question marks about the quality of recent earnings.
Two successive quarters of negative cash flow
, falling figures
and forecasts of record profits for but dropping operating cash flow at Amazon in 2013 may all pose underappreciated risks for investors.
Over the long-term, cash flow from operations should match the general direction of earnings. Once this quarter's earnings conclude, however, earnings among top-performing tech bellwethers are likely to show a marked divergence between flat-to-declining cash flow and rising profitability.
Were cash flow figures to be a reflection of the true earnings prospects for Netflix, Google and Amazon in 2013, investor expectations may have run too far.
Netflix Builds A House of Cards
At Netflix, successive quarters of negative free cash flow and
leave open question marks about the company's much hyped effort to create original shows such as
House of Cards
,
Arrested Development
and
Hemlock Grove
for its streaming subscribers.
Following the money in Netflix's earnings indicates that while original content may be driving user growth and excitement surrounding the streaming service, profits from the strategy remain far from assured.
In fact, negative cash flow signals the company has set a high bar to achieving profitability from original content in coming quarters.
Netflix
operating profits of $31.8 million and adjusted earnings per share of 31 cents in the first quarter of 2013. Those figures, however, excluded $45 million in quarterly cash costs related to original content that pushed overall free cash flow to negative $42 million.
Similarly, in the fourth quarter of 2012, Netflix reported $19.6 million in operating profit but negative $51 million in free cash flow, driven by un-expensed original content spending.
The divergence in Netflix's net income to cash flow has to do with how the company expects to profit from shows like
House of Cards
.
While the company expensed some cash costs to produce original shows in the past two quarters, the majority of Netflix's content expense is yet to be amortized. Only then will the costs of original content truly hit Netflix's bottom line and show just how profitable the company's strategy can be.
Put another way, Netflix didn't need to recover every dollar it spent on
House of Cards
in the first quarter, when the series was released. Netflix's expectation, as per its accounting, is that the company will see long-term revenue from current content spending among subscriptions paid by its 29 million users.
If Netflix is correct on its assumptions, it should earn revenue equal or beyond the amortization of spending, which drove cash flow negative in the last two quarters.
As of the first quarter, Netflix's cash flow statement shows $591 million in cash spent on its streaming content library, but just $485 million in streaming content expense amortized over the period.
With cash flow from operations to net income divergent by about $100 million, Netflix has set a very high bar. The company, after all, has only reported about $10 million in net income over the past two quarters.
Continued negative cash flow on original content will likely also remain a factor for all of 2013, according to Netflix's own statements.
"The investments that will continue to weigh on our cash flow relative to net income are Originals and non-Originals content (ongoing) and our Open Connect conversion (primarily in 2013)," the company said in its
earnings release
Monday.
Those comments appear to differ from the fourth quarter, when Netflix said a divergence in cash flow and expense would end in the first quarter.
"The bulk of our remaining cash payments for our current originals will be in Q1, driving FCF materially more negative than Q4, and then FCF will improve substantially in subsequent quarters," Netflix said in its
fourth earnings
release.
Even as investors cheer Netflix rising profits, the question is whether unamortized current original content spending will wipe out future earnings.
While CEO Reed Hastings is right to see about 2 million new subscriber additions in the first quarter as validation of the appeal of original content, Netflix may need far more new users to prove the rationale to investors. Hastings said Monday he sees a total addressable subscriber market of up to 90 million users for Netflix.
Google's Tax Shelter From the Storm
At Google, falling cash flow from operations may mask some growth concerns for the Web search giant and expose a poor-quality
that helped to push the company's shares beyond $800.
Google was able to beat earnings on April 18 because of an
unexpected 50%-plus drop in its tax rate
, which helped to bolster earnings by $1.22 a share, according to calculations by Sterne Agee analyst Shaw Wu.
Without the tax benefit, Google would have missed earnings by 33 cents, according to Wu's analysis.
, Google Chief Financial Officer Patrick Pichette explained to mystified analysts that the firm's sharp drop in quarterly income tax was a result of recognizing federal research and development tax credits negotiated in Congress' so-called fiscal cliff deal.
In the first quarter, Google reported income tax expense of just $287 million on $3.35 billion in net income, reflecting an 8% rate. The Mountain View, Calif- based company reported earnings of $11.58 a share, beating consensus expectations of $10.66, according to
Thomson Reuters
.
While Google's tax rate helped to drive about 80% of Google's earnings-per-share growth from the first quarter of 2012, the company's cash flow fell slightly to about $3.5 billion.
Analysts
issues on Google's tax rate as "noise" and took the earnings report as a beat.
To be seen, however, is whether falling cash flow provides an early glimpse of slowing profits at the Web search titan.
Getting Amazon's Story Straight
As is the case in past quarters, Amazon's first-quarter earnings, due on Thursday, will be driven by the figures investors choose to focus on and those they decide to ignore.
For instance, Amazon shares rose nearly 50% in 2012, even as the company failed to report an annual profit.
Cash flow, previously a support to Amazon's $100 billion-plus market capitalization amid a profitless 2012, however, may turn decidedly against the e-commerce behemoth this year.
Amazon is expected to report significant negative cash flow from operations in its first-quarter earnings report, as is traditionally the case, given payments to vendors for inventory the company held and sold during the fourth-quarter holiday season.
While negative cash flow in the first quarter will not surprise investors, forecasts by some analysts that this quarter's cash payables will run beyond cash benefits from the fourth quarter of 2012 is a big change for Amazon.
Morgan Stanley analyst Scott Devitt expects Amazon will see a $5 billion cash drain in accounts payable, as the company pays slightly in excess of the $4.9 billion in inventory it received from vendors in the fourth quarter.
According to Devitt's calculations, a net accounts payable deficit in the firm's working capital over the two holiday-season impacted quarters would mark a turn from 2010 and 2011, when Amazon effectively earned a $793 million and $426 million cash spread, respectively.
It's no surprise, then, that Amazon is forecast by analysts to see its 2013 cash flow from operations fall slightly to $4.16 billion. Such a scenario, however, would be the first for Amazon since 2006, raising the prospect the company's story of solid cash flow but negligible profits may be undercut.
At a market cap of $120 billion, Amazon is valued by investors at 29 times cash flow from operations.
Apple
(AAPL) - Get Apple Inc. (AAPL) Report
, on the other hand, is valued at 7.5 times its trailing 12-month operating cash flow.
Thankfully, analysts such as Devitt from Morgan Stanley caution investors from reading too much into details from Amazon's quarterly financials.
"We encourage investors to focus on the story, not one particular data point," Devitt writes, in a client note previewing earnings.
-- Written by Antoine Gara in New York