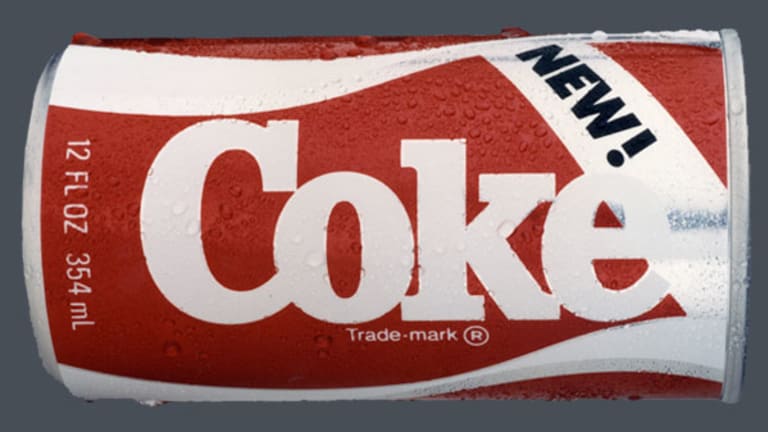 Beverage Stocks Year in Review: What May Pop In 2016
2016 can be a bubbly year for several beverage stocks, while others may go flat.
2016 can be a bubbly year for several beverage stocks, while others may go flat.
Editors' Pick: Originally published on Dec. 30.
Beverage stocks didn't duplicate their 2014 performance, where they posted 17% average gains, but they were far from flat in 2015, gaining about 10%, according toFidelity Investments. That performance was more than enough to beat the S&P 500 (SPX) index, up slightly for the year.
Led by Constellation Brands (STZ) - Get Report , Monster Beverage (MNST) - Get Report and Dr. Pepper Snapple (DPS) , which have posted year-to-date increases of 47%, 39% and 32%, respectively, the PowerShares Dynamic Food & Beverage Portfolio (PBJ) - Get Report was one of the better funds to own in 2015, gaining more than 7% year to date. But as have been the case for some of the other sectors that we've discussed, only a handful of the beverage stocks did all of the heavy lifting, while the likes of Keurig Green Mountain (GMCR) (down 32% in 2015) struggled. Take a look at the chart.

STZ Year to Date Price Returns (Daily) data by YCharts
For every beverage stock like Molson Coors (TAP) - Get Report and premium whiskey brewer Brown-Forman (BF.A) that delivered gains of 26% and 28%, respectively, there were some like Johnnie Walker maker Diageo (DEO) - Get Report that couldn't beat the overall market. Or worse, investors who owned brewers like Boston Beer (SAM) - Get Report (down 30% in 2015) and Craft Brew Alliance (BREW) - Get Report (down 33% in 2015) are likely wishing they didn't. But 2015's disappointments and laggards can become winners in 2016.
Two stocks to consider are Coca-Cola (KO) - Get Report (up 3.5% in 2015) and rival PepsiCo (PEP) - Get Report (up 7% in 2015). Owing to slumping soda sales, concerns about artificial sweeteners and rising obesity rates, revenue and profits have been hard to come by for these beverage giants -- for Coca-Cola in particular. For the full year its revenue is projected to fall 3.5%, while earnings per share is expected to fall 2.4%, from $2.04 a share to $1.99.
Coca-Cola continues to remain innovative, however, partnering with Keurig Green Mountain earlier this year to offer consumers a way to make their own beverages at home. The "Kold" machine, a rival to Sodastream (SODA) - Get Report (down 11% in 2015), allows consumers to make their own eight-ounce beverages.
How profitable this partnership becomes, remains to be seen. But now would be an ideal time to buy KO shares, especially with the company projected to return to revenue and earnings growth in 2016. At around $43 a share, KO stock is priced at just 20 times those estimates. Sure, that doesn't scream value, compared to a forward P/E of 17 for the S&P 500, but Coca-Cola also pays a solid 33-cents quarterly dividend that yields 3.10% annually -- higher than the 2.00% yield paid out by S&P 500 companies.
Likewise, it's tough to ignore PepsiCo, which has a business that is well diversified between beverages and salty snacks. Its snack business, which includes brands like Frito-Lay chips, Doritos and Quaker, accounts for roughly half of its annual revenue of around $66 billion. Combined with leading alternative beverage brands like Lipton tea and Gatorade, Pepsi has multiple ways of offset revenue struggles in its soda business.

Like Coca-Cola, Pepsi is expected to return to earning growth in 2016 based on consensus estimates of $4.85 a share. Not only does that imply an 8% year-over-year increase, reversing the 2% projected decline for 2015, it also drops Pepsi's forward P/E of 20. Add in the company's 70-cent quarterly dividend that yields 3.04% annually combined with Pepsi's plan to buy back some $12 billion worth of its shares in the next three years, PEP stock can satisfy in 2016.
That said, in 2016 some beverage stocks can pop at any moment, as evidenced by the 70%-plus one-day surge in shares of Keurig Green Mountain (GMCR) earlier this month. On Dec. 7 Keurig shares got a much-needed jolt when the maker of single-cup coffee machines agreed to sell itself for roughly $14 billion to JAB Holding Co., a Luxembourg-based privately-owned company that specializes in coffee.
JAB Holding agreed to pay 70% premium for GMCR. Where the market saw concern, it seems JAB Holding sees tons of value, especially with GMCR stock still down some 32% on the year to date and down almost 36% from its 52-week high of around $141. Accordingly, put Sodastream on your watch list as potential takeout target in 2016. With SODA stock trading at around $17 today, a 40% to 50% premium puts a buyout price right around $25 a share.
This article is commentary by an independent contributor. At the time of publication, the author held no positions in the stocks mentioned.