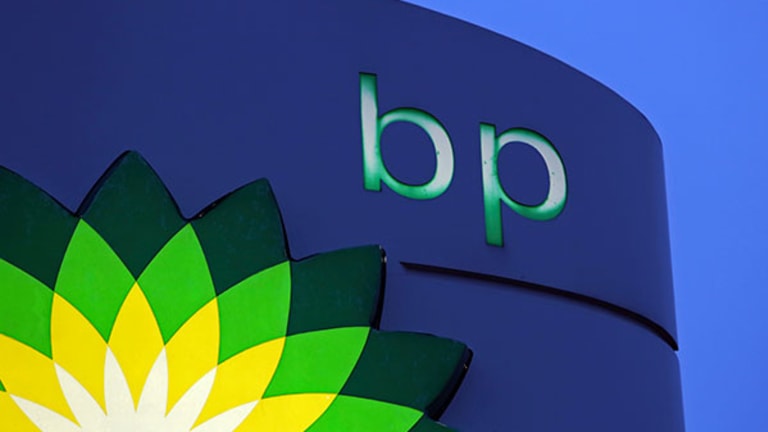 Betting on BP
Here's why the stock looks attractive even as the company's profits fall.
Note: This piece has been updated from 11:07 am Tuesday to include new text throughout.
NEW YORK (TheStreet) - BP (BP) - Get Free Report may be a good bet despite all the bad news surrounding the company.
Earlier today, the major British oil company reported a 20% drop in first-quarter earnings. The company still hasn't recovered from the Gulf of Mexico oil disaster, and it's embroiled in Ukraine's crisis, as yesterday Obama administration put the name of the president of Rosneft, BP's partner in Russia, on the sanctions list. BP owns a 20% stake in state-controlled Rosneft.
But BP's American depositary receipts trade at just 6.7 times trailing earnings, and the company is increasing its dividend and promising more stock buybacks. BP raised its first-quarter dividend to 9.7 cents a share from 9 cents last year and said it would use asset sales to pay for more stock buybacks. 
The company is approaching the end of its $8 billion buyback program. So far, it has spent nearly $7.6 billion on repurchasing shares. With a promise of more buybacks, the company will likely announce a new program in the near future.
BP's adjusted profit dropped by 23.5% from last year to $3.23 billion, better than analysts' consensus estimate of $3.1 billion, according to data compiled by Thomson Reuters. Earnings in the upstream division, which includes exploration and production, tumbled 22.8% on the back of asset sales and non-cash charges. Profit at its downstream, or refining and marketing, division fell 38%.
Although the company's actual net profit has fallen sharply from $16.86 billion in the first quarter of 2013 to just $3.53 billion in the previous quarter, last year's results also included a $12.5 billion gain from the sale of an asset.
The company's production dropped by 8.5% to 2.13 million barrels of oil equivalents per day, partly due to maintenance. The company has forecast a further decline in production in the current quarter as it continues to work on its major oil fields.
Over the long term, however, BP will likely report growing levels of production. The company has recently re-entered the Gulf of Mexico after it successfully bid for 24 out of 31 blocks.
During the next decade, the company said it will spend an average of "at least $4 billion" per year to develop its deepwater assets at the Gulf. Moreover, the company is separating its onshore business in the U.S., focusing on the Lower 48 states (excluding Alaska) in an effort to unlock the value of that business.
With growth in production and a focus on higher-margin areas such as Gulf of Mexico, North Sea and Angola, BP will likely start reporting revenue and profit growth long term.
BP still has significant exposure to Russia. BP owns nearly 20% of Rosneft, an integrated oil company which is controlled by the Russian government through OJSC ROSNEFTEGAZ, a 100% state-owned enterprise with a 70% stake in Rosneft. Rosneft is responsible for more than 40% of Russia's oil production and nearly a third of BP's global production.
Amid the ongoing Ukraine crisis, the United States has placed sanctions on several Russian individuals, including Igor Sechin, the president of the Russian oil behemoth.
It appears that, BP, which is run by Bob Dudley, a U.S. citizen, might find it difficult to conduct business with Sechin. However, both Sechin and Dudley have repeatedly claimed that their partnership remains strong.
Americans are prohibited from doing business with individuals and organizations on the sanctions list, which does not include Rosneft. The Russian oil giant has projects scattered all over the world, and is also working with Exxon Mobil (XOM) - Get Free Report to develop the Russian Arctic and the Black Sea. Like BP, Exxon Mobil has also reiterated that its Russian project remains on schedule.
Rosneft is also working through joint ventures with European oil majors Royal Dutch Shell (RDS.A) and Statoil (STO) .
With the latest round of sanctions, the tension between Russia and the U.S. seems to be escalating, which is dragging BP's shares.
For long term investors, however, this might be a buying opportunity. Vitali Kalesnik of Research Affiliates has said that on an average, stocks witness a double-digit decline in the first three months of a conflict, but recover fully within eight months.
ADRs of BP traded recently at $50.46, up 2.9%. During the past year, the stock has risen 18%, in line with the S&P 500.
At the time of publication, the author held no positions in any of the stocks mentioned.
This article represents the opinion of a contributor and not necessarily that of TheStreet or its editorial staff.