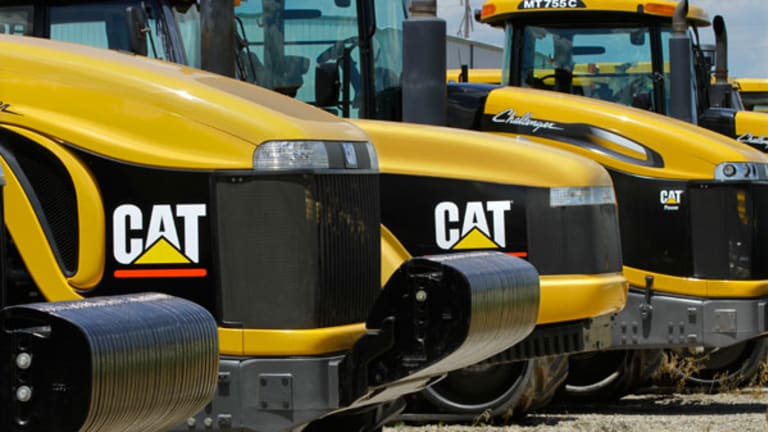 Best, Worst of 2013: Northrop Grumman vs Caterpillar
Northrop Grumman is flying while Caterpillar is stuck on earth. A look at divergent performance between two industries.
NEW YORK (TheStreet) --Typically when the stock market goes up a lot the industrial sector goes up more. That has been true in 2013. The SPDR S&P 500 (SPY) - Get SPDR S&P 500 ETF Trust Report was up 29% through last Friday compared a 37% lift for the Industrial Select Sector SPDR (XLI) - Get Industrial Select Sector SPDR Fund Report.
This is normal market behavior and works in reverse when the market goes down a lot. In 2008, SPY was down 38% and XLI went down 40%. This is a cornerstone of top-down investing. Some sectors do better during rallies and should be overweighted in a portfolio.
That has helped Northrop Grumman (NOC) - Get Northrop Grumman Corporation Report but not Caterpillar (CAT) - Get Caterpillar Inc. Report, as you will see.
The reason the industrial sector does better during upswings is that a healthy economy and healthy stock market means more heavy, expensive things made out of metal get sold.
An excellent example of this effect is Northrop Grumman, one of the few large-cap, (almost) pure play defense contractors. Its 66% gain year to date puts it ahead of General Dynamics (GD) - Get General Dynamics Corporation (GD) Report, Lockheed Martin (LMT) - Get Lockheed Martin Corporation (LMT) Report and the iShares US Aerospace & Defense ETF (ITA) - Get iShares U.S. Aerospace & Defense ETF Report, which have all gained a market beating 34% to 56% respectively so far this year.
The argument for owning the defense industry is simple: These companies produce equipment the military uses to protect the country. The industry is clearly vulnerable to debt ceilings, sequestration and other government dysfunction, but no politician wants to face their electorate as being the guy who did not do everything possible to protect the country and the troops.
A growth catalyst for the defense industry, aside from the world becoming increasingly more complicated, is the extent to which defense equipment has become increasingly reliant on technological innovation. Again, if superior technology will save American lives then the government will spend the money and, of course, the defense contractors will continue to innovate because it is in their interests to do so.
As there is always a need to maintain the country's defense there is always an argument to own a defense contractor directly or through an ETF like ITA. A repeat of 2013as stellar gains for the group is unrealistic unless the broad market somehow puts in a repeat performance.
All of the defense stocks correlate close together and the recent history of the group, in the nine years my firm has owned NOC for clients, is that the stocks tend to take turns providing performance leadership with no discernable pattern which makes the argument for going with ITA for investors most concerned with price appreciation.
Dividend investors would be better off considering the larger individual stocks for their superior yield. NOC yields 2.1% and has increased its dividend ten years running. GD yields 2.4% and LMT yields 3.7% compared to just 1.6% for ITA.

However, not all industrial stocks performed as expected in 2013. One of the most reliable stocks ever for going up more in a bull market and down more in a bear market is Caterpillar, which is actually down 4.8% for the year. CAT's 41% lag behind XLI is its second-worse, one-year relative performance since XLI started trading in 1998. But it should be noted that since XLI's inception CAT has more than doubled XLI's returns.
The big driver behind CAT's struggles this year has been its perceived reliance on China and other emerging markets. For years, China has been modernizing its cities and infrastructure, which requires natural resources and big equipment to move those resources.
As China's economy has struggled to maintain its torrid growth rate in the last couple of years, its demand for resources has slowed -- which means fewer pieces of yellow Caterpillar equipment being purchased. Hence there has been a long string of negative earnings and revenue surprises. Going forward, both earnings and revenues are only expected to grow by single digits in 2014.
The slowdown in China is a major contributing factor to the bearish case for CAT. Last summer, well regarded short-seller Jim Chanos presented his thesis for shorting CAT based on the China slowdown during the Delivering Alpha Conference.
Coming off of the March 2009 low, CAT rallied 205% in two years, well ahead of XLI and NOC because it still benefited from the China effect and an oversold bounce in the broad U.S. equity market. There are still plenty of emerging and frontier countries that over the course of the next 10 years will need to modernize their infrastructures similar to the way China has even if on a smaller scale, like most of Latin America, Africa and smaller Asian countries, and as that happens Caterpillar will benefit and its stock price could put in a repeat performance of 2009-2011.
For now, though, CAT would seem to have nothing going for it right now. It is in the wrong business relying on the wrong country but that could make it a good contrarian investment for a patient investor.
At the time of publication the author had no position in any of the stocks mentioned.
This article was written by an independent contributor, separate from TheStreet's regular news coverage.