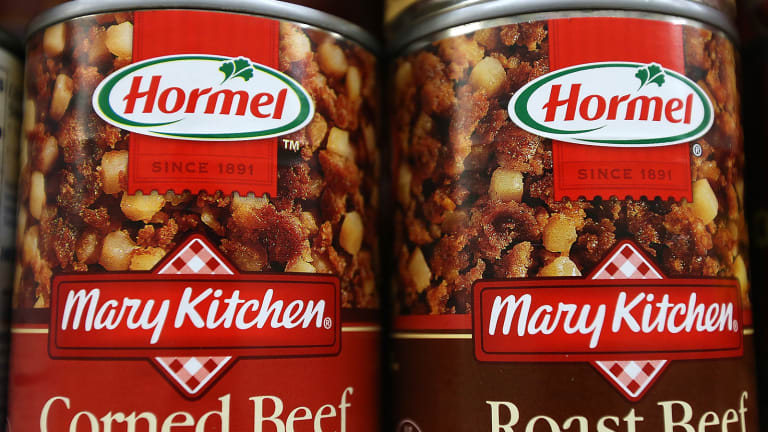 Food Favorites: The Best Food Brands for Your Portfolio
These recession-proof food stocks could give your portfolio an energy boost.
Food has long been considered a defensive, recession-resistant sector, but with today's investors focused on growth and competitive threats from online purveyors, the sector has been decidedly out of favor. Nevertheless, several MoneyShow.com contributors continue to believe that long-term investors should add food stocks to their pantry:
General Mills (GIS) - Get Report is of increasing interest as a takeover target. Its stock continued to trend upward last month as investors weighed the possibility of an acquisition by 3G Capital.
Thanks to the market-changing purchase of Whole Foods Markets (WFM) by Amazon (AMZN) - Get Report , almost every other food-related stock took a hit. But General Mills remains a solid takeover candidate for 3G.
And the Amazon-Whole Foods deal proves that there's a big shakeup coming in the grocery aisle. I wouldn't be surprised to see a bid for General Mills materialize soon.
Even if that does take some time, we're still holding a great stock. It's undervalued. It has a stellar management team that's squeezing every penny possible out of revenue. Plus, it's paying us a solid dividend that has a 13-year history of annual increases. General Mills remains a Buy anywhere under $60. The 12-month price target is $75.
Hormel (HRL) - Get Report is an international manufacturer and distributor of branded food products -- a recession-resistant business. Its products remain in demand regardless of the state of the overall economy.
Hormel has a mix of higher-priced brands (Muscle Milk, Wholly Guacamole) and bargain brands (Spam, Dinty Moore), and its competitive advantage comes from its strong brand portfolio in a slow-changing industry. Hormel also benefits from its large size, as it regularly acquires smaller brands and scale their businesses.
The company has increased its earnings per share in 28 of the last 31 years (a record achieved by only four companies in the S&P 500), and it has increased dividends for 51 consecutive years in a row.
Hormel saw earnings-per-share grow 21% in 2009 during the worst of the Great Recession. Earnings should continue compounding at 10%+ over full economic cycles. Combined with the 2% dividend yield, we see expected total returns of 12% or more.
With its extremely high-quality business, Hormel has a unique mix of double-digit growth and safety. The stock is trading near its fair value, but should still produce outsized returns moving forward.
In 2015, Kraft and Heinz were combined to form the Kraft Heinz Co.   (KHC) - Get Report . Seven of the combined company's brands generate over $1 billion in annual sales: Kraft, Velveeta, Oscar Meyer, Philadelphia, Planters, Maxwell House and Lunchables. Kraft Foods products have a 98% household penetration rate in North America.
Berkshire Hathaway  (BRK.B) - Get Report , led by Warren Buffett, owns 26.7% of outstanding KHC shares. Berkshire is the largest investor in Kraft Heinz, and KHC is Berkshire's largest stock investment.
In addition, 3G Capital owns 24.3%. With Buffett's help, 3G Capital has worked hard to increase efficiency at Kraft Foods. The 3G Capital culture of driving efficiency has permeated Kraft Heinz, and margins have expanded palpably since the two companies merged.
Return on invested capital has risen, alongside margin improvements. Earnings are on the rise. Kraft Heinz earned $3.12 a share over the trailing 12 months, compared with $2.81 per share in 2016.
Kraft Heinz has paid a dividend from the start, and that dividend has been increased annually. The quarterly dividend will be paid at $0.625 per share until next June (when it is likely to be raised again), and offers a 3.2% yield.
In fact, everything an investor wants to see rising is trending higher with Kraft Heinz with one exception -- the share price. Kraft Heinz shares closed their first day of trading (July 25, 2015) at $77.38, but are flat over the past 26 months while the S&P 500 has soared 21% over the same time period.
It has been a rare off year for 3G Capital and its capable management team. Nevertheless, we expect the private equity firm's insatiable desire for efficiency to lead to expanding margins across the board. Rarely has it been profitable to bet against Buffett or 3G Capital -- and now is not the time to start. We have a $90 price target on KHC for the next 12 months.
Where Food Comes From Inc.   (WFCF) is exactly how it sounds: A company that authenticates and tests food from food producers, sellers and the like. If a company wants to slap a label on their product that says "Organic," "Natural" or anything of the sort, Where Food Comes From is there to ensure that the company meets the rigid standards those labels require.
The company supports more than 12,000 farmers, ranchers, vineyards, wineries, trade associations and restaurants with a wide variety of value-added services.
The stock itself is pretty interesting, and somewhat volatile -- it's been at anywhere from $0.56 to $1.50 over the last year.
The company has just signed a new deal with Ben & Jerry's Homemade Holdings Inc. as exclusive provider of third-party verifications for the ice-cream maker's Caring Dairy Standards. This should be one of many deals to come. Things are steady for the company, and I believe that with a few more big deals like the one for Ben & Jerry's, we'll see this stock quietly grow over the next year or two.
United Natural Foods Inc.   (UNFI) - Get Report is the largest wholesale distributor to the natural-, organic- and specialty-foods industry in the United States and Canada.
The firm's customers include natural and conventional supermarket chains, independent health-food retailers and businesses in the food-services sector. It carries more than 110,000 different products and serves 43,000 customers.
We expect the company's increasing shift from non-perishable to fresh foods to pressure earnings, as previously, only about one-fifth of revenue had come from fresh foods and produce. But United Natural Foods has been investing in cold-storage facilities and distribution centers and has expanded its fresh foods business through a number of acquisitions, such as Albert's Organics, Gourmet Guru, Haddon House, Global Organic/Specialty Source and Nor-Cal Produce.
In terms of valuation, the stock trades at a discount to peers -- and toward the low end of its five-year average range for price to earnings, price to sales, and price to book. But we believe that it merits higher multiples, given its improving growth prospects and ability to successfully integrate acquisitions. We are raising our rating on United Natural Foods to "Buy" from "Hold," and setting a target price of $49.
We select stocks for our various model portfolios based on the investing criteria of the stock market's most legendary investors. Sanderson Farms Inc.   (SAFM) - Get Report earns a "Buy" rating based on the contrarian strategy of David Dreman.
Sanderson is engaged in the production, processing, marketing and distribution of fresh and frozen chicken, and also preparation, processing, marketing and distribution of processed and minimally prepared chicken.
Based on David Dreman's contrarian strategy, a company should show a rising trend in the reported earnings for the most-recent quarters. This methodology also likes to see companies with an earnings-per-share growth rate higher than the S&P 500's in the immediate past, and a likelihood that this trend will continue in the near future. The P/E should also be in the bottom 20% of the overall market.
Well, Sanderson's EPS for the past two quarters has been increasing, up from $2.94 and $5.09. And the stock's P/E of 12.02x, based on trailing 12-month earnings, meets the criterion.
A prospective company must also have a strong current ratio, as that identifies financially strong companies under this methodology. The company should also have a high return on equity as well as a low debt-to-equity ratio (which indicates a strong balance sheet). Sanderson Farm's debt-to-equity ratio is zero, which is exceptional.
Tyson Foods  (TSN) - Get Report jumped more than 7% after the protein producer lifted its adjusted earnings expectation for fiscal 2017 and offered record guidance for fiscal 2018.
Adjusted EPS for the current year is now likely to be in the range of $5.20 to $5.30, up from a range of $4.95 to $5.05, primarily due to much better-than-expected earnings in the beef segment. Guidance for fiscal 2018 is $5.70 to $5.85, which would mark the seventh consecutive year of record adjusted EPS.
Through a combination of synergies from the integration of AdvancePierre Foods -- acquired in June -- and eliminations of non-value-added costs, the company expects cumulative net savings of $200 million, $400 million and $600 million over fiscal years 2018, 2019 and 2020, respectively. These savings will primarily impact the Prepared Foods and Chicken segments, focusing on supply-chain operations, procurement and overhead. Tyson also said it plans to reduce headcount by approximately 450 positions across several areas and job levels.
We remain impressed with the operational momentum the company has been enjoying and believe that continued expansion in prepared foods and increasing protein consumption around the globe (especially in emerging economies) provide a solid long-term footing for top-line growth. And we like the ongoing cost-cutting measures to ensure that the bottom line continues to benefit. The stock trades at slightly more than 12x the midpoint of the company's new fiscal 2018 guidance, and we have chosen to bump our price target to $81.
More of What's Trending on TheStreet: