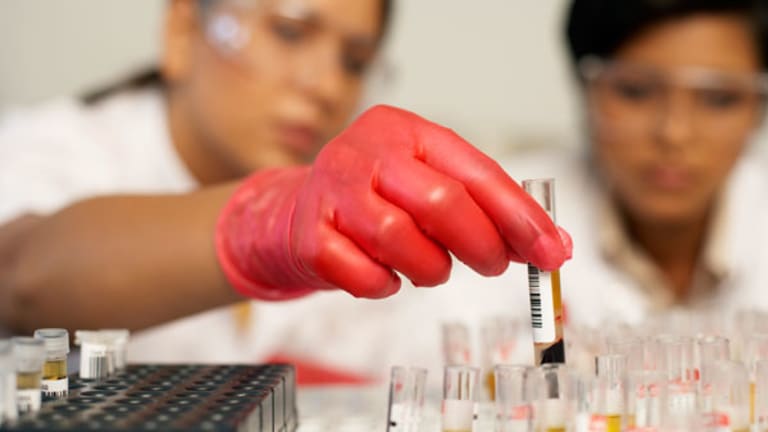 Best Call of 2013: Onyx Pharmaceuticals
Shareholders were rewarded with a return of 65%. They should now consider investing in acquirer Amgen. Here's why.
NEW YORK (TheStreet) -- One of my best stock picks in 2013 was Onyx Pharmaceuticals. While Onyx was not my top performer on a percentage basis, I did predict the takeover.
In August, Amgen (AMGN) - Get Amgen Inc. Report announced plans to acquire Onyx for $10.4 billion in order to boost its sales and drug pipeline. The deal closed on Oct. 1. With shares returning 65% in nine months, my Onyx pick was a clear winner. Now, Amgen looks like a winner with its focus on oncology and a strong pipeline that could pay off in 2014.
When I selected Onyx, the company had only one full quarter of reported sales for Kyprolis, a treatment for multiple myeloma for patients who have received at least two other therapies. The $18.6 million posted in the third quarter of 2012 was higher than the $10.1 million estimated by analysts. In that short time, the drug had gained 10% market share in its field. The key here is Onyx owned the worldwide rights to the drug excluding Japan. Kyprolis has yet to be approved in Europe and is also in several trials to be a first or second treatment for myeloma.
Kyprolis had sales of $61 million in the second quarter of 2013. The drug is becoming the drug of choice by doctors and seems destined to hit once lofty targets. The drug is prescribed in more than 2,400 facilities, helping Amgen hold a 40% market share in third-line treatments. Analysts see sales of the drug hitting $2 billion to $2.4 billion, with some high targets in the $3 billion range.
[Read: The Street Can't Help but Love Amgen]
Along with Kyprolis, Amgen also gained Nexavar and Stivarga, both co-owned with Bayer AG (BAYRY) - Get Bayer AG Report. Nexavar is approved globally to treat liver and kidney cancers. The drug generated $1.1 billion in 2012 sales, which equated to $300 million in revenue for Onyx. Stivarga treats colon cancer and is primarily owned by Bayer, which pays a 20% royalty to Amgen. Onyx's pipeline also includes drugs to treat breast cancer and thyroid cancer.
[Read: Biotech Stocks: A Year in Review]
Amgen's third-quarter sales, reported in October, rose 10% from the prior year. Net income rose 24% on the success of several newer drugs. The quarter was led by sales of Neulasta ($1.6 billion) and Enbrel ($1.2 billion). Key drugs such as Neupogen gained 50% in sales, Xgeva 30% and Prolia 62% from the prior year.
The company now sees full-year 2013 earnings per share of $7.35 to $7.45. Analysts see the company posting earnings per share of $7.45.
Shares of Amgen trade near their all-time highs ($119.70) at the time of writing. The company is one of the largest biotechnology companies in the world with a market capitalization of almost $87 billion.
Analysts continue to bless the shares and offer tempting price targets. In November, Goldman Sachs said shares were worth $130, citing higher sales of Kyprolis. Deutsche Bank thinks Amgen shares are worth $138. The bank believes the buyout of Onyx will add 20% to earnings per share annually beginning in 2016.
[Read: The More You Make, the Less Likely You Save]
Shares of Amgen are up 29% in 2013. While the buyout of Onyx Pharmaceuticals was a lucrative reward for shareholders of the former company, investors should pour some of the profits back into Amgen, which has a clear path of profits and drug approvals that should reward shareholders for quite some time.
While I ended up being right that Onyx would get acquired, I think the acquirer, Amgen, is just as good of a pick for 2014.
At the time of publication, the author had no position in any of the stocks mentioned.
This article represents the opinion of a contributor and not necessarily that of The Street or its editorial staff.