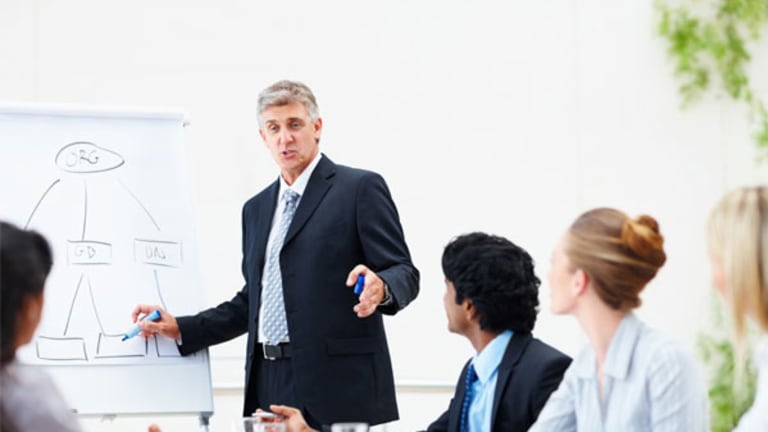 Best Buy May Have Already Found Its New CEO
Connecting the dots on a recent executive hire leads you to the man who should get the job.
NEW YORK (TheStreet) -- On Tuesday, Best Buy's (BBY) - Get Best Buy Co., Inc. Report interim CEO, Mike Mikan, held his first earnings conference call as the struggling retailer's leader.
While the event produced largely underwhelming results, if you're an optimist who can read between the lines and do some digging, there's room for hope.
Best Buy failed shareholders and lost customers because it underestimated, never truly acknowledged and reacted with a staggering level of ineptitude to the still-emerging dominance of
Amazon.com
(AMZN) - Get Amazon.com, Inc. Report
.
Jeff Bezos saw the future and proceeded to dictate its terms to the rest of us. Like the company Steve Jobs built and Tim Cook can only hope to sustain, Amazon knew (and still knows) what you need and want before you do. With a blissful ignorance, Best Buy simply surfed through the last decade with a business model that has long had "broken" written all over it.
Under a not-so-impressive line of leaders, it spent the last year or so attempting to extract a massive tumor from itself with a pocket knife. I hope there's more in Best Buy's future than a little-too-late effort to reduce its big box footprint. On the call, Mikan led me to believe that there might be.
After a broad and not very informative tease of the company's short- and long-term plans, the interim CEO
:
We're looking to bring in new talent with fresh perspectives for those new areas and change initiatives ... we're facing today, coupled with promoting from within.
Hope may have already arrived at Best Buy. The "new talent with fresh perspectives" is already on the payroll. And Best Buy's board of directors would be certifiably insane not to hire him or somebody like him.
Best Buy Needs to Think Like a Tech Company
Earlier this year, Best Buy lured Stephen Gillett away from
Starbucks
(SBUX) - Get Starbucks Corporation Report
where he was CIO and head of digital ventures.
He has quickly assumed a wide-ranging set of responsibilities at the company, with a focus on making technology the focal point of everything Best Buy does. Gillett is a well-respected tech guy through and through. As
InformationWeek
it:
Gillett's career arc shows how indispensable technology is becoming to the customer experience. CIOs who can help companies make technology a bigger part of that experience are moving into broader leadership positions. InformationWeek named Gillett its Chief Of The Year in December for his work in making technology a core part of Starbucks' coffee shop experience.
At Starbucks, Gillett instituted a wide range of "tech-driven initiatives," such as a mobile payments smartphone app and enhanced, in-store WiFi that allows customers to access media such as
The Wall Street Journal
and free iTunes music downloads. Simply put, Gillett will need to make Best Buy look more like a hip tech company than a big box electronics retailer.
Part of
Fortune's
40 Under 40
top executives list, Gillett is the type of fresh talent Best Buy desperately needs.
He's a Silicon Valley guy. He sits on the Board at
Symantec
(SYMC) - Get Symantec Corporation Report
. Along with the likes of
Pandora
(P)
founder Tim Westergren and
LinkedIn
(LNKD)
founder Reid Hoffman, Gillett is an
Aspen Institute
Henry Crown Fellow. And Starbucks President and CEO Howard Schultz speaks highly of him at several points in his book about that company's extraordinary turnaround.
They already made the right move bringing him on as a president, but the BBY Board would be close to crazy if it overlooks Gillett for the CEO gig. All the search committee needs to do is take a look at what another former Starbucks executive, Christine Day, has done at
Lululemon
(LULU) - Get Lululemon Athletica Inc Report
.
Best Buy can no longer think like an electronics retailer. Downsizing and remodeling stores does not represent the type of change the company requires. To survive, Best Buy must undergo a massive and wholesale transformation. In two years, Best Buy should be unrecognizable to itself. And that will be a good thing.
Simply put, the company cannot achieve such a drastic metamorphosis by taking the "safe" route and naming a stodgy 58-year old life-long retail executive as CEO. I think the company's board understands this and will act accordingly. It already paid the price when it named a BBY lifer as CEO.
I would be surprised if Stephen Gillett does not get the Best Buy CEO job. I would be shocked if Best Buy doesn't hire a person with a similar set of tech-oriented skins on the wall.
At the time of publication, the author held no positions in any of the stocks mentioned in this article
.