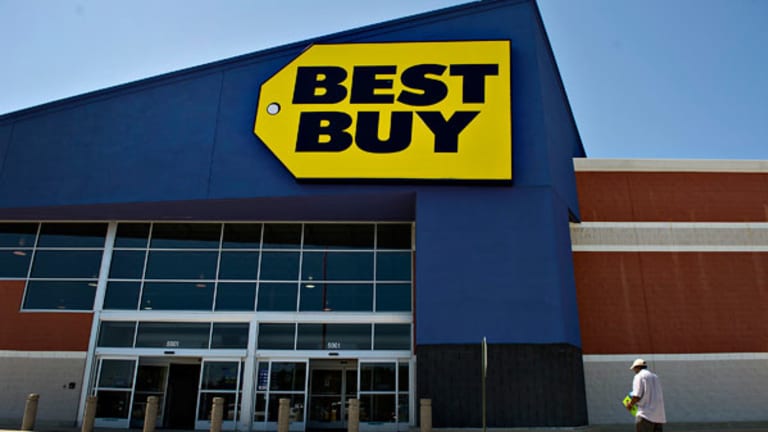 Publish date:
Best Buy Junk Rating's False Foundation
Buyout talk earned the company's bonds a junk rating, but with the deal off the table its time for a rethink.
Buyout talk earned the company's bonds a junk rating, but with the deal off the table its time for a rethink.
Updated to include additional data and January Fitch commentary
.
NEW YORK (
) --
Best Buy
(BBY) - Get Report
's junk bond ratings from
Standard & Poor's
and
Fitch
appear to have penalized the struggling big box electronics retailer
for a takeover deal that never took place
.
In the wake of company founder Richard Schulze's failed effort to take Best Buy private, which ended
in late February, many stock analysts are taking the company's declining losses and a commitment to a new pricing strategy as reason to believe the company can survive competition from online retailer
Amazon
(AMZN) - Get Report
and pressure from the likes of
Wal-Mart
(WMT) - Get Report
and
Costco
(COST) - Get Report
.
That's not necessarily the case at Standard & Poor's and Fitch Ratings, however.
The credit ratings agencies seem to have moved on from downgrades of Best Buy's bonds to "junk" status in early August when Schulze unveiled a
to take the company private for up to $8.8 billion, with little explanation.
As it turns out, S&P now says in a few sentences Best Buy's junk rating has nothing to do with Schulze's buyout plan, meaning the lack of a formal offer is immaterial to the company's current rating.
But the agency's August cut explicitly focused on Best Buy's debt-fueled takeover
as cause for the company's move from investment grade to junk.
"The rating action is a result of founder and largest shareholder, Richard Schulze's proposal to acquire the company for a purchase price in the range of $24.00 to $26.00 per share," wrote S&P in its
Aug. 6 downgrade
of Best Buy from investment grade.
Fitch also referenced Schulze's proposal as a part of
its Aug. 6 downgrade
of Best Buy to a sub investment grade rating. The ratings agency's analysts cited "the possibility of a leveraging transaction" following Schulze's proposal.
Still, Fitch noted the takeover deal was a secondary factor to its "assessment that Best Buy's business profile, including its weakening
comparable store sales, recent margin pressure that Fitch believes will continue, and heightened event risk, is no longer consistent with an investment grade rating."
Both agencies also wrote that if a takeover were to occur, it would trigger further downgrades.
However, when the agencies moved lockstep once more on Nov. 21 in cutting Best Buy further into junk territory, they scarcely made reference to Schulze's outstanding takeover proposal, despite ongoing reports that he was arranging a deal with large private equity firms.
Instead, S&P and Fitch focused almost exclusively on
disastrous third quarter earnings report and weak holiday season guidance
.
Since the Nov. 21 cuts, which put Best Buy ratings at BB and BB- at S&P and Fitch, respectively, neither agency sees reason to reassess the company's financial picture.
Best Buy's ratings remain on 'negative' watch at both agencies, indicating that a lot has to be done for the company to pull itself from junk territory.
But a lot has changed for the Minnesota based big box-electronics retailer.
Most notably, a formal takeover offer from Schulze never materialized.
Meanwhile the company beat fourth quarter earnings expectations and its own guidance on declining losses. Further, tight management of working capital led to an improving cash flow profile.
The genesis of Best Buy's junk rating raises the question of whether S&P and Fitch used Schulze's takeover proposal as cause to rejigger their opinions of the company's finances.
Such a scenario might have been unfair to Best Buy given that no formal offer takeover was ever proposed and
.
Consider how S&P and Fitch responded to a comparably risky
that Carl Icahn proposed for household products giant
Clorox
(CLX) - Get Report
in July of 2011. While Icahn came to the table with a formal offer and a near $8 billion financing commitment from investment bank
Jefferies
(JEF) - Get Report
, neither agency saw reason to cut Clorox's bond ratings. Instead, they simply put the company on review for a downgrade.
In a March 4 ratings bulletin, S&P indicated that its November downgrade of Best Buy superseded the August ratings cut to junk, meaning that its most recent rating did not reflect any of the debt or financial strains from a prospective buyout offer from Schulze.
The lack of a takeover offer "does not affect the 'BB' corporate credit rating and negative outlook on the company," said S&P, in what appears to be a major, if little explained, change in opinion.
A January ratings report by Fitch highlights sales and gross margin declines as risks for a further downgrade, while noting a bottoming could lead to a stabilization of Best Buy's ratings. The company's proposed takeover wasn't referenced as a factor for ratings actions.
Moody's, on the other hand, may be the most consistent of the big three agencies in its rating of Best Buy's debt during a tumultuous six months of takeover reports and seesaw earnings.
After Schulze's proposal was first announced, Moody's maintained a low-investment grade rating for Best Buy -- Baa2 -- while characterizing what turned out to be a
as a developing situation given a lack of firm financial commitments.
"The stable rating outlook reflects Moody's expectation that Best Buy will continue to profitably defend its market share, and as a result credit metrics will not change materially despite the still-difficult consumer environment," Moody's analysts wrote.
So what is next for Best Buy? Investors would probably do well to forget ratings agencies entirely.
Best Buy shares currently are testing six-month highs above $20 after analysts at Goldman Sachs see reason to believe the company's management change and revamped strategy may eventually succeed.
"Management changes are catalyzing a more realistic approach to pricing; substantial cost cuts; and, the beginnings of a more concerted effort online," wrote Goldman Sachs analysts in a Tuesday upgrade of Best Buy shares to 'buy."
Goldman Sachs analysts give the company a price target of $25 a share.
Such expectations appear to hinge on recently-announced restructuring efforts and a commitment to match online prices, which may help the company win back electronics sales from the likes of Amazon.
Meanwhile, a fresh set of tablet, smartphone and PC products launched by competitors such as
Microsoft
(MSFT) - Get Report
,
BlackBerry
,
Samsung
and even
Dell
(DELL) - Get Report
and
Hewlett-Packard
(HPQ) - Get Report
indicate Best Buy may benefit from a new tech sector product cycle.
Bond investors may still have reason view Best Buy's turnaround skeptically. Gimme Credit analyst Carol Levenson highlights that Best Buy saw its operating losses accelerate in the fourth quarter as free cash flow dropped year-over-year from $1.4 billion to $965 million.
While Levenson expects strong free cash flow in 2013, a forward looking analysis of Best Buy's strategy after Schulze's withdrawal gives the credit analyst reason to be cautious. "We are projecting strong free cash flow this year, but fear it may be directed towards shareholder enhancement," Leveson wrote in a March 6 client note.
Best Buy is likely to spend 2013 under the scrutiny of some investors hoping for a turnaround and others who forecast the company's eventual demise. Schulze's takeover proposal, however, is definitively off the table.
It's time for S&P and Fitch to give investors a full picture what Schulze's withdrawal means, given the tough actions both agencies took in the wake of the founders buyout proposal.
A S&P spokesperson directed
TheStreet
to the firm's March 4 ratings bulletin, while Brian Bertsch, a Fitch spokesperson, referred to the firm's January report.
-- Written by Antoine Gara in New York