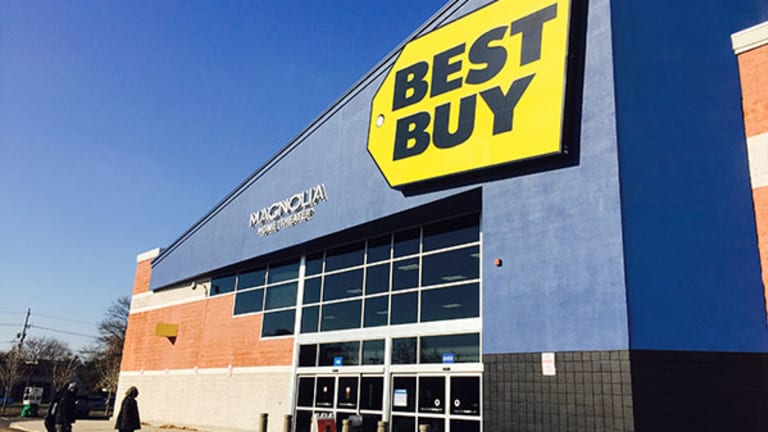 Like many big retailers in the U.S, Best Buy (BBY) - Get Best Buy Co., Inc. Report is shrinking in a bid to cut costs as more shopping moves online, Americans migrate back to urban areas and price competition with Amazon (AMZN) - Get Amazon.com, Inc. Report intensifies.
But unlike companies such as Macy's (M) - Get Macy's Inc Report , J.C. Penney (JCP) - Get J. C. Penney Company, Inc. Report and Walmart (WMT) - Get Walmart Inc. Report , the electronics retailer is undertaking its store closures rather quietly. In 2015, Best Buy closed 13 of its big box stores and 17 of its smaller Best Buy Mobile stores in the United States. Best Buy finished its fiscal year with 1,416 U.S. stores; its U.S. store base reached a peak of 1,503 in fiscal year 2013.
According to a Best Buy spokesman, "the closures occurred throughout the year, and all have been closed for several months." The company declined to provide a list of which stores had closed, however, something which other retailers often do.
"A company of our size is going to make the decision not to renew leases or to close or relocate stores from time to time as a normal course of business," added the spokesperson. "Some stores no longer make sense to keep open for a range of reasons, from the strength of a retail center to the shopping pattern of customers to the cost of a new lease to store performance." 
Best Buy's store closures in 2015 come despite it maintaining that it doesn't have a huge crop of under-performing stores.
"We do not have a list of stores that have negative cash flows, or significant issues with -- so, that's the great news -- we don't have a story to tell about our portfolio that is not performing," Best Buy's executive vice president and CFO Sharon L. McCollam told analysts on an Aug. 25 earnings call.
But with revenue under pressure due to heightened competitive factors, and a "significant" amount of leases up for renewal per McCollam's comments in August, Best Buy may deem it necessary to make an aggressive move on how many stores it operates.
Don't expect any store closure press releases from Best Buy, however. "There is no announcement to be made -- we consistently have said that we're targeting rationalization of our footprint, particularly, in our multi-store markets, and to the extent that we have redundancy or stores that we feel should not be in the network long-term, of course, we'll close those," said McCollam.
Best Buy joins the growing list of bricks-and-mortar retailers closing stores in the U.S. in order to free up money to invest in lower prices for consumers and digital initiatives.
By the end of January, the world's largest retailer, Walmart, wrapped up the closure of 154 U.S stores. The company originally disclosed its decision on Jan. 15. In mid-January, Macy's said that it will close 14 stores (out of a current total of about 790 Macy's stores) by early spring 2015. The news from Macy's arrived on the heels of its mall rival J.C. Penney announcing 40 store closures for this year, or 4% of its store base, just a few days earlier.
According to Office Depot's (ODP) - Get ODP CORPORATION Report latest annual report, it will shutter about 50 stores in the U.S. this year. Last year, the company closed 181 stores. And Kohl's (KSS) - Get Kohl's Corporation (KSS) Report said on Thursday that it will close 18 stores this year.