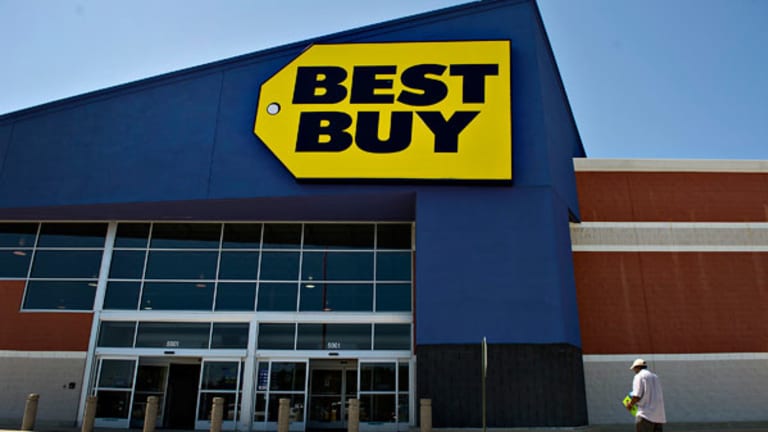 Best Buy Investors Wishing It Were 2013 Again
After a run-up last year, Best Buy's stock has dropped 35% so far this year. Things may not get any better as shoppers continue to migrate to the Web.
After a run-up last year, Best Buy's stock has dropped 35% so far this year. Things may not get any better as shoppers continue to migrate to the Web.
NEW YORK (TheStreet) -- Best Buy (BBY) - Get ReportBBY may be fading into extinction as the "show-rooming effect" continues to weigh on sales growth.
The electronics retailer said on Thursday that revenue fell 3% to $9.04 billion during its fiscal first quarter that ended May 4.
Although the company has been aggressively cutting costs, while revamping merchandise and store formats to attract customers, sales have continued to slide. Best Buy said revenue in stores open at least 14 months, a key retail metric, declined 1.9%, and the company expects same-store sales to decline in the next two quarters, as well.
Read: Please Don't Take Your Guns to Chipotle Mexican Grill
"As we look forward to the second and third quarters, we are expecting to see ongoing industrywide sales decline in many of the consumer-electronics categories in which we compete," Best Buy Chief Financial Officer Sharon McCollam said during the earnings call.
Best Buy's stock has fallen 35% in 2014 after a run-up of almost 300% the previous year. Last year, investors and Best Buy executives believed they had found the answer to combat customer's flight from in-store retail to online purchasing.
"I think that Best Buy has killed show-rooming," the retailer's chief executive, Hubert Joly, told the Wall Street Journal in November.
Read: 5 Government-Bloacked Mergers That Should Worry Comcast, AT&T
The electronics chain boasted about its success converting customers who would normally go to a Best Buy outlet to try out products before buying them online from another retailer.
Best Buy's strategy was to offer competitive prices to deter customers from leaving the store to purchase online and instead to buy products on-site. But that strategy didn't work.
When Best Buy announced that its same-store sales for December -- the most important month of the year for most retailers -- fell by 0.9% from a year earlier, the company's shares plunged by 30%. And during the fiscal fourth quarter, margins fell.
Meanwhile, Amazon (AMZN) - Get ReportAMZN posted record results during the same holiday shopping season. Amazon Prime, the annual membership program under which Amazon offered unlimited free two-day shipping on millions of items, saw more items shipped worldwide than ever before.
The 2013 holiday season was the best ever for Amazon, with more than 36.8 million items ordered worldwide on Cyber Monday, which was a record-breaking 426 items per second.
With such disparity in sales during the 2013 holiday shopping season, investors questioned why Best Buy's stock price had such a great run throughout the year.
Read: 5 Undervalued Companies with High Dividends: Mattel, Chevron, More
Many now believe that 2013 was just an elongated relief rally in the eventual demise of Best Buy. Remember that Best Buy's stock had a horrible 2012, and was priced for death. The positive reaction to the stock in 2013 was due to Best Buy not dying.
Now, however, investors may be justified in pricing the company into death. Executives clearly believe the next few quarters will be lackluster, while online retailers continue to invest and grow.
Best Buy may not fall to zero this year or even the next, but the current trajectory looks to be downward.
>>Read More: American Air President: Don't Call Us 'Nickle and Dimers'
>>Read More: Boeing Wants to Be More Like Apple in Its Strategic Planning
>>Read More: It's Time to Look Abroad to Enhance Your ETF Portfolio
At the time of publication, the author had no position in any of the stocks mentioned.
Follow @macroinsights
This article represents the opinion of a contributor and not necessarily that of TheStreet or its editorial staff.