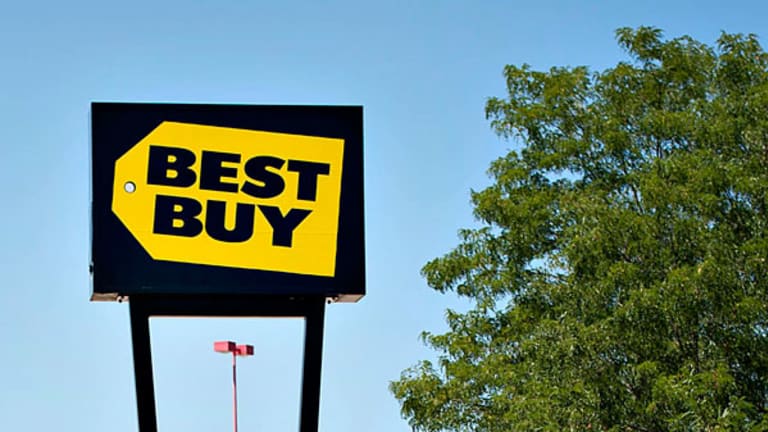 Best Buy Has a Stronger Pulse
Best Buy doesn't get the credit it deserves.
NEW YORK (TheStreet) -- Another quarter is in the books, which means Best Buy (BBY) - Get Best Buy Co., Inc. Report, which has been on a perpetual deathwatch, has survived another three months.
The bears, meanwhile, are still not ready to stamp the grim reaper's passport and kindly send him on his way. With the behemoth known as
Amazon.com
(AMZN) - Get Amazon.com, Inc. Report
not going anywhere and seemingly doing no wrong, the shorts continue to show incredible patience and are biding their time. But Best Buy's not making it easy.
Although the company is still struggling with margins and same-store sales, the level of erosion is improving, which is to say there are clearer signs of progress. The fact that revenue declined again this quarter is a popular point being raised by the skeptics. But in all honesty, the fact that revenue declined by less than 1% has to be viewed as a "win" (of sorts) to anyone who can be objective.
Along similar lines, I'm willing to applaud the fact that "comps," or same-store sales, also declined by less than 1%. This is the metric that tracks the performance of stores that have been opened at least one year. You have every right to be unimpressed by this. But just to keep things in perspective,
Wal-Mart
(WMT) - Get Walmart Inc. Report
, the world's largest retailer, didn't grow comps at all in its recent quarter.
Read: Microsoft Stinks So Bad It Hurts
McDonald's
(MCD) - Get McDonald's Corporation Report
, meanwhile, grew comps at just 1% year over year. But McDonald's remains on everyone
. I'm not here to compare McDonald's to Best Buy, but both companies operate within the consumer discretionary space. Gven that McDonald's has attributed its underperformance to the slower-than-expected growth of the economy, it's only fair to offer similar considerations to Best Buy.
Besides, given how dominant Amazon has been and the carnage that it has left behind -- including CompUSA, Media Play and Circuit City -- the fact that Best Buy is still around is a marvel. This is to say nothing about the wounded operations for which Amazon is solely responsible -- a group that includes (among others)
Barnes & Noble
(BKS) - Get Barnes & Noble, Inc. Report
.
But Best Buy has other ideas. Given that inventory was down roughly 7%, it certainly appears as if management's recovery efforts are beginning to pay handsome dividends. It's foolish to pretend otherwise. What's more, the company's partnership with
Samsung
, which introduced the "store-within-a store" concept, has brought new life back into the stores.
I get that this joint venture was more of an attempt to help Samsung attack
Apple's
(AAPL) - Get Apple Inc. Report
retail advantage, but given the improved traffic the relationship has created, it matters very little what the original plan was. What's more, given the improvement I've seen in Best Buy's margins and with the company's 14% increase in operating income, I will argue that Best Buy has benefited more from the Samsung deal than has Samsung.
Read: Why is This the Happiest City in America?
The bears will likely disagree on this as well. But from the standpoint of mere "relevance" this partnership has added an extra layer of importance to the "big box" idea. In fact, things have gone so well with Samsung that Best Buy now has a similar agreement in place with
Microsoft
(MSFT) - Get Microsoft Corporation Report
. It remains to be seen how
CEO Steve Ballmer's planned retirement
might affect this arrangement, but Windows stores inside Best Buys should present meaningful advantages to both companies.
I've said this on more than one occasion: corporate turnarounds are never easy. As confidently I can now speak about Best Buy, I will admit that I never truly believed this beleaguered retail giant could escape the grasp of Amazon, which has done so much damage to so many other retailers. But signs are finally pointing upward for Best Buy.
The winners out of all of this have been the shareholders. After all, it wasn't that long ago the company's founder and largest shareholder, Richard Schulze, had grown frustrated and offered to take the company private last year for about $24 to $26 per share. Investors resisted. Today, the stock is trading 50% higher than Schulze's offer. Who said patience wasn't virtuous? Given the company's continued improvements, more patience should land this stock at a solid $40 by the end of the year.
At the time of publication, the author was long AAPL
.
Follow @saintssense
This article was written by an independent contributor, separate from TheStreet's regular news coverage.
Richard Saintvilus is a co-founder of
where he serves as CEO and editor-in-chief. After 20 years in the IT industry, including 5 years as a high school computer teacher, Saintvilus decided his second act would be as a stock analyst - bringing logic from an investor's point of view. His goal is to remove the complicated aspect of investing and present it to readers in a way that makes sense.
His background in engineering has provided him with strong analytical skills. That, along with 15 years of trading and investing, has given him the tools needed to assess equities and appraise value. Richard is a Warren Buffett disciple who bases investment decisions on the quality of a company's management, growth aspects, return on equity, and price-to-earnings ratio.
His work has been featured on CNBC, Yahoo! Finance, MSN Money, Forbes, Motley Fool and numerous other outlets.
Follow @saintssense