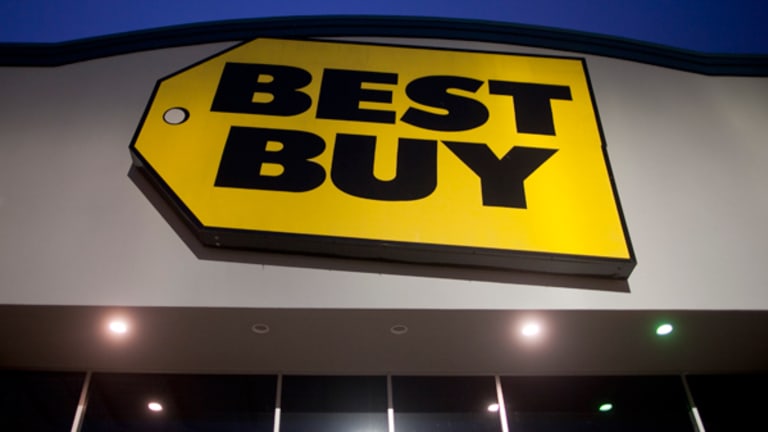 Best Buy: Dead and Dangerous Money
Until big-box retailers implement real, non-Amazon strategies, long-term investors should stay away from their stocks.
Until big-box retailers implement real, non-Amazon strategies, long-term investors should stay away from their stocks.
NEW YORK (TheStreet) -- I saw Springsteen play Sacramento during the Iraq war in 2003. It was a particularly intense show because it took place shortly after coalition forces toppled a statue of Saddam Hussein in Downtown Baghdad. Bruce took exception to what he perceived as celebration amidst continued carnage and chaos.
Regardless of where you stand politically, it was a powerful performance kicked off by an acoustic "Born in the U.S.A." that Bruce introduced by saying something like I wrote this song about the Vietnam War. I don't want to have to write it again.
On an albeit much less serious note, that's kind of, sort of how I'm feeling about writing a post-earnings Best Buy (BBY) - Get Report article in 2014. Because, in some fashion, I've already written this article:
J. C. Penney Crashed, Best Buy Is Next (September 30, 2013); and
Sell Best Buy, It Has No Pulse (November 20, 2013).
Check out those articles. And note that Best Buy stock is down roughly 28% and 30% since the publication of each. And what I wrote about Best Buy in 2013 (and 2012) is just as relevant today as it was then.
Checking myself, as I often do, with the wisdom of TheStreet's retail expert Brian Sozzi, who makes a logical case for Best Buy in a 5/23 post at our Real Money premium service:
We are witnessing something very, very interesting at Best Buy that could be used as a template for other retailers that have implemented ship-from-store capabilities for online orders ...
Ship-from-store is shaping up to be a formidable threat to Amazon.com (AMZN) - Get Report, as large-box retailers clearly outnumber the online giant in the number of distribution centers -- whoops, I mean retail stores.
So the idea then, as Sozzi sees it, is that retail outlets have morphed into distributions centers as traditional physical retailers purposefully shift their sales online. That's fine and good, but it still should provide zero confidence in any of these names, specifically Best Buy, as long-term investments. They represent short-term trades at best, but you can only dabble there if you're nimble.
This strategy fell into Best Buy's lap. In fact, it was forced on the company by Amazon. If that's not a red flag I'm not sure what is. Another company is dictating the direction of your game to you. You have nothing original to adapt or respond with so you basically counter what they're doing with a very similar version of what they're doing. And even that comes way late.
To become attractive and feasible long-term investments again, we have to see the Best Buys of the world execute something other than the most obvious ways forward. For me, it begins and quite possibly ends with the people these companies decide to hire in prime leadership positions. People with the creative and visionary capacity to chart new territory before it becomes Amazon's turf to defend.
--Written by Rocco Pendola in Santa Monica, Calif.
>>Read More:
5 Amazing Things You Didn't Know About a Vespa Scooter
Looking for an Investment: Here Are 8 of the Best Franchises in America
American Air President: Don't Call Us 'Nickel and Dimers'
Rocco Pendola is a full-time columnist for
TheStreet
. He lives in Santa Monica. Disclosure: TheStreet's editorial policy prohibits staff editors, reporters and analysts from holding positions in any individual stocks.