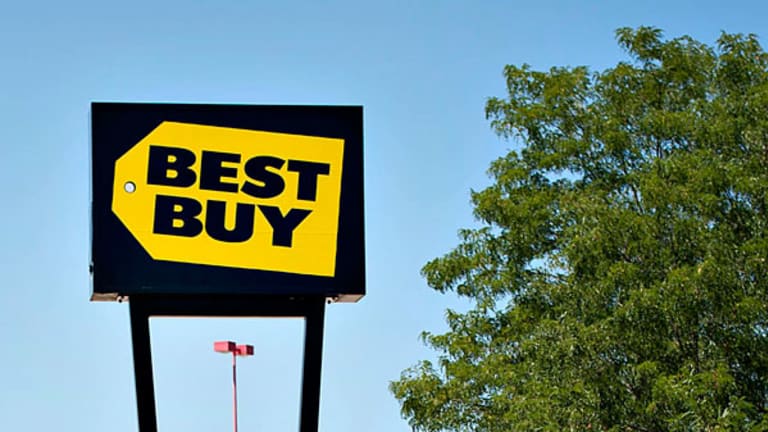 Best Buy: As Pathetic as Sears, JCP (Updated)
They're burning the furniture at Best Buy to build a fire. And it shows.
**Updated from 12:03 PM EST with comments from Wedbush analyst on Page Two.
NEW YORK (TheStreet) -- There's one thing -- that isn't really real -- that sets Best Buy (BBY) - Get Best Buy Co., Inc. Report apart from Sears Holdings (SHLD) and J. C. Penney (JCP) - Get J. C. Penney Company, Inc. Report.
The products they sell.
If you removed the inventory from BBY, SHLD and JCP stores, nobody outside of a retail real estate salesperson would be able to tell the difference. Each building represents the soulless shell of a once-thriving industry treated with utter disrespect by Jeff Bezos and Amazon.com (AMZN) - Get Amazon.com, Inc. Report.
That's how you have to look at Best Buy, company and stock. As that sterile big box pit with almost as few redeeming qualities as a crack house. Because once you put the product back in, you might be fooled.
And you were fooled, in the best possible way, in 2013.
Somehow BBY managed to soar 237.68% last year.
Take products that intrigue and inspire, rearrange them around the store and you can make believers (or momo chasers) out of otherwise intelligent people.
Sign me up for Hubert Joly's gig. Please. I'll do my best not to feel guilty to the point of suicide for effectively stealing my salary from the rolls of a public corporation.
I published an endless scroll of BBY warnings throughout 2013 (and 2012). One of the most recent came in November -- Sell Best Buy, It Has No Pulse.
The message could not have been any more clear, not to mention spot on. Same goes for the analysis. An analysis that still stands:
(Best Buy) is what happens when you put MBA types or retail lifers in charge of a situation that requires dynamic wholesale transformation.
Managers can be fantastic at cleaning up near-term messes by cutting prices, realigning "teams" and slashing expenses. However, cats of this ilk tend not to be the best visionaries. The very thing physical retailers need, they lack and, worse yet, refuse to secure.
If you read the recaps of Best Buy's holiday quarter earnings report or listen to the call itself, it remains clear the company as well as bullish Wall Street analysts still have absolutely no clue.
Joly referred to the quarter's woes as a "speed bump" that doesn't change the long-term plan. He claimed Best Buy had no choice but to be price competitive as to "defend our market share" during the holidays.
Looking forward there's more of the same retail boilerplate from Joly.
Just read the last paragraph in the above-linked recap of the earnings. He's just another guy with a business degree, mired in retail's culture of obviousness (a phrase I coined a year ago in another bearish BBY piece), who has absolutely no idea how to move his company, let alone the space, forward beyond short-term window dressing.
As one BBY source told me this morning: (Best Buy) burned the furniture to build a fire.
That's an apt assessment.
If you're a nimble trader or an investor who understands what you're buying, I guess it made sense to hold BBY through 2013 (obviously!). It might even make sense to grab shares now on the inevitable rebound owed to the slew of analysts who will, once again (and blissfully!), put their ignorance on display as they play CYA on CNBC.
Just understand what you're buying. You're not buying a real company with a sound plan for the long-term. You're not investing in shares floated by a firm that understands the dire predicament physical retail is in and is moving aggressively and innovatively -- with vision -- to lead the way out.
You're investing in a Board of Directors and a CEO as corporately pathetic as the worst Sears and JCP have to offer. It's another case where the rank and file of the operation (and I know a few at BBY, past and present) are good people who should not have to deal with the wholesale incompetence of their leaders. Many have already jumped ship. Expect more to follow suit because, believe me when I tell you, internally there are a quite a few Best Buyers not buying what Viva Joly is selling.
UPDATE: Hit Page Two for a take from one of just a wheelbarrow full of Wall Street analysts' worth quoting ...

If you have read my work at TheStreet and stream of (un)consciousness on Twitter (TWTR) - Get Twitter, Inc. Report for more than a minute, you know I don't think much of the culture of Wall Street analysis. However, there are a few guys I read almost religiously. Michael Pachter at Wedbush is one of them. 
However, I have to admit, I have been remiss in that Pachter has had a sell rating on BBY for quite some time. Now, on one hand, as the game gets played on Wall Street, that's not a good thing, given the stock's appreciation. That's why I'm bearish Netflix (NFLX) - Get Netflix, Inc. Report the company, while maintaining a bullish position on the stock since Summer 2012. But Pachter deserves credit as well as your attention. His analysis of BBY -- and NFLX for that matter -- is spot on. 
What follows is his take, word-for-word, on the Best Buy post-holiday crash. I pull the most important bullet point first ... the line about Internet sales versus overall sales. So crucial. Then I reprint the note in its entirety ...
Management pointed out the bright spot that Internet sales were up roughly $200 million, while overall domestic sales declined by roughly $150 million. This implies that overall store-level sales declined by $350 million during the holiday period, triggering massive deleverage. This is not a bright spot, in our view.
Cuts through the almost Reed Hastings-like smoke and mirrors getting thrown down at Camp Viva Joly!
Here's the entire summary of the note:
Before the market open Friday, Best Buy reported holiday sales results (9-weeks ending January 4), with comps down 0.8% (down 0.9% domestically, up 0.1% internationally), below our estimate of up 0.5%. Domestic growth in computing, appliances and gaming were offset by declines in digital imaging, movies, and MP3 players. International revenues decreased due to store closings and negative FX headwinds, but experienced slightly positive comparable store sales. Best Buy hosted a call today and will announce Q4:14 results on Feb. 27.



Best Buy attributed domestic comps declines to the promotional environment leading to deflationary sales, supply constraints in the tablet and mobile phone categories, significant store traffic declines, and a disappointing mobile phone market. Management pointed to NPD Group's revenue for the CE industry down 2.4%, while Best Buy's CE domestic comp of down 6% implies to us market share losses to online competitors.

Best Buy now expects Q4 operating margin to decline 175 to 185 basis points year over year vs. 40 to 70 basis points prior. The degradation in margin was due to incremental discounting to defend market share. We expect price competition to continue, and expect lower operating margins for three quarters.

Management pointed out the bright spot that Internet sales were up roughly $200 million, while overall domestic sales declined by roughly $150 million. This implies that overall store-level sales declined by $350 million during the holiday period, triggering massive deleverage. This is not a bright spot, in our view.

We are decreasing our Q4:14 estimates for revenue to $14.8 billion from $15.0 billion and our EPS estimate EPS to $1.06 from $1.41 to reflect holiday results. We are lowering FY:15 estimates for revenues to $42.0 billion from $42.2 billion and EPS to $1.69 from $1.79, which excludes $320 million of restructuring.

We are reiterating our UNDERPERFORM rating and 12-month price target of $18. Our target is based on an EV of 10x sustainable free cash flow, reflecting expected negative comps in 2014, further margin erosion, low visibility, lack of guidance, and doubts about the sustainability of Best Buy's turnaround plan. We expect comps declines to continue, and we expect price matching to continue to pressure margins.
Pachter's price target on BBY is $18.00.
If you don't realize it yet, soon you will -- you're watching the long slow decline of physical retail and Best Buy, even if it considers itself well-intentioned and on the proper path, isn't doing a darn thing to stop it. 
--Written by Rocco Pendola in Santa Monica, Calif.
Disclosure: TheStreet's editorial policy prohibits staff editors, reporters and analysts from holding positions in any individual stocks. Rocco Pendola is a columnist for
TheStreet
. Whenever possible, Pendola uses hockey, Springsteen or Southern California references in his work. He lives in Santa Monica.