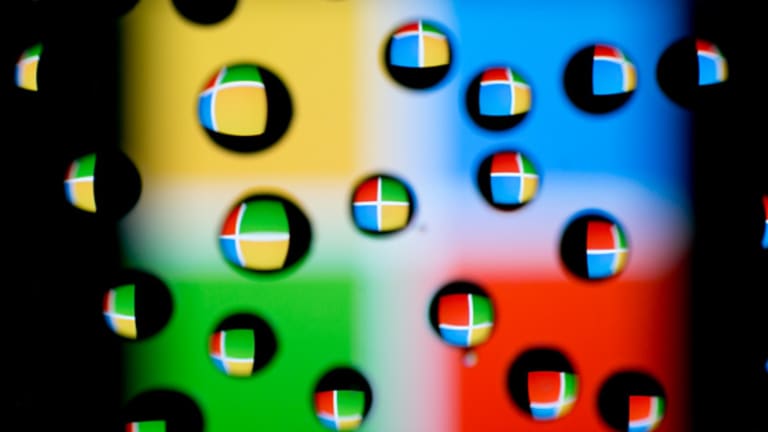 Publish date:
Best Buy and Microsoft: The Blind Leading the Partially Sighted
Microsoft's Surface tablet doesn't sell because it and Microsoft stinks; it has nothing to do with retail availability.
Microsoft's Surface tablet doesn't sell because it and Microsoft stinks; it has nothing to do with retail availability.
NEW YORK (TheStreet) -- I had to laugh the other day when I read that Microsoft (MSFT) - Get Report CEO Steve Ballmer admitted his company built too many Surface RT tablets and is disappointed with sales.
Maybe Ballmer thought he'd better somehow get something on the record after reading
Why is the SEC Silent on Microsoft
?
Sadly, this admission of the obvious -- a
mea culpa
Ballmer should have made months ago -- doesn't coincide with him catching anything resembling a clue.
The company appears to think it's failing miserably, in part, because of availability, as articulated in the above-linked
Verge
article:
A lack of devices in retail stores hasn't helped Windows 8's initial prospects, and Microsoft is now focusing on the back to school period and the holiday season to ensure Windows 8 and Windows 8.1 devices are readily available
Part of the tonic, of course, is to follow the trend of opening "a store within a store" at
Best Buy
(BBY) - Get Report
locations across the country. That would be fantastic if Best Buy provided a snowball's chance in Midtown Manhattan of putting Windows' tablets on the radar.
There's something Microsoft and Best Buy just don't understand. It's not about third-party availability. In fact, success or failure selling a device like Surface has little to do with that. If the Surface tablet was relevant in the first place, Microsoft would never have needed to lower its price so quickly and it would compete at slightly above a pathetic level where it's side by side with
Apple
(AAPL) - Get Report
retail stores.
If Microsoft could actually sell Surface tablets in the major markets where it has its own retail outlets (New York City, Northern and Southern California, Chicago, Portland, Seattle, Boston, Denver, Atlanta, Mall of America in Minnesota, etc.), we would not be having this conversation. Along similar lines, if Apple
, it would
from most third-party retailers, starting with hapless and hopeless Best Buy.
Because it's the major markets, where Apple and Microsoft already have significant retail presences, that matter. The issue isn't about sales channels; it's about the devices. Both the quality of the devices and the marketing. Microsoft blows on both counts; Apple doesn't.
For goodness sake, Microsoft is so close to Apple stores in some locations that Apple, unknowingly, provides Microsoft with free advertising!
But
Microsoft retail stories remain perpetually empty
full of employees with nothing better to do than stand around and yawn. (Go ahead, click on the link, look at the pictures, it's worth your time!). If Microsoft's owned-and-branded retail experience didn't
-- and wasn't little more than
a poorly conceived knockoff of the Apple concept
, the need for Best Buy and other third-party retail channels would be little more than a going-through-the-motions formality.
To think the sterile and uninspiring experience Best Buy provides is going to even come close to leveling the playing field is nothing but a dream. A classic case of
the blind leading the blind
. Or, in Microsoft's case, the partially sighted.
--
Written by Rocco Pendola in Santa Monica, Calif.
Rocco Pendola is
TheStreet's
Director of Social Media. Pendola's daily contributions to
TheStreet
frequently appear on
CNBC
and at various top online properties, such as
Forbes
.