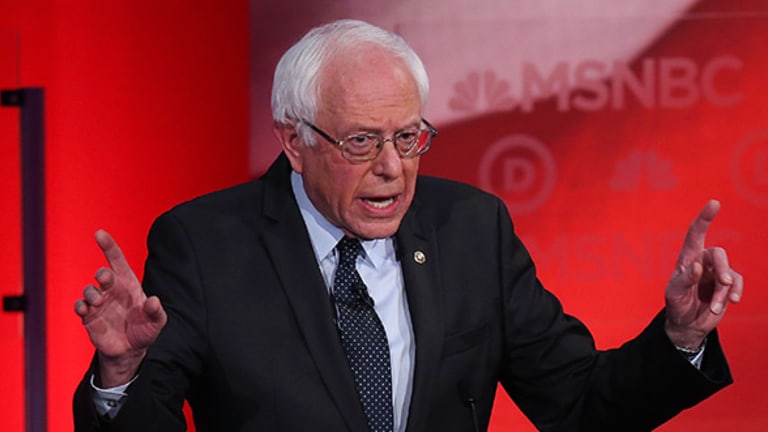 Bernie Sanders Would Help Community Banks, If He Can Win the Election
The number of community banks has declined since the 2008 financial crisis, while big banks have grown more powerful.
Editors' Pick: Originally published Feb. 25.
Vermont Senator and Democratic Presidential candidate Bernie Sanders has a plan to end too-big-to-fail banks -- and it could be good news for community banks, which have suffered from heavy regulations designed for big banks. Sanders has spoken about  breaking up some of the biggest commercial banks and establishing a 21st-century version of the Glass-Steagall Act, the early 20th century legislation that limited certain types of commercial banking activity. 
First, he has to win the election.
If elected president, he said that he would disassemble some of the largest banks within one year and reduce the systemic risk they pose to the financial system. But a byproduct of his proposals could help the beleaguered community banking system. It's an interesting potential scenario but clearly a long shot. The self-described socialist has run a feisty campaign against the odds-on favorite Hillary Clinton but also trails in most national polls. 
According to the Harvard Business Review, since 1994, the share of the U.S. lending business controlled by community banks has "fallen by approximately half -- from 41% to 22% -- while the top five largest banks' share has more than doubled -- from 17% to 41%." When compared to big banks, community banks have been finding themselves "too small to succeed."
Even JPMorgan Chase CEO Jamie Dimon seemed to acknowledge that big banks have the upper hand. In a 2013 conversation with a Citi financial services analyst in 2013, Dimon said that "higher capital rules" and other regulations would "tend to make it tougher for smaller players to enter the market, effectively widening JPM's moat."
The Independent Community Bankers of America, a non-partisan trade association that doesn't endorse presidential candidates and represents more than 6,000 banks nationwide has commented on the Sanders plan. ICBA President and CEO Camden Fine said in an article in May 2015, "ICBA agrees that the too-big-to-fail mega-banks are too big to exist. After triggering a historic financial crisis and receiving trillions of dollars in taxpayer assistance, the nation's largest and riskiest financial institutions continue to pose systemic threats to our economy while enjoying an artificial funding advantage subsidized by taxpayers."
Community banks suffered from loan losses from construction and development lending during the 2008 financial crisis. Many of them have had difficulty weathering the costs of compliance tied to regulations created with big banks in mind. Over the last seven years, one of every four community banks has disappeared but the biggest banks have gotten larger.
Sanders plans to make banking more affordable and less complicated. Sanders also supports Glass-Steagall-type regulation that would limit or prevent traditional banking activities from engaging in investment banking type activities with higher risk. 
Sanders detractors say that big banks are not the real problem. They say that big banks are crucial for the financial system. They also say that community banks lack the resources to support global projects and mergers that can boost the economy. Some also say that Dodd-Frank regulations are already sufficiently addressing the issue of too big to fail and reducing systemic risk. 
Yet Sanders' goals may be laudable, at least insofar as their ability to help community banks. According to a report by the Institute for Local Self-Reliance, local banks outperform their bigger competitors on several key measures of efficiency and profitability. These smaller banks provide 77% of agricultural loans and over 50% of small business loans.
Then again, Sanders faces a big challenge in implementing his plans, none bigger than winning the election. He's lost three of the first four primary contests to Clinton, and few pundits think he will go on to win the Democratic nomination, let alone the election. 
This article is commentary by an independent contributor. At the time of publication, the author held no positions in the stocks mentioned.