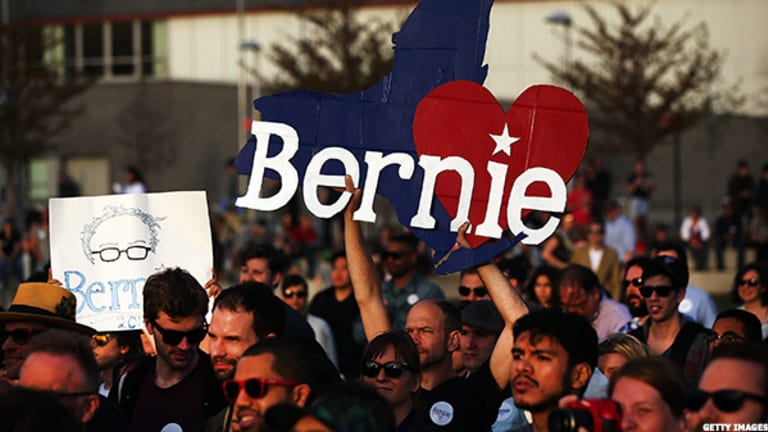 Bernie Sanders Has Lost the Democratic Nomination but He Isn't Done Fighting
The self-described socialist senator from Vermont wants to overhaul America's financial services industry and is committed to defeating Donald Trump in the fall election.
Bernie Sanders can no longer win enough delegates to become the Democratic nominee for president. But he isn't done fighting. 
The self-described socialist senator from Vermont intends to build on his popular support, particularly among younger voters, to advance issues that were core to campaign: namely creating a society that is fairer and juster for the lower and middle classes. Sanders, who has yet to officially drop out of the race, clashed repeatedly with presumptive Democratic nominee Hillary Clinton over her seeming reticence to challenge major financial institutions that he considers the root cause of social inequality. 
But over the past 10 days, Sanders has emphasized his commitment to defeating presumptive Republican nominee Donald Trump. He and Clinton share similar views on a number of issues. Those include limiting the power of large financial services firms and opposing a major trade bill that President Barack Obama has strongly favored. 
Such unity should bode well for the Democrats chances to retain the White House this November. The Democrats will officially nominate Clinton at their convention in Philadelphia, which begins July 25.
Over the past year, Sanders has won the adulation of many voters, particularly younger generations who rallied to his call of  creating a "political revolution." A recent poll by Harvard's Institute of Politics (IOP) found that Sanders is the most popular candidate among 18-to-29-year-olds. Sanders won more than 1,900 delegates and 22 state primaries and caucuses, and cultivated an impressive network of grassroots organizers and fund raising. He received more than 22 million votes. 
Even as he was endorsing Clinton earlier this month, President Barack Obama praised Bernie Sanders for an "incredible campaign" and "for bringing young people into the process." 
In remarks last Thursday, Sanders stressed the importance of defeating Trump. "The major political task that we face in the next five months is to make certain that Donald Trump is defeated and defeated badly," Sanders said. "And I personally intend to begin my role in that process in a very short period of time."
Sanders and Clinton seem increasingly inclined to settle their disagreements and work together on key issues, or at least to work out compromises. 
Both candidates have spoken about breaking up big banks, although Clinton prefers to accomplish this via the Dodd-Frank Law. The 2010 law increased oversight of financial services companies to help prevent a repeat of the near collapse of the U.S. banking industry in 2008. 
"I will appoint regulators who are tough enough and ready enough to break up any bank that fails the test under Dodd-Frank," Clinton said in a Brooklyn debate on April 14, 2016.
Moreover, Clinton and Sanders strongly agree that there should be higher taxes on the wealthy and that there should be a pathway to citizenship for illegal immigrants. They both oppose the Trans-Pacific Partnership (known as TPP), the largest regional trade agreement in history that includes the U.S. and 11 other nations, although Clinton initially favored it.
Trump has called TPP a "terrible deal."
This article is commentary by an independent contributor. At the time of publication, the author held no positions in the stocks mentioned.