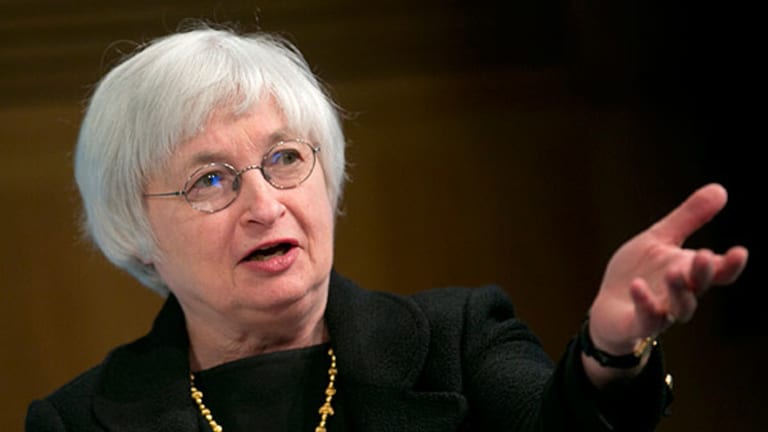 Publish date:
Bernanke's Failing Is Opportunity for Yellen
Thanking the Fed is like thanking doctor for removing a misdiagnosed tumor.
Thanking the Fed is like thanking doctor for removing a misdiagnosed tumor.
NEW YORK (TheStreet) -- The presumptive Fed Chairman Janet Yellen, white haired and slight of build, ran a competitive half-marathon, 13 miles, 10 years ago when she was a sprightly 57. She'll need all those energies when she takes over the office of the man some say was the greatest Fed chairman in history.
Ben Bernanke, whose term expires in January, led the Federal Reserve through one of its most tumultuous periods in which the nation teetered on the brink of a second Great Depression. Bernanke had studied that crippling time and applied lessons fittingly and decisively. His unconventional rescue program included:
The bailing out of venerable but stricken banks including the likes of JP Morgan Chase (JPM) - Get JPMorgan Chase & Co. (JPM) Report, Wells Fargo (WFC) - Get Wells Fargo & Company Report and Goldman Sachs (GS) - Get Goldman Sachs Group, Inc. (GS) Report;
The forced marriage of institutions too sick to survive alone;
The opening up the Fed's money spigot, pumping dollars into struggling markets through successive rounds of "quantitative easing," a term the chairman made famous.
The ratcheting of interest rates to zero percent, the lowest level in history;
The purchase of billions in mortgage bonds to force rates down and control damage to the ravaged housing industry.
Jim Cramer, co-founder of The Street and host of CNBC's Mad Money, was one of many who judged Bernanke the greatest Fed chairman in history.
"The soft-spoken academic who has toiled in the shadows of his legendarily self-promoting predecessor, Alan Greenspan, will be known as the man who averted the Great Depression Two," he wrote in New York magazine in 2009, "a sequel that could have eliminated the United States as a world financial superpower and reduced us to this century's Britain." (For Cramer's full Bottom Line column, see here)
Yet for all his formidable accomplishments, Bernanke leaves one giant gap in his resume, namely the failure of the Fed under his leadership to impose tougher standards on large banks and institutions, and this three years after the 2010 Dodd-Frank reform act gave his agency precisely those powers.
"New capital rules proposed by the Fed for financial conglomerates are weaker than the standards proposed by the two other regulations, the FDIC and the Comptroller of the Currency," writes Sheila Bair, former FDIC chairman, in a recent issue of Fortune magazine.
"The Fed has talked a good game about setting minimum requirements for unsecured debt that can convert into low-absorbing equity if a big bank fails, but has yet to move forward."
In fact the Fed's reluctance to impose tough lending standards and regulation on big institutions contributed mightily to the economic devastation of 2008-2009.
"In that light, thanking the Fed for avoiding another Great Depression," she writes, "is a little like thanking a doctor for successfully removing a malignant tumor after misdiagnosing it and letting it grow for many years."
Bearing this in mind, Yellen, the half-marathoner, may find an opportunity for a big win.
--Written by William Inman.