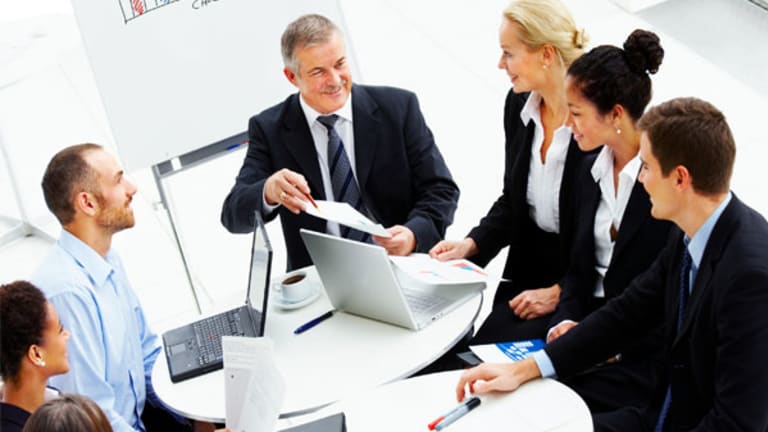 Bernanke to Congress: Your Turn! - Today's Outrage
Ben Bernanke may have been biting his tongue but his impatience with political incompentence is starting to show.
JACKSON HOLE, Wyoming (TheStreet) -- It's probably best that Federal Reserve Chairman Ben Bernanke didn't appear on live television today. He might have lost his cool. He might have said what he really thinks about the ineptitude of the political leadership in Washington.
from the Economic Symposium in Jackson Hole, Wyoming was clearly directed at policy makers. Reading between the lines, he basically told Congress to get its act together and do something about job creation.
I imagine his jaw was clenched tight as he carefully penned his words, mindful of the need to remain above politics, holding back a seething anger that he and the
Fed
seem to be doing all the heavy lifting while political leaders exchange election-year barbs.
The original draft of the speech in his mind probably said something like: What the hell is wrong with you idiots? You gripe and moan about Fed policies but you don't do a thing yourselves.
Prudently, he wrote the following instead: "The quality of economic policymaking in the United States will heavily influence the nation's longer-term prospects."
I'm sure he wanted to offer some sharp words about how Congress embarrassed the nation and screwed things up royally with the irresponsible debt ceiling debacle.
But he more cautiously noted that "the country would be well served by a better process for making fiscal decisions."
As he considered how to express his concern that Washington just doesn't get how dangerous an overdose of fiscal austerity would be at a time when the economic recovery is barely taking hold, he probably wanted to say something like: Get over your petty political agendas and open your eyes to the massive unemployment problem in America.
But gentle Ben wrote only that: "Although the issue of fiscal sustainability must urgently be addressed, fiscal policymakers should not, as a consequence, disregard the fragility of the current economic recovery."
Bernanke may be feeling vitriolic about the lack of urgency among elected officials to do anything about the unemployment problem in America.
His official remarks, however, simply reminded Congressional leaders that "Fiscal policymakers can also promote stronger economic performance through the design of tax policies and spending programs."
He might have wanted to tell Congressional leaders: The Fed has done everything it can to fix this mess. Now it's your turn. You need to do something. Get it?
Instead, he wrote: "Most of the economic policies that support robust economic growth in the long run are outside the province of the central bank."
It's not too hard to read between the lines of this speech, but I fear that such subtlety is beyond the grasp of most of the folks up on Capitol Hill.
Maybe this translation will help, but I kind of doubt it.
Readers Also Like:
10 Bank Stocks for Bottom-Fishing Investors
GDP Cuts Are a Race to the Bottom
--Written by
in New York.
Disclosure: TheStreet's editorial policy prohibits staff editors and reporters from holding positions in any individual stocks.