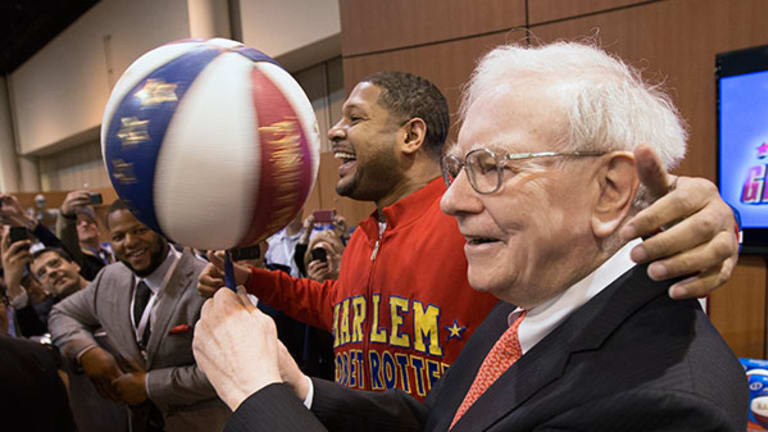 Berkshire Hathaway's Meeting Is a Value Investor's Mecca
There's always something to learn from the Oracle of Omaha.
NEW YORK (Real Money) -- As usual this time of year, one would be hard-pressed to find a hotel room within 100 miles of Omaha, Neb., and even then, it would be triple the normal rate.
This weekend marks the annual value investor pilgrimage to the Berkshire Hathaway (BRK.A) - Get Report (BRK.B) - Get Reportannual meeting. I suspect close to 50,000 people from all over the world are coming into Omaha for Warren Buffett's legendary gathering.
This meeting should be somewhat special as it will be the 50th anniversary of Buffett's control of Berkshire. The theme is "50 Years of a Profitable Partnership," and it's grossly understated.
More Berkshire Hathaway Coverage

If You Can't Afford Warren Buffett's Stock, Try a 'Berky' Bra (Or Boxers)

Will Warren Buffett's Berkshire Put Campbell Soup on Buying Menu?

Most are aware of the staggering returns that Berkshire has produced, so I will keep the math very simple. When Buffett took control of Berkshire, the stock was trading for under $8 per share. Today, the company's Class A shares trade for around $215,000. The last 50 years have not been just a profitable partnership for Berkshire holders, they have been a fortune-creating partnership.
So what can investors expect from the six hour-plus Q&A session this time? Given that this year's annual letter was more revealing as to Berkshire's future, I suspect there may be some discussion about a future dividend, share buybacks, and, of course, succession. Yet, I don't expect Buffett to reveal anything new as that has been his policy.
Five years ago at the 2010 meeting, a little over a year after the market bottomed, Buffett commented that when Wells Fargo (WFC) - Get Report was trading at under $10, he would have put his entire net worth in the company. Wells now trades for over $55.
With the market up over 200% from those bottoms five years ago, I believe there will be a lot of questions about the future of the stock market and valuation. Again, expect a "Buffett answer": He doesn't know what the market will do in the future but he's not finding too many interesting things right now. As always, look out for his comments on any particular stock.
At 84 years old, Buffett continues to get closer to the day when he will not be running Berkshire. Anyone who is interested in investing should make a committed effort to attend one of these meetings. Despite the fact that the meeting has essentially become a weekend of parties and events, it still remains one of best investment-education opportunities around. Every year, there is something of value to take away. I'm sure after today, we will know what that is.
This article is commentary by an independent contributor. At the time of publication, the author held a position in Berkshire Hathaway.