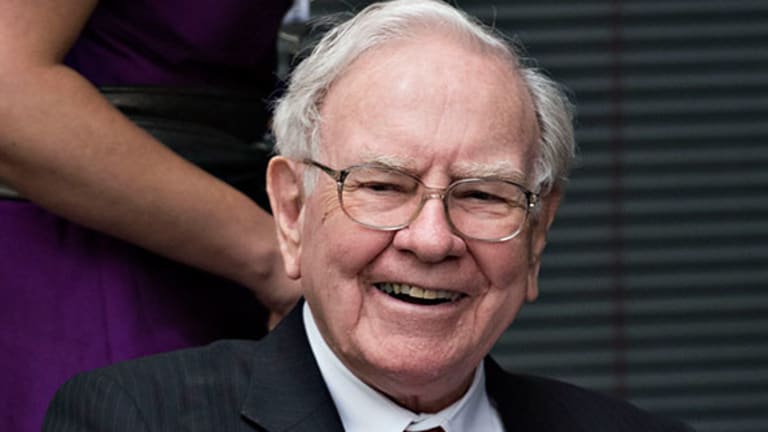 Deciphering what Warren Buffett is up to requires some reading between the lines, and that's just the way he likes it.
That will be especially true when the billionaire's Berkshire Hathaway (BRK.A) - Get BRK.A Report (BRK.B) - Get Berkshire Hathaway Inc. Class B Report reports third-quarter financial results on Friday.
Because of a $7 billion pretax windfall from its stake in the newly formed Kraft Heinz (KHC) - Get Kraft Heinz Company (KHC) Report, Berkshire is expected to post record profit, a sharp reversal from its laggard second-quarter numbers. The gain will likely overshadow the lackluster performance of many of the conglomerate's major business lines and investments -- though probably not for long.
"The bottom line may look very good, but this is a one-time event," said David Kass, a professor of finance at the Robert H. Smith School of Business at the University of Maryland and author of a blog dedicated to Berkshire Hathaway. "It's certainly a real number, a real profit that's being earned by Berkshire, and so it will make their earnings report look good. But I think the concern that many analysts might have, they will be focusing on continuing earnings, the operating earnings, what has occurred in the last quarter, and what's likely to occur in subsequent quarters in the near future."
This year hasn't been especially kind to Berkshire Hathaway. The price of its B shares have declined more than 9% for the year to date. The Kraft Heinz merger, which Berkshire orchestrated alongside private equity firm 3G Capital and closed in July, has headlined 2015, and not all of the buzz has been good.
Just this week, the company announced plans to close seven manufacturing plants and cut 2,600 jobs, making just the type of maneuver 3G is known for and that Buffett defended at Berkshire's annual shareholder's meeting back in May.
But the Kraft Heinz noise has given Buffett a way to distract onlookers from everything else he has going on. The billionaire investor is known for keeping his cards close to his chest.
Friday's earnings announcement will provide a peek into how 2015, which marks Buffett's 50th year at the helm of Berkshire Hathaway, is shaping up, though some of the most important insights may also be the most subtle.
External Impacts on Insurance
Insurance, one of Berkshire's biggest lines of business, has been a sore spot this year. It made a major dent in the conglomerate's operating income in the second quarter and may or may not improve in the third. According toInsurance Journal, insurance contributes nearly 25% of Berkshire's revenue. Specifically, operations contributed $5.2 billion to total operating income of $16.6 billion in 2014, the 12th straight year of insurance underwriting profit.

Increasing claims costs have taken a toll on Berkshire subsidiary Geico as lower gas prices and warmer weather have put more drivers on the road -- and led to a jump in accidents. The auto insurer's pre-tax underwriting gain has declined significantly this year, falling to $53 million in the second quarter and reaching just $213 million in the first half of the year, compared with $393 million and $746 million during the same periods the year prior. The company has increased premiums in response.
"Trends are improving, but they're still not that great. And so I would expect to see some improvement in Geico relative to the second quarter, but it may not be back to year-ago levels, that were much more profitable," said Jim Shanahan, equity research analyst at Edward Jones.
Meyer Shields, an analyst at Keefe Bruyette & Woods, believes Geico's numbers might be slightly worse. "The third quarter encompasses a couple of months that are really, really active driving months, so the effect is probably going to be magnified," he said.
Berkshire Hathaway's reinsurance division has struggled in 2015 as well, but the unit may actually get a boost from a perhaps unexpected place: the U.S. dollar.
"Berkshire Hathaway, because they have international reinsurance operations, actually does well when the dollar strengthens against foreign currencies, because they've got liabilities in other currencies that translate into fewer dollars when the dollar strengthens," Shields said. "That will boost profits in most of the insurance businesses a little bit. On the margin, that helps rather than hurts."
And there is another perhaps even less obvious indicator that Berkshire Hathaway's insurance division may be turning the corner: competitor AIG's (AIG) - Get American International Group, Inc. Reporthuge miss on its own third-quarter earnings.
"The fact that AIG had a very difficult quarter I think is, counterintuitively, a really, really good sign for Berkshire Hathaway," Shields said. "If you go back a few years, Berkshire Hathaway recruited a lot of AIG's very, very senior U.S. management team. What has been going on, I think, is that they're culling through the AIG book of business that they're very familiar with and picking a lot of the better accounts, and that makes it more and more difficult for AIG to improve its own underwriting results."
Book Value and Buybacks
The Berkshire Hathaway stock portfolio hasn't exactly proven a shining beacon of light in recent months, and some of the conglomerate's most notable holdings, including IBM (IBM) - Get International Business Machines (IBM) Report , Walmart (WMT) - Get Walmart Inc. Report and American Express (AXP) - Get American Express Company Report , have had a tough go on the market this year. That may weigh on a metric that Buffett holds in high esteem: book value.
"He always puts a lot of weight on book value, which will depend heavily on the value of the stocks in his portfolio," said Kass.
As of the end of the second quarter, Berkshire Hathaway's book value was $149,735. Kass said he doubts it would be moving very far from that number in the third quarter. Shanahan estimates it might hit $155,000 and anticipates the market's rebound may drive it even higher to the $158,000-$159,000 range by Dec. 31. "There should be another $5 billion or so in value recovery just based on the way the stocks have performed so far in the fourth quarter," he said.

However, it is also worth noting that focusing so heavily on Berkshire's book value may no longer make an enormous amount of sense. Much of the company's value in its early years was its stock market portfolio, and book value was a close approximation to what Buffett often refers to as "intrinsic value," or the real value of the firm. But over the years, that has changed.
"As Berkshire has acquired large companies rather than pieces of companies as stocks in their portfolio, book value has become a smaller percentage of intrinsic value and therefore a less accurate estimate of the value of the firm," Kass said.
Buffett himself acknowledged this issue in his 2014 letter to Berkshire shareholders, noting that "the gap between Berkshire's intrinsic value and its book value has materially widened."
That doesn't mean book value can be discounted completely, especially as it has also been established as a basis for determining repurchases. Berkshire's board has approved a plan in place since 2012 to buy back its shares when they trade at a less than 20% premium to book value. "It sends a message to investors," Kass said. "It results in basically creating a floor for the stock."
Berkshire won't spell out the premium in its earnings report, but investors will be wise to keep it in mind. While the stock isn't at the 20% level yet, it is closer than it has been on average.
Unfinished Deals
Berkshire has faced mounting pressure to begin to deploy the capital it is sitting on (it reported more than $66 billion at the end of the second quarter) and shift around some of its finances. Two major transactions in the pipeline will help it do that. The catch: Neither is likely to appear on the balance sheet until next year.
Berkshire entered into an agreement to buy battery maker Duracell from Procter & Gamble (PG) - Get Procter & Gamble Company Report in November 2014. When the $4.7 billion deal is complete, Duracell will fall under the jurisdiction of manufacturing company Marmon. In August, it announced the acquisition of Precision Castparts (PCP) . Valued at $37.2 billion, the deal marks one of Buffett's biggest in years.
Both transactions are expected to close in the first quarter of 2016, and when they do, it will be impactful.
"Getting this capital invested and these productive assets on the balance sheet will be pretty powerful from an earnings standpoint," Shanahan said. Unfortunately, their effects won't be felt just yet.
This article is commentary by an independent contributor. At the time of publication, the author held no positions in the stocks mentioned.