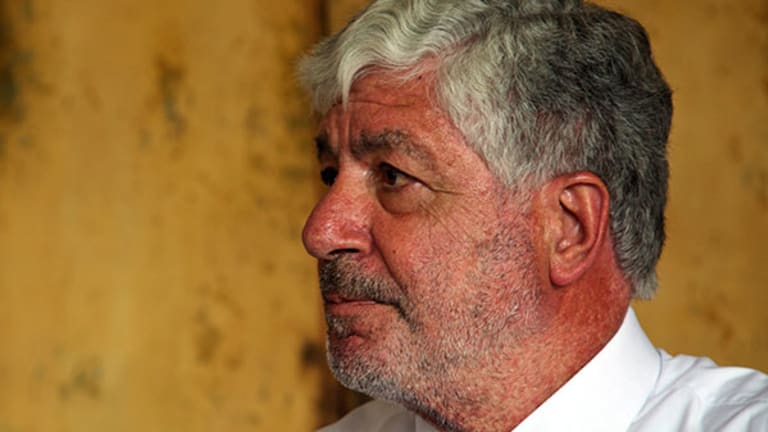 AIG's Benmosche Puts Wall Street's Foot in his Mouth
AIG CEO Robert Benmosche damaged all of Wall Street by comparing critics of big bonuses to the lynch mobs of Atlanta's past.
NEW YORK (TheStreet) -- American International Group (AIG) - Get American International Group, Inc. Report CEO Robert Benmosche's grandfather, Herman, escaped persecution in Lithuania to come to America. Most American families can tell similar stories.
African-American families, on the whole, can't. Their persecution began the day they came here, as slaves. And it didn't end with slavery, but continued for a century in the form of chain gangs, lynch mobs, and poll taxes across the South.
I would argue it's continuing today in the form of voting restrictions, gerrymandering and the creation of cities designed to keep tax income from being shared across racial lines.
My neighbors and I can tell that story from personal experience.
So Benmosche's claim the criticism of Wall Street for its bonuses in the wake of the 2008 crash was "just as bad and just as wrong" as the rhetoric that provoked lynchings across the Deep South 100 years ago was a bit more than a "poor choice of words," as a company statement put it.
It was a rank piece of stupidity that is going to resonate for some time.
For one thing, not all of lynching's victims were black. Leo Frank, lynched just 15 miles from my Atlanta home in 1915, was Jewish. The motive of the lynch mob was that he was a manager, thus relatively wealthy and able to afford a lawyer so he could be acquitted of a murder. Maybe Benmosche even saw the Broadway musical based on that case,
.
The
Columbia Journalism Review
notes that the
Wall Street Journal
, which took the lynching quote, tried to save Benmosche embarrassment
but it was quickly found, tweeted, retweeted and then used by at least one black Congressman in a call for Benmosche's firing.
Even more troubling may have been Benmosche's claim, in the same interview, that the problem of "too big to fail" has now been solved. That would be news to John Thain, the former Merrill Lynch CEO now running the
CIT Group
(CIT) - Get CIT Group Inc. Report
, who told
CNBC
last week the problem has not been solved and
may be too complicated to solve.
As tone-deaf as some politicians sometimes seem, it can be the same with businessmen. Each time one puts his foot in his mouth and chews thoughtfully, it hurts everyone.
Benmosche, who came to AIG after its bailout, has turned the company around, repaying the U.S. government and paying a 10 cent/share dividend this month. But the current price of nearly $50/share has to be set against a 1:20 reverse split, which happened a month before he took over.
He has done a good job delivering nearly $5 billion in net income this year spread across 1.48 billion shares. The market cap is back over $72 billion, and the AIG name has been placed back on key subsidiaries, like the former Chartis and the former SunAmerica.
But the worst was over before Benmosche joined. He retired as CEO of
MetLife
(MET) - Get MetLife, Inc. Report
in 2006, and was just a board member at
Credit Suisse
(CS) - Get Credit Suisse Group AG Report
when he was recruited by
, then chief restructuring officer at the U.S. Department of the Treasury. It's Millstein who turned AIG around, not Benmosche.
Since 2009 Benmosche has steered a steady course, which was the point of the
Journal
piece that began all this. But he's not Ted Turner, who transformed the Atlanta Braves from a laughingstock into an important baseball franchise. He's Fredi Gonzalez, the guy who gets to manage them now.
Benmosche now has the job former Braves manager Bobby Cox handled so well, that of seeing to a proper succession and heading into retirement himself. Benmosche is 69, he's a cancer survivor and he said last year he intends to retire by the end of next year.
The hope on the Street is his successor learns from his mistakes, for all our sakes. When someone hands you billions in assets and a clear field for managing them, the proper response is that of my friend and neighbor Edna House, who turns 100 in December and whose grandparents were slaves, for real:
Thank you, I'm blessed.
At the time of publication, the author owned 200 shares of AIG.
This article is commentary by an independent contributor, separate from TheStreet's regular news coverage.
Dana Blankenhorn has been a business journalist since 1978, and a tech reporter since 1982. His specialty has been getting to the future ahead of the crowd, then leaving before success arrived. That meant covering the Internet in 1985, e-commerce in 1994, the Internet of Things in 2005, open source in 2005 and, since 2010, renewable energy. He has written for every medium from newspapers and magazines to Web sites, from books to blogs. He still seeks tomorrow from his Craftsman home in Atlanta.