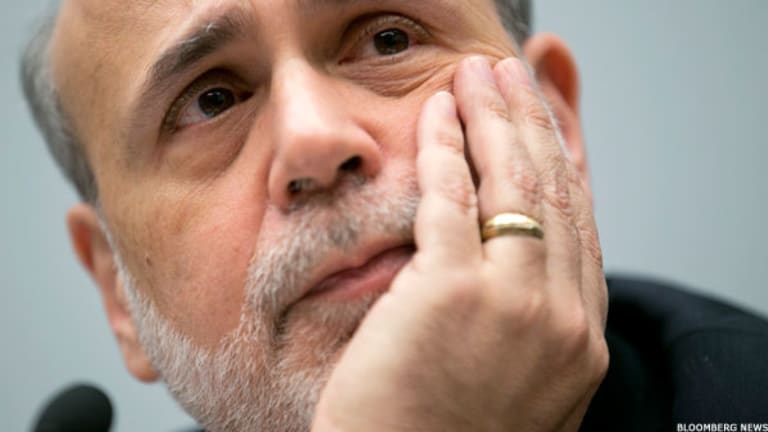 Ben Bernanke's House of Cards
The current housing weakness suggests the efficacy of the Fed's quantitative easing is on shaky ground.
"One should always play fairly when one has the winning cards." -- Oscar Wilde
NEW YORK (
) -- The
S&P 500
hit another all-time closing high Monday, widespread euphoria is building and the belief in the power of quantitative easing over markets has likely never been higher.
For good reason: It has been almost a year and a half since the S&P 500 experienced a 10% correction and the S&P 500 has not tested its 200-day moving average the entire year. This is the furthest the S&P 500 has gone into a year without a test of its 200-day moving average since 1995.
However, a nagging disconnect has developed amid this strength. If you recall, the twin pillars of
Federal Reserve
Chairman Ben Bernanke's wealth effect thesis were stock prices and the housing market. While there is no question the stock pillar remains strong, the housing pillar is starting to show some cracks:
Homebuilder equities
, as seen by the
SPDR S&P Homebuilders
(XHB)
exchange-traded fund, peaked back in May and in yesterday's session hit a new one-year low relative to the S&P 500.
Courtesy of StockCharts.com
The NAHB Housing Market Index
(homebuilder confidence) peaked in August and has been down in each of the last two months. This index typically leads the housing market.
MBA Purchase applications
, a leading indicator for housing activity, are down sharply since May as higher rates continue to hurt affordability and therefore demand.
Now, to be sure, these are just cracks for the time being and the housing market could very well continue in its recovery if mortgage rates can stabilize here. But it begs the question: If the Fed's $40 billion in MBS purchases per month and cumulative MBS purchases of over $1.2 trillion are not enough to keep mortgage rates low and demand up, is QE still working here?
Our ATAC models used for managing our mutual fund and separate accounts are currently favoring long duration bonds -- not because of Fed effectiveness on forcing reflation, but on bets that stimulus is not actually working.
Realistically, there are two ways to improve the housing market. The first is the traditional, healthy path: With improved job and income growth, demand for housing will rise over time. The second is the artificial path: By driving interest rates lower than market levels or reducing credit standards, affordability and demand for housing will rise.
Now, Bernanke will tell you that QE has helped with both paths but the data suggest otherwise. Job and income growth remain anemic and well below prior recoveries. Thus, we are left with artificially suppressing interest rates and the current conundrum. If a 0% Fed Funds rate for almost five years and record mortgage-backed securities (MBS) purchases are not enough to keep rates down, has the Fed lost some control over mortgage rates?
If so, the Fed has three options today: (1) cease all taper talk and continue with QE much longer than the market is anticipating, (2) increase MBS purchases (if current levels are no longer working, we must do more) or (3) acknowledge that the benefits from QE are waning and the risks of further increasing the Fed's balance are rising exponentially, beginning what is likely to be a painful (but necessary) process of withdrawing from the mortgage market.
Given the ideology of the Bernanke Fed, you tell me which option is most likely here.
This article was written by an independent contributor, separate from TheStreet's regular news coverage.