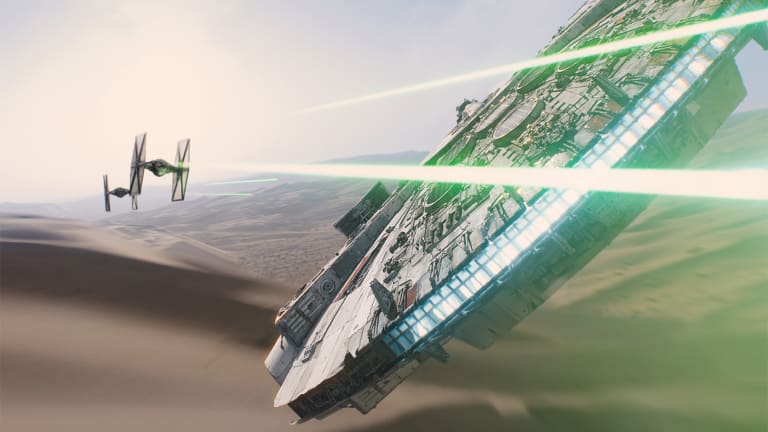 Believe The Hype: New 'Star Wars' Is Even Bigger Than You Think
'Star Wars' product marketing is ubiquitous, from Verizon and Under Armour to Lego, but Disney isn't worried about overkill. It's aiming to make billions.
When Disney (DIS) - Get Walt Disney Company Report  spent $4 billion to acquire the movie production house Lucasfilm in 2012, it certainly looked like a big number.
Yet, if Disney's first foray in the Star Wars franchise meets expectations and merchandise sales predictions are even partially realized, CEO Bob Iger could recoup the whole sum in one fell swoop.
"It will be twice as big as Frozen," said toy expert Jim Silver, editor in chief at Toys, Tots, Pets & More.
The movie won't begin playing in theaters until Dec. 18, yet the brand is seemingly everywhere. Even the Sept. 4 marketing of "Force Friday," when Disney released new Star Wars toys and characters, went so well that sales were thought to have approached $1 billion on that one day alone.
Then, from storm troopers to Chewbacca, Star Wars dominated Halloween like it hasn't in decades. And it's about to dominate Christmas. Some estimates have Star Wars merchandise generating upwards of $5 billion this year.
The new film is expected to generate as much as $2 billion in box office receipts, eclipsing Frozen, which generated $1.3 billion in box office sales, and may have done as well at the toy store.
Here's the logic to the eye-popping comparison to Frozen, which drove Disney's earnings for several quarters.
First, age demographics. "Frozen didn't have 40-, 50- and 60-year-olds buying toys," Silver said. "Star Wars does."
Star Wars fans span several generations -- from fans of the original late-70s film all the way to children in 2015 playing with light sabers even though they haven't seen one of the movies yet.
Second, gender. While it may seem as though Star Wars skews heavily towards males, Silver says it appeals to women as well. The sheer number of passionate fans is much higher than Frozen, and, for that reason, there is much more opportunity within consumer products and licensing.
From logos and characters on Under Armourclothing to Chewbacca appearingVerizon ads to the classic toy offerings, the consumer product push surrounding the movie has been expansive, and carried by the country's largest retailers: Target, Kohl's, Macy's, J.C. Penney and Amazon.
Under Armour is another example of Star Wars' range of appeal.
"We found athletes want self expression, with a product that performs as they express themselves," said Glenn Silbert, senior vice president of global product creation for Under Armour's apparel and accessories. "The reach that these movies have is an added benefit."
The last installment of Star Wars in 2005 made more than $800 million worldwide, but had nowhere near the buildup of The Force Awakens. Even if reviews disappoint, The Force Awakens will likely have a huge opening number and surpass $800 million at the box office.
This article is commentary by an independent contributor. At the time of publication, the author held no positions in the stocks mentioned.