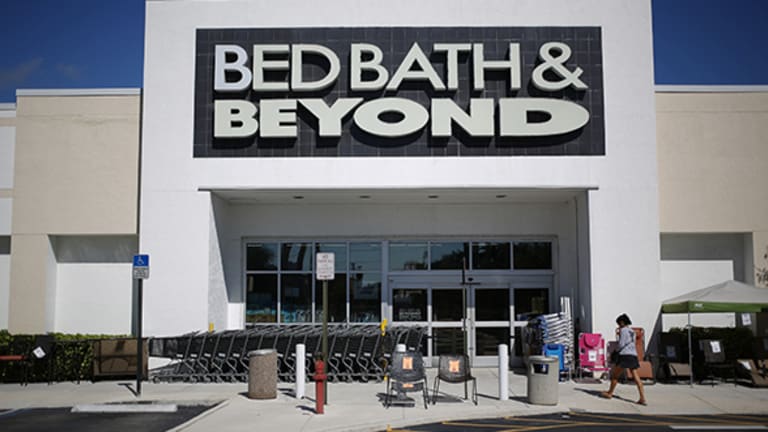 Bed Bath & Beyond Is a Buy for Those Willing to Weather the Storm
The steep decline in the retailer's share price has created an opportunity for long-term investors.
Shares of Bed Bath $ Beyond (BBBY) have been under tremendous selling pressure, falling more than 45% from their all-time high of about $80. 
However, the downturn is likely temporary and creates an opportunity for long-term investors to start accumulating shares of the domestic-merchandise retailer at these levels and lower.
Bed Bath & Beyond trades at a trailing 12-month price-earnings ratio of 8.51 and has an estimated forward P/E ratio of 8.50. The reason for this rather low multiple is because investors are worried about stagnating growth and the threat of online shopping. 
But in an attempt to become more modern, Bed Bath & Beyond is making aggressive investments in e-commerce to help the company return to growth and sustain its long-term value. 
In order to get a clearer picture of the situation and its effect on earnings, let's use a method used by one of the most successful investors of all time, Peter Lynch. He would create a chart that showed the stock price and earnings per share together and would then equate $1 in earnings per share to $15 in stock price.
The result allowed Lynch to get a better picture of whether a stock was undervalued or overvalued, and he used this to help him achieve superior gains.
Below is a chart for Bed Bath & Beyond, using Lynch's methodology with expected earnings.
Chart Courtesy of GuruFocus.com
As the chart shows, Bed Bath & Beyond's share price (green line) is far below its earnings (blue line), giving investors an opportunity to buy shares at a cheap valuation. 
Bed Bath & Beyond is also extremely undervalued, according to many other valuation metrics. One of particular significance is its earnings power value. 
"Earnings power value, also known as just earnings power, is a valuation technique popularized by Bruce Greenwald, an authority on value investing at Columbia University. It is arguably a better way to analyze stocks than discounted cash flow analysis that relies on highly speculative growth assumptions many years into the future," according to GuruFocus.
"The basic concept of EPV is that one should value a stock based on the current free cash flow of a company and not on future projections, which may, or may not, come true," according to GuruFocus.
Bed Bath & Beyond's EPV is $78.78. That is 45.66% above its current stock price, giving investors a high margin of safety.
Other signs that point to Bed Bath & Beyond being a favorable long-term investment are that its stock price is close to a five-year low, its P/E ratio is near a 10-year low, its price-sales ratio is close to a 10-year low and its price-book ratio is near a five-year low.
Many retailers are facing extreme worries and uncertain futures due to online shopping.
But Bed Bath & Beyond is a solid and relevant company with strong brand awareness. Management is taking the initiative and making sure it takes the necessary steps to protect the long-term value of the business. 
Those who are willing to weather the storm in the short term could be significantly rewarded. 
Brent Botwin is a value investor and previous Fortress Challenge winner. He is a stock specialist who is constantly monitoring the market and uses strong fundamental and technical analysis to provide timely investment advice over a wide variety of sectors. At the time of publication, the author held no positions in the stocks mentioned.