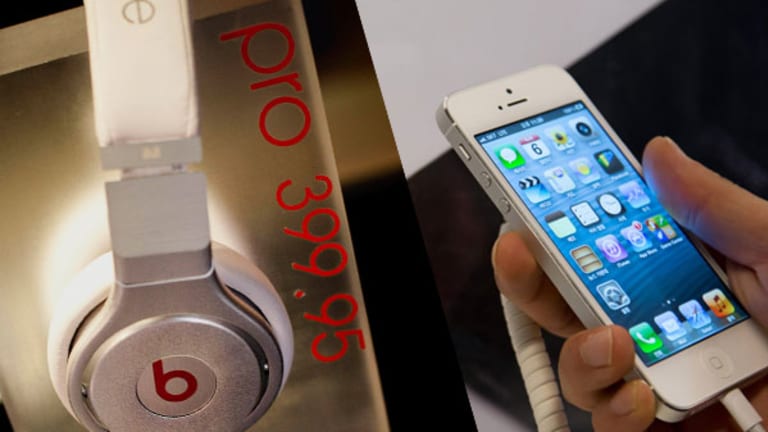 Beats Music Thinks It's Netflix -- But It's Wrong
The people behind Beats Music should have exercised humility at launch. Now they're just embarrassed.
NEW YORK (TheStreet) -- So, according to Billboard, one of the more recent Pandora (P) killers, Beats Music, is dead on arrival:
The key metric for the labels is the so-called conversion rate -- the rate at which free trials to road-test a streaming service lead to paying subscribers. Label sources estimate the Beats Music subscriber count to be in the low six figures.
That's weak. And it serves them right. "Them" being the celebrity names who launched Beats with bravado and fanfare, but zero humility. According to cats like Trent Reznor everybody, particularly Pandora, has been doing Internet radio wrong. And, by letting people such as Himself curate the music via playlist delivery, Beats would right those wrongs.
Except that hasn't happened. Because, outside of a handful of music snobs, most people don't think there's much wrong with Internet radio in the first place. We all have our favorites. And we're listening to them. 
For some background and context, see a pair of January 2014 articles that coincided with Beats' launch:
Beats Disrespects Pandora, Talks Too Big a Game
If Only Beats Music Could Run a Streaming Service As Well As It Runs Its Mouth
Beats entered the scene using some flavor of the arrogant approach that has worked for Reed Hastings at Netflix (NFLX) - Get Free Report. However, Hastings has always had something going for him Beats' founders and executives do not -- people are used to paying for television. And they hate it. They feel like they're being ripped off and can do nothing about it. They were ripe for a savior. 
Coming in at a $7.99 price point (though that's about to change), Hastings was able to position Netflix as a value-delivering hero. The anti-cable. That's two parts brilliant, one part phony. And it's working. 
People love Netflix so much -- from consumers to the media -- that Hastings' fall guy on stand by, Ted Sarandos, can say, with pompous imprecision, we're getting numbers for our original programs that would make the networks "happy" and get away with it. OTOH, streaming music services don't necessarily receive the same benefit of the doubt from a equal parts cynical and self-entitled audience.
It's not that consumers hate Internet radio the way they do cable. In fact, they don't hate it at all. They love it. But they love it the Pandora way and, to a lesser but still meaningful extent, the Spotify and Rdio way.We (music listeners) have already been saved. We have ZERO use for Beats. 
As Digital Music News noted Monday, less than 2% of Americans subscribe to streaming music services. I don't think that tally includes Pandora, but, even with them, it doesn't amount to much.
Digital Music News did another story earlier this year that Beats should have paid attention to. It basically said music listeners prefer passive experiences. That's why Pandora works so well for them. Hit a button and the music plays. Interact -- with little effort -- and you receive your ideal listening experience. One that only gets better over time and with more effortless interaction.
Beats user interface requires too much effort. Plain and simple. People don't have time for all that noise. And they don't need or have the inclination for self-proclaimed experts telling them what they should be listening to.
Anyhow ...
While I expect subscription adoption to accelerate rapidly over the next several years, it's a bit nuts for Beats to essentially hinge its entire business model (free trial >>> subscription) on behavior that's the polar opposite of what people actually do.
But guys like Reznor are arrogant. They think they know everything. They -- obviously -- refused to learn from history. Instead of giving companies such as Pandora and Spotify a nod and learning from them, they disrespected them. Now they're paying for it. They look like asses. And I'd hate to find out how much cash they're burning through.
Beats will either change course or stay stubborn, keep pulling from their war chest and end up dead in a pool of their own blood.
If they're not already, Beats will soon be begging anybody who will listen -- Google (GOOG) - Get Free Report, Facebook (FB) - Get Free Report, etc. -- to buy them.
--Written by Rocco Pendola in Santa Monica, Calif.
Rocco Pendola is a full-time columnist for
TheStreet
. He lives in Santa Monica. Disclosure: TheStreet's editorial policy prohibits staff editors, reporters and analysts from holding positions in any individual stocks.