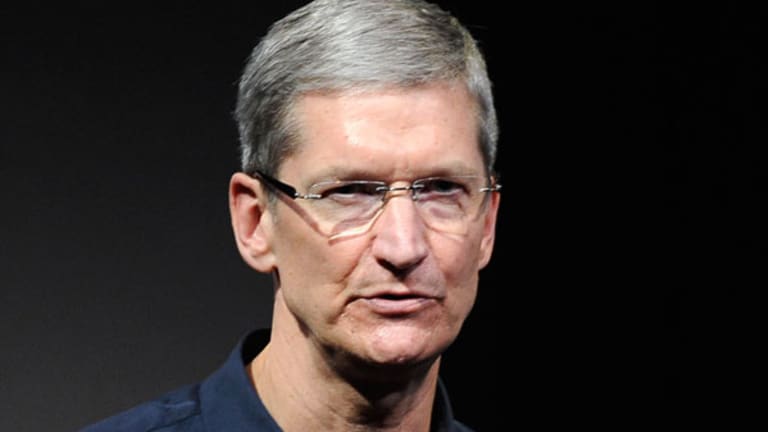 Beats Deal Will End Apple's Latest Bull Run
In buying Beats Electronics for $3.2 billion, Apple CEO Tim Cook admits his company is out of ideas.
NEW YORK (TheStreet) -- Apple's (AAPL) - Get Free Report reported deal to purchase Beats Electronics for $3.2 billion should end its recent bull run, which has seen its shares rise more than 12% in the last month.
CEO Tim Cook has boosted the shares with a stock split, stock buyback and dividend hike, drawing in tons of money looking for "safe" gains. But ultimately tech companies must grow, change and evolve to survive, and Apple is apparently out of ideas.
When you're buying out a small peripherals company and streaming site for $3.2 billion, it means you don't think your own efforts can create that value. It means you just faced the buy-or-make decision and decided you had to buy.
Our Brian Sozzi insisted that this is a great deal for Apple. He loves Beats President Luke Wood. He thinks the Beats headphones will add "cool" to Apple's line. He thinks Beats has other ideas Apple can now implement.
But that's precisely my point. Cook is buying music imagination because he can't create it from scratch within his own company. And that should have Apple shareholders shaking in their iShoes.

WATCH: More market update videos on TheStreet TV | More videos from Debra Borchardt
Cook made Apple a buy by transforming it from a growth company to an extractive company, from a company focused on the top line to one focused on the bottom line. Since he became CEO on Aug. 24, 2011, the stock is up 59%, it has paid out more than $21.50 in dividends on each share of stock, and it has cut its float to just 865 million shares, presplit. 
But the company's price-to-earnings multiple, the amount investors will pay for its earnings, has remained range-bound. It's currently about 14. Most of the recent gains are due to changing investor fashion, a general preference for dividends over growth, not to anything Apple is doing that's exciting anyone.
A piece of Sondheim's Sunday in the Park With George is appropriate here. "Chromolume #7?" Or, we might say, iPhone number 6? The whole point of the play's second act is that the artist is looking for inspiration outside himself when he should be looking inside, making what he does produce derivative.
Where is the Apple TV? Where is the Apple watch? Where is the next Apple revolution?
To offer another musical analogy, is Jonathan Ive really Salieri to Steve Jobs' Mozart, or is he even that good?
While Apple has been extracting value for shareholders, investors have been switching allegiance to Facebook (FB) - Get Free Report, whose shares have doubled in value over the last year, while shares in Apple are up by just 31%.
Facebook now trades at a price-to-earnings multiple of 71. Its year-over-year sales growth of 70% has been achieved with rising margins, which are now as good as Apple's own. Facebook also lives in the Internet core, while Apple's devices run at the Internet edge, so it can change itself at a relatively low cost.
There are said to be five stages of fame, just like there are five stages of grief. Who's Apple, get me Apple, get me someone like Apple, get me a young Apple, and who's Apple?
Facebook recently bought Oculus Rift, makers of a virtual reality headset, for $2 billion. So Apple responds by buying Beats Music, started by an aging hip-hop artist, for $3.2 billion. Get me a young Apple indeed.
If placing those stories side-by-side makes Apple sound like a bald, aging man going through the middle aged crazies, that's precisely the point. Yes, I own Apple shares. But next year I turn 60, and I'm not pretending that 60 is the new 30.
At the time of publication the author owned shares of AAPL.
This article represents the opinion of a contributor and not necessarily that of TheStreet or its editorial staff.
>>Read More: Why Apple's Beats Deal Is a Sound Strategy
>>Read More: Tim Cook Is a Genius if Apple Buys Beats

>>Read More: Beats Doesn't Make Sense For Apple