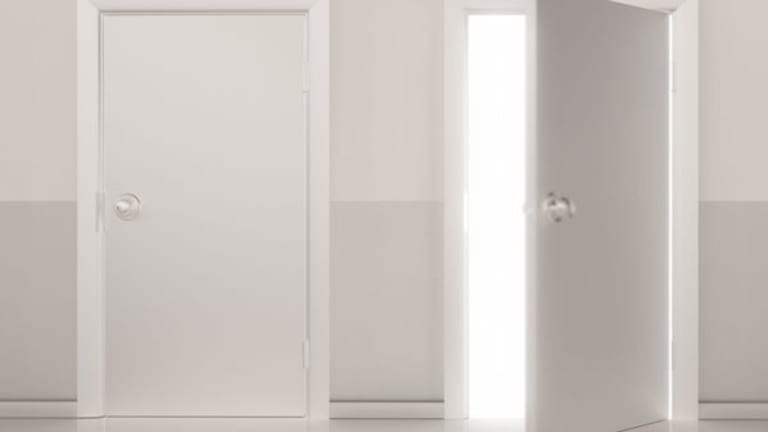 Bears Have Full Plate
The bears edge bulls this week in <I>TheStreet's</I> latest sentiment survey.
NEW YORK (
) -- Heading into last week, sentiment was wildly bullish after Republicans gained control of the House and the
Federal Reserve
moved to pump up the U.S. economy.
But stocks ended the week lower on debt fears coming out of the eurozone, rumors China is going to raise interest rates to cool its growing economy, and a weak sales forecast from tech bellwether
Cisco
(CSCO)
.
This week bearishness has crept into the
TheStreet's
latest Bull vs. Bear survey after the
Dow Jones Industrial Average
and
S&P 500
each fell 2.2% last week, and Nasdaq dropped 2.4%.
As of 5 a.m. EST Monday, the poll finds survey-takers who were bearish on stocks with 273 votes, or 45.1%, of the total votes cast while those bullish on stocks tallied 264 votes, or 43.6%. Survey-takers neutral on stocks this week were at 68 votes, or 11.2%.
Poll participants expect the precious metals sector to lead gainers this week, while the commercial banks sector is forecast to lead decliners.
tanked on Friday from a combination of technical selling and rumors that China would implement measures to combat rising inflation. Gold for December delivery on Friday settled down $37.80 to $1,365.50 an ounce at the Comex division of the New York Mercantile Exchange. On Monday, gold was up $1.90 to $1,367.40.
Global concerns and the currency trade
likely will influence trading this week and overshadow a raft of U.S. economic reports. At last week's G20 meeting, leaders refused to back a
U.S. push to make China boost the value of the yuan
, keeping alive a dispute that raises fears of a global trade war.
Among economic data scheduled this week are October retail sales Monday and the Consumer Price Index and housing starts Wednesday.
Premarket futures were suggesting U.S. stocks would open lower on Monday.
Asian stocks ended mixed Monday, while European shares at 5 a.m. were falling.
Retailers highlight earnings this week with
Wal-Mart
(TGT)
,
Target
(TGT)
and
Sears
(SHLD)
on tap.
Also expected this week is the initial public offering of
, the No. 1 U.S. automaker that emerged from bankruptcy protection in July 2009 and last week posted third-quarter earnings of $2 billion.
> > Bull or Bear? Vote in Our Poll
The poll closes at 9:15 a.m.
Here's a wrap-up of our other polls:
With
Chrysler
raising its full-year guidance and narrowing its sequential loss in the third quarter
prior to what appears to be a hot
GM
IPO, users of
TheStreet
are increasingly bullish on Chrysler.
As Conway MacKenzie turnaround expert Van Conway said after Chrysler released its earnings on Monday, U.S. car companies have "mutual synergy" in how they're perceived, so the good performance of one could bode well for another as well.
Chrysler's IPO is expected to take place in the latter half of 2011, while GM's IPO is expected to take place next week. GM is scheduled to price the IPO next Wednesday and its shares should begin trading on the New York and Toronto stock exchange on Thursday. According to
Reuters
, GM's IPO has already attracted $60 billion in orders, which is six times what the automaker originally expected to raise. Several new reports say that the IPO will likely price in the upper range of $26 to $29 a share.
As all eyes shifted to GM,
TheStreet
fast forwarded to its smaller rival's expected upcoming IPO and asked readers for their latest sentiment about it in light of its earnings and guidance report, GM's initial public offering and
various analyst views about these developments.
Slightly more than 51% of the those who responded to the poll indicated they were more bullish about the Chrysler's IPO, while a little more than 24% were more bearish, and another slightly over 24% were unchanged in their sentiment.
>>Click here for full results and analysis of our Chrysler IPO poll
Amazon's
(AMZN)
next M&A target will be
Drugstore.com
(DSCM)
, according to
TheStreet
readers.
Following Amazon's $545 million purchase earlier this week of Quidsi, which operates Diapers.com and Soap.com, we asked readers what other company is most likely on Amazon's radar for an acquisition. According to the poll, 37.6% say Drugstore.com is the most likely buyout.
Last week Drugstore.com reported third-quarter earnings of $2.4 million, or 2 cents a share, compared with a loss of $1.6 million, or 2 cents, in the year prior. Sales surged 23% to $108.8 million from $88.6 million. Analysts forecast earnings of 3 cents a share on revenue of $108.9 million.
Netflix
(NFLX)
is the second most likely Amazon target, according to 29.8% of voters. The Internet movie rental company has been rumored to be a potential acquisition, but many analysts have predicted that the time has passed for any such deal.
>>Click here for full results and analysis of our Amazon M&A poll
-- Written by Joseph Woelfel and Ty Wenger in New York.