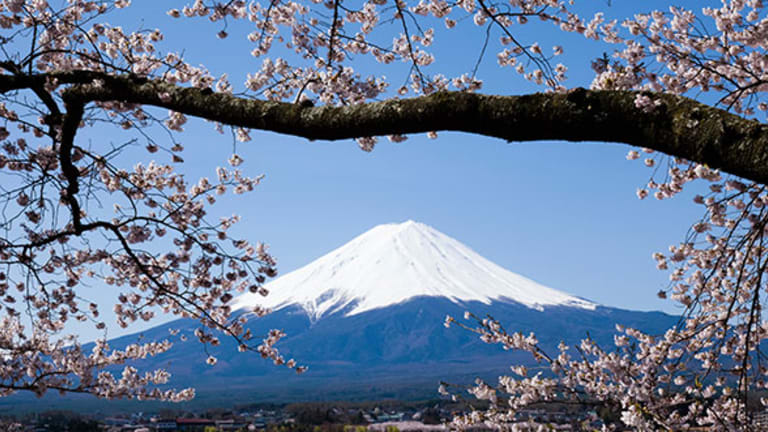 Bearish Correction Looming for Japanese Equities Even as Bulls Celebrate 15-Year Highs
The Nikkei 225 could start a 20 percent correction in the coming months.
NEW YORK (TheStreet) -- Last month, the Nikkei 225, Japan's premier equity benchmark, surprised many investors by climbing to fresh 15-year highs, reaching levels not seen since May 2000. With price now maintaining a clear breakout above the December and January highs, it begs the question, how far will this rally go? Luckily, technical analysis may be able to answer that question within a reasonable probability, and it suggests that bulls should not get too comfortable at these levels.
Japan is a frequent target of the doom and gloom crowd: the country has the highest debt-to-GDP ratio in the world; suffers an aging population; and cannot seem to shake the specter of two decades of sluggish economic growth.
Despite looking for a sizeable correction soon, Japan and the Nikkei are likely out of perma-bear territory. The nearly two decade long bear market that has plagued Japanese equities since the peak in 1990 concluded at the 2008 low, and a new bull market has since started that will eventually take prices beyond the 1990 high.
Anyone familiar with the stock market knows that price does not move in a straight line, though, and periods of counter-trend consolidation are needed as price progresses in the direction of the overall trend. This is the type of correction on the horizon for the Nikkei, but it could erase all of the gains made so far this year and more.
Overall, the size of this correction will be in the realm of 20%, which borders on some definitions of a bear market, but should not be viewed as such. If seen, it will simply be a correction at the same degree as the one witnessed between April 2010 and November 2011 in the Nikkei. Investors in Japanese equities need not panic yet though, since there should still be some near-term upside left before a top is struck.
The Nikkei should reach somewhere between 19,500 and 20,000 before the expected correction begins. See this chart on the path to 20,000. Ideally, price will hit 19,430 later this month, pullback to support at 18,575, and then make a final run to 19,975 for a top in late April or early May.
Assuming the Nikkei follows this expectation, price should then decline in a choppy fashion all the way back to between 16,000 and 14,900 for a bottom sometime in 2016 before the next rally phase begins. Given the bold nature of this prediction, it would be foolish not to adjust expectations if price starts to exhibit evidence of different intentions. Look for a follow up article in the coming months.
This article is commentary by an independent contributor. At the time of publication, the author held no positions in the stocks mentioned.