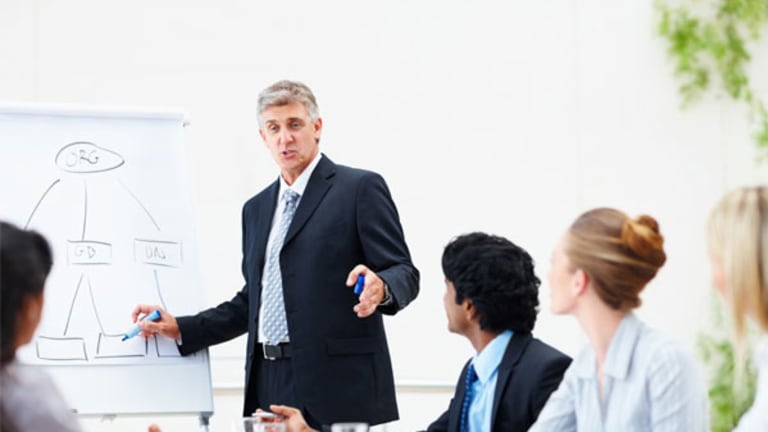 BCS Challenge Would Need to Show Consumer Harm
If fans and advertisers can demonstrate that a BCS cartel creates higher costs, a viable antitrust case could be made.
NEW YORK (
) -- Long-suffering critics of college football's Bowl Championship Series could eventually get their "true" national championship, courtesy of Uncle Sam.
Antitrust rules may finally be invoked to challenge football's method of determining a national champion, if fans and advertisers argue to judges and Congress that the current system is costing them money.
In May, DOJ Antitrust Division Chief Christine Varney sent a letter to NCAA President Mark Emmert asking to explain why there is no playoff system in college football, what the benefits of the current BCS system are for consumers, and if anything in the BCS system doesn't serve the interest of fans.
In the letter, Varney wrote that "serious questions continue to arise suggesting that the current Bowl Championship Series (BCS) system may not be conducted consistent with the competition principles expressed in the federal antitrust laws." She also cited Attorney General Utah Mark Shurtleff's intention to sue the BCS on grounds of antitrust in her letter.
Bowl Championship Series Executive Director Bill Hancock
Emmert demurred, saying the pressing answers to questions by the Justice Department should be fielded by the BCS.
BCS Executive Director Bill Hancock, who was CC'ed on Varney's initial letter, in June voluntarily met with the lawyers at the Antitrust Division of the Department of Justice.
In a phone interview with
TheStreet
, Hancock said he told the DOJ "fans are better off than they were before the BCS and better off than they would be without it because now there is a guaranteed championship."
He said that in their questioning, lawyers "were interested in the access for all conferences and the effect of the BCS on consumers."
Although Hancock expects that the Antitrust Division would communicate either a positive response to his voluntary testimony or a furtherance of antitrust action directly to him, he says, "I haven't heard a word from them."
Meanwhile, Hancock says that the BCS is watching the recent churning in college athletic conferences closely but wouldn't say whether the group has met or is scrutinizing any specific moves, such as where the University of Texas would end up.
"People need to take a deep breath and wait and see what happens," says Hancock.
Reforming college football may be an uphill battle given the complicated antitrust issues surrounding the college football playoff system.
"I suspect the vast majority of consumers don't know that they pay higher prices for Coca-Cola because of the higher prices to advertise in the bowl championship game," says Roger Noll, a Stanford University professor of economics and expert on antitrust law.
Fan disgust is rising after an ugly year for college football off the field. A dizzying number of prospective and actual conference realignments intensified in the last 12 months after years of movements that challenge regional identities and long-established rivalries.
Meanwhile, venerable Ohio State coach Jim Tressel resigned in May amid controversy; USC was stripped of its 2004 national title and the University of Miami was rocked by allegations of cash payments, gifts and prostitution.
While scandal has tarnished the image of many of football's most revered programs, it's the conference realignment and the BCS that's been worse.
Recently, Syracuse University and the University of Pittsburgh announced they are leaving the Big East conference to join the ACC even though the two cities are hundreds of miles from the coast. Big East fans will be heartened when Texas Christian University is added to rivalries that will stretch thousands of miles further than Amtrak's Northeast Corridor route. Meanwhile, the Big 12 currently has 10 teams and the Big 10 has 12.
Clearly, college football is in disarray.
But it is the alignment of the national-championship deciding BCS, not a further concentration of power conferences or general deterioration in morals where fan angst is most likely to be exercised.
It's the structure of the BCS, an organization of 11 NCAA major football conference heads who decide the Rose Bowl, Sugar Bowl, Fiesta Bowl, Orange Bowl and National Championship postseason football matchups based on their rankings, which has gradually gotten more attention from state and federal antitrust authorities.
Previously, premier bowl games were decided by conference-based rivalries that automatically aligned conference winners in a game.
In 2009, Congress kicked off a review of whether the BCS may be in violation of antitrust law -- the 1890s era Sherman Antitrust Act -- when the House judiciary subcommittee on Antitrust, Competition Policy and Consumer Rights began holding hearings. In May of that year, Rep. Joe Barton (R., Texas) called for a playoff system for the national championship in a House Energy and Commerce Committee hearing, matching President Barack Obama's stated preference.
Then, on the heels of a season when the undefeated University of Utah of the Mountain West Conference wasn't invited to the national championship game, Sen. Orrin Hatch (R., Utah) held a follow-up Senate Judiciary Committee hearing in which he called for the Department of Justice to look at potential antitrust violations.
The issue is whether the BCS creates an unreasonable monopolization or conspiracy to monopolize postseason college football. Over the years, the definition of what is an unreasonable monopolization or conspiracy to monopolize under the act has often come down to what the effects of the perceived violation are on consumers.
In
AT&T's
(T) - Get Free Report
stalled merger with T-Mobile, the Department of Justice decided that the merger of wireless telecom giants made the industry too concentrated, potentially making pricing and service quality less competitive for wireless customers. It, along with the Federal Trade Commission founded in 1914, enforces U.S. antitrust law at the federal level.
According to Stuart Paynter, attorney for two plaintiffs with lawsuits against the National Collegiate Athletic Association, an antitrust action against the BCS or college football would not involve market concentration despite sentiment among small conference powerhouses -- like Boise State -- that major conferences control the BCS system. Paynter says potential antitrust violations are "more about whether they are pro-competitive or anti-competitive and how these agreements affect consumers."
Paytner says that if the Department of Justice were to consider a potential antitrust violation, it would send letters asking for justification of the current system and weigh that against any potential consumer harm. He says that "if the harm to consumers outweighs any benefits that the conferences can point to of the existing system,
the Department of Justice would consider bringing a lawsuit."
When asked if the BCS creates antitrust violations, Stanford's Noll, an expert on antitrust wrote in an email that though the "BCS does create an antitrust issue because it involves price fixing and output restrictions by the BCS conferences ... I doubt that DOJ will act."
In a follow-up phone conversation, he said that, "The main losers from the BCS are the television networks and the sponsors of bowl games," because they pay higher prices than they would in a non-BCS system. "
He sees no obvious remedy on antitrust grounds unless fans could argue that today's cartel is a consumer detriment because it increases advertising expense and consumer costs. He adds, "The complaint of conferences like the Mountain West is that they are not part of the cartel, not that they want competition."
In a whirlwind college football year, an antitrust case to challenge college football's BCS quagmire is likely to arise if fans, bowl sponsors and advertisers can argue that the BCS creates a cartel, which increases overall consumption costs. For diehards watching every snap this season, it's not about onfield competition.
-- Written by Antoine Gara in New York