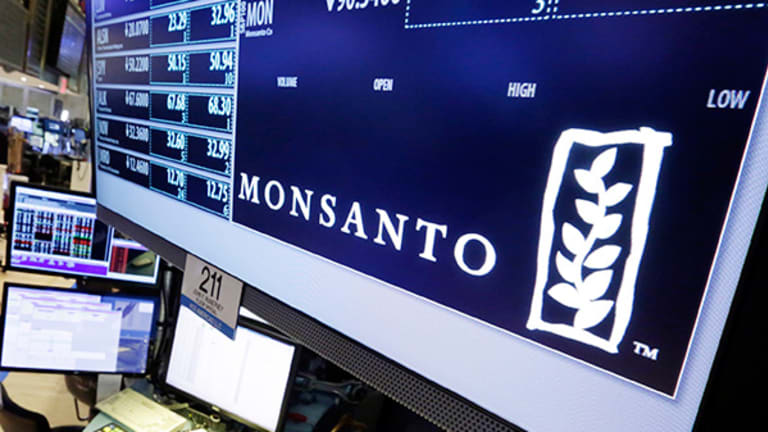 Publish date:
Bayer's Strong Second-Quarter Figures Make Weak Case for Higher Monsanto Bid
Good pharmaceuticals results mask weak crop science results that could be used to justify a new run at Monsanto.
Good pharmaceuticals results mask weak crop science results that could be used to justify a new run at Monsanto.
Bayer's (BAYRY) - Get Bayer AG Report second-quarter figures are the financial equivalent of a glass half-full and half-empty for the German company's management as it ponders the merits of improving a rejected $63.5 billion bid for Monsanto (MON) .
The better-than-expected earnings of €3.05 billion ($3.35 billion) lent heavily on the Leverkusen, Germany-based company's strong pharmaceuticals business and, in doing so, highlighted problems at its agricultural division.
Pharmaceutical's Ebitda before special items climbed 13.3% to €1.35 billion boosted by the success of a handful of new drugs. Crop sciences headed in the opposite direction, falling 8.2% to €663 million. Forecast sales growth for the unit was cut to nothing on Tuesday, down from an expected low-single-digit increase, while Ebitda is now expected to fall.
For the Monsanto takeover's cheerleaders, including Bayer CEO Werner Baumann, crop science's weakness may be seen as justification for the acquisition. In this narrative the Monsanto purchase will supercharge performance at an underperforming business by creating the world's largest agricultural chemicals and seeds business. Bayer claims the combination would deliver $1.5 billion of cost savings and increased sales.
Baumman refused to talk about the bid on Tuesday during a call with analysts. "We have engaged in discussions (with Monsanto)," he told the call. "We do not have anything to add on this occasion."
For shareholders opposed to the Monsanto acquisition, and many of Bayer's shareholders fall into that category, the crop sciences' floundering in the second quarter will reinforce their view that the Monsanto bid is both overpriced and misguided.
Bayer reported an almost 5% decline to €308 million in its admittedly small seeds business. North American seed sales were the major culprit as revenue from rape, canola and cotton seeds all slumped as bumper crops pushed down prices and discouraged new planting.
Those results reflected Monsanto's own fiscal third-quarter earnings, released at the end of June. The St Louis-based company posted EPS of $2.17, against analyst expectations of $2.40, with CEO Hugh Grant lamenting "a low point in the overall agricultural cycle" and "an unforeseen level of challenges."
Doubling down on a sector that is experiencing troubles makes sense if assets are being bought cheaply. Making the same investment at rich valuations, when your own results suggest you have more deserving investment candidates, is folly.
There is plenty of evidence that Bayer's offer for Monsanto represents a very full price.
The latest $125 per share cash bid, which was rejected as "financially inadequate" by Monsanto on July 19, is 40% above Monsanto's undisturbed price of May 9. The offer values the target at about 23 times analyst EPS forecasts of $5.42 for the 2017 financial year, significantly above the about 17 times EPS that Monsanto shares would usually trade at.
Monsanto shares closed Tuesday at $106.02, reflecting investors' belief that Bayer's bid is unlikely to proceed.
Bayer's stock climbed Wednesday to €95.30, up €1.86, or almost 2%, on its Tuesday close.