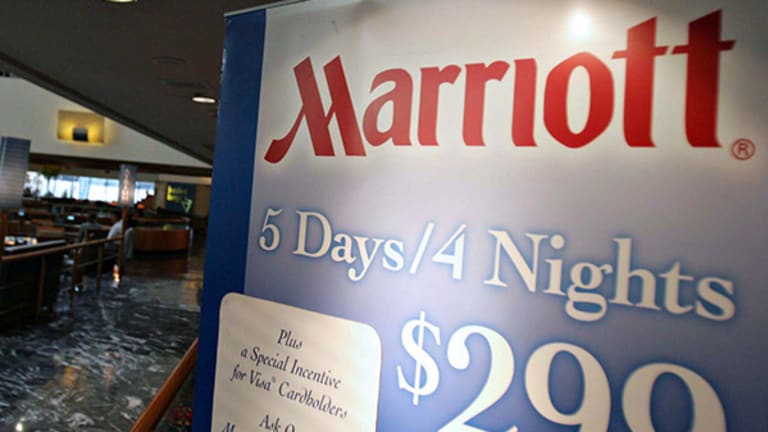 Battle of the Marriotts: Which One Offers More Upside Potential?
Should investors bet on the company that allows customers to book a vacation online or its timeshare sibling?
Should investors bet on the company that allows customers to book a vacation online or its timeshare sibling?
Marriott International (MAR) - Get Report and Marriott Vacations Worldwide (VAC) - Get Report are two separate companies that have maintained a long-established relationship in order to offer travelers alternatives when it comes to vacationing.
TheStreet Quant Ratings has a buy on both stocks, but which one is actually the better bet for investors, and should the Brexit affect the decision?
"I'm afraid it is too soon to speculate or assess the impact of the recent vote," said Edward Kinney, global vice president of Marriott Vacations Worldwide.
That uncertainty drove many hotel and leisure stocks plummeting by more than 6% Friday, more than the Dow Jones Industrial Average's loss of 3.49%.
The less wealthy British traveler may be more likely to vacation close to home, according to U.K.-based digital magazine Leisure Management.
But for investors, is it better to simply book a vacation online via Marriott International or purchase a timeshare from Marriott Vacations Worldwide?
The decision as to whether to purchase a timeshare doesn't have a clear-cut answer. It is based on the consumer's age, budget and lifestyle.
However, the decision to purchase a hotel or a timeshare stock is more straightforward. Buying both stocks would cover all aspects of vacation dreams, but if an investor could only buy one, on a market pullback, Marriott International is the best bet.
Marriott International's acquisition of Starwood Hotels and Resorts Worldwide will create the world's largest hotel company, and the stock has dropped to about $65, from an Oct. 27 high of $78.
Marriott Vacation Worldwide is a good company, but the timeshare industry has been a little tarnished lately, taking the good guys down with the bad. The Consumer Financial Protection Bureau is investigating Westgate Resorts, and there is much talk about needed reforms.
Let's take a look at the structure and limitations of timeshares.
The leisure industry is approaching $1 trillion, so the sector has a place in a diversified portfolio. Baby boomers love to travel, so the industry looks like it has a lot of upside.
Timeshares offer myriad packages.
Early timeshares were fixed, deeded real estate contracts. Seeking more vacation flexibility, contracts evolved into a points-based system, sometimes referred to as vacation currency.
Struggling to address lagging profits, some timeshare resort developers turned to a new approach by extracting the user rights from timeshare deeds. These rights are then packaged into a more ethereal club or vacation membership program.
Typically, right-to-use points aren't deeded and usually aren't subject to real estate laws or regulation.
Consumers should be wary of right-to-use programs. In some cases they become worthless as soon as the contract is signed.
If a licensed timeshare broker won't touch the points, run. One timeshare company has restricted the use of points purchased on the secondary market so severely as to have eliminated the willingness of most licensed timeshare brokers to buy or sell them.
Non-deeded right-to-use point programs resemble a gym membership. Although members don't own a piece of the gym, they don't pay a large upfront sum to use it.
If there is no secondary market for a timeshare, the points become like a gym membership without a right to terminate.
Those buying timeshares can pay up to $100,000 or more for points, but an average price for a one-week stay is about $25,000. Annual maintenance fees also apply.
The timeshare industry is notorious for fraud and scams. When a buyer signs a timeshare contract, it is for life or perpetuity.
The decision to buy any timeshare is often made without having used the service prior to purchase. The decision is often based on the consumer liking the resort itself -- without using the actual service until preparing for the next vacation -- long after the contract recession period.
Timeshare contracts, like most contracts, have a clause that states, "I did not rely on oral representation to make my purchase."
Unscrupulous timeshare sales agents make the most of this by wearing prospects down during sales presentations involving multiple sales agents that can last for hours.
So why buy a timeshare?
Licensed timeshare resale broker David Cortese of Magical Realty in Orlando, Fla., works primarily in the secondary market for Marriott Vacation Worldwide programs, which offer deeded timeshare points. He provided some insight.
"Timeshares are great for those who are looking for an alternative to paying hefty hotel prices. You pay less than you would by renting directly from a hotel or resort," Cortese said.
"Timeshares are also good for larger groups or families that need extra space and a full kitchen, eliminating the need to eat out," he said.
But critics say that there is no financial justification for buying a timeshare, noting that the cost of the initial investment can run into the thousands of dollars, there are rising maintenance fees and the resale market is uncertain. Considering that the contract is signed for a lifetime, the commitment requires a consumer's leap of faith.
The most important aspect of the Marriott timeshare program, whether purchased directly from Marriott or from a licensed timeshare resale broker, is the availability of a fluid and organized secondary market. The Internet is flooded with complaints from those who, either because of being deceived into buying a timeshare or falling on hard times, find themselves unable able to give back or sell their timeshare.
When timeshares are voluntarily surrendered, they are surrendered at no value to the owner. The developer takes the points back and resells them at full value.
Timeshares don't come cheap. Owners should get something for an investment that can often be as expensive as a second vacation home or condo, if they need to be rid of it.
Marriott Vacation Worldwide offers a buyback program for members who are at certain levels. Those purchasing a Marriott timeshare program at any level can find a ready market by calling any of the 64 members of the aptly named Licensed Timeshare Resale Brokers Association.
See full Brexit coverage here.
This article is commentary by an independent contributor. At the time of publication, the author held no positions in the stocks mentioned.