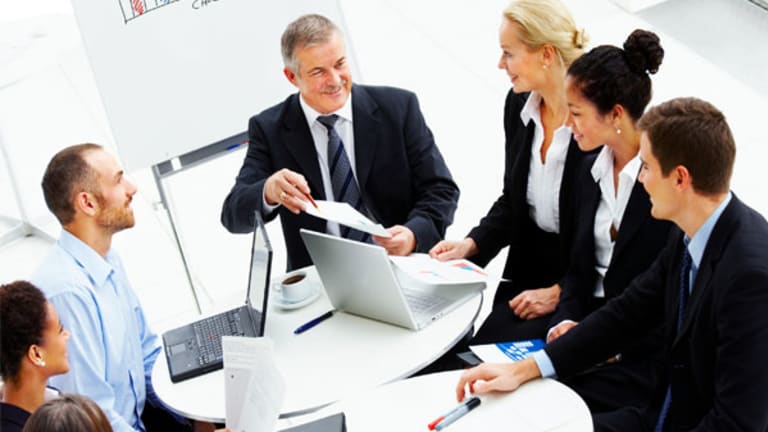 Barnes & Noble to Go Bankrupt Next, Poll Says
Barnes & Noble may be the next bankruptcy in the retail sector, according to TheStreet readers.
NEW YORK (
) -- Investors expect
Barnes & Noble
(BKS)
to be the next retailer to file for bankruptcy, according to a poll of
TheStreet
readers.
Last week,
TheStreet
analyzed the risk of retail sector companies through the Altman Z-Score, a formula developed by New York University professor Edward Altman in 1968. The Altman Z-Score measures several aspects of a company's financial health to forecast the probability of it going bankrupt within two years. Since its inception, the formula has been 72% accurate in predicting corporate bankruptcies two years prior from the filing.
> Bankruptcy Scores: 20 Risky Retailers
On a general basis, companies with a Z-Score of higher than 3 are considered safe, while those with a score of 1.8 or lower are considered distressed. Anything in between is a gray area.
TheStreet found 20 retailers that had a Z-Score under 3 in 2010.
After analyzing each, we asked readers to predicted which, out of five of these companies -- American Apparel, Barnes & Noble, Rite Aid, Zale and Supervalu -- was most likely to file for Ch. 11 next.
>Bankruptcy Scores: 18 Riskiest Retail Stocks of Summer 2010
Barnes & Noble earned the most votes -- a dubious honor, to be sure -- with 31.1% saying it would follow in the way of rival
Borders
. The book-selling giant put itself up for sale last summer, but has yet to find a buyer, which has left investors worried about the future of the company.
It is little secret that the book industry is in shambles, as digital content becomes king, leaving traditional brick-and-mortar stores playing catch up to
Amazon
(AMZN)
and
Apple
(AAPL)
.
And Border's bankruptcy in February only added to Wall Street's jitters. Shortly after its Ch. 11 filing, Barnes & Noble declined to provide guidance for the remainder of the year and suspended its dividend in an effort to preserve liquidity.
While Barnes & Noble is hoping to ride the success of its Nook e-reader, TheStreet readers don't believe this will be enough to help it stave off bankruptcy.
American Apparel, unsurprisingly, came in a close second, with 26.8% of readers saying the t-shirt retailer was next to go bust.
The retailer, which is better known for its racy advertising than its product, warned in April that it may have to file for bankruptcy if it is unable to improve its sales or cash position or find other sources of financing to keep it afloat.
But at least for now, bankruptcy fears have waned after American Apparel received rescue financing last week.
Great White North
, which also bailed out
Jamba
(JMBA)
, agreed to inject about $40 million into the flailing t-shirt retailer. As part of the deal, the investors will immediately give American Apparel $15 million, and during the next six months will retain the right to buy nearly one-third of the company's shares at just 90 cents each.
But this doesn't mean a bankruptcy is off the table. Larry Perkins, head of West Coast operations for Conway Mackenzie, a restructuring firm, says the infusion buys American Apparel about one to two quarters. But if the company doesn't figure out how to fix its business model during that time, bankruptcy is still an option.
Rite Aid came in third with 23.9% of the votes while just 12% believe Zale is teetering on the brink of bankruptcy.
In February 2010,
TheStreet readers predicted that Zale was the next bankruptcy in the sector
.
At the time, the jeweler faced a massive executive shakeup, a prolonged decline in sales, and investigation by the Securities and Exchange Commission, and financing issues.
But since then, Zale has cut costs through store closures, seen its sales recover during the all-important holiday season, and was cleared by the SEC.
Supervalu appears to be the retailer least likely to go under out of the five, with just 6.1% predicting the grocer will file Ch. 11.
--Written by Jeanine Poggi in New York.
>To contact the writer of this article, click here:
Jeanine Poggi
.
>To follow the writer on Twitter, go to
.
>To submit a news tip, send an email to:
.