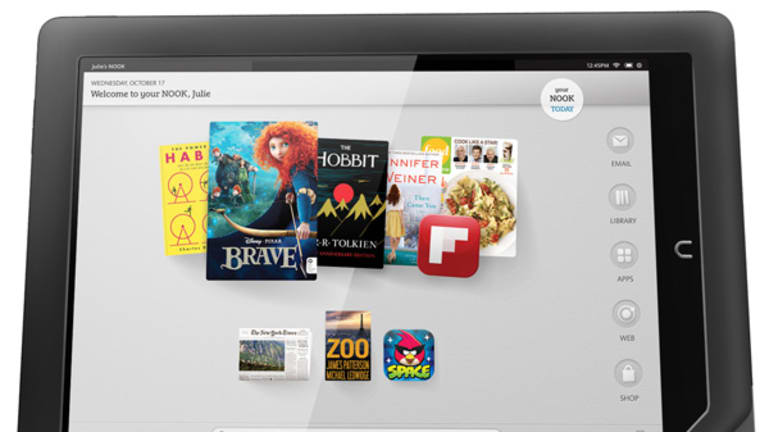 Barnes & Noble Could Be Treading Water. Is It Time to Short?
With an apparent surplus of e-readers and black-balling a major publisher, Barnes & Noble may be in a tough spot.
NEW YORK (TheStreet) -- Barnes & Noble (BKS) could be in trouble. Management seems to be making all the wrong moves.
Aside from the usual fuss about the ability of a primarily bricks-and-mortar retail chain to compete against online retailers, such as
Amazon
(AMZN)
, which frequently sell titles at a discount, the company appears to be at the start of a downward spiral.
Right now, Barnes & Noble is trading at $16.09, on a 52-week range of $10.45 to $26.00, and I have a sneaking suspicion it is only going to
. I see bright flashing warning signs at the book retailer.
Also see: Cramer Greets the 21st Century: Twitter
Barnes & Noble announced Friday that it
would give away a Nook Simple Touch
with the purchase of any Nook HD from Sunday through Saturday -- really? Buy one, get one free e-readers?
C'mon. Someone has a surplus.
And this is not the first time the book seller has given away Nooks.
was offering free or discounted e-readers (depending on the type of Nook) to anyone who signed up for a one-year subscription to
People
or
The New York Times
. Of course, that promotion lasted around eight weeks -- this one is lasting for less than eight days, but it points to an issue. You don't pull a buy-one, get-one deal unless you are trying to get rid of stock, regardless of the length of the promotion.
Imagine for a minute that your favorite retailer said that for the next week, everything in the store was buy one, get one free -- it wouldn't sit right. Most people would assume that the store is really down in sales, possibly even going out of business.
I'm not saying that is the case here -- I'm just saying that the fact of offering such a "bargain" points to a greater issue at the company.
At a minimum, Barnes & Noble should be managing its manufacturing process better so that such surpluses are not a fact of business.
Also see: 6 Surprising Taxes Headed Your Way
Then there is the fact that Barnes & Noble
cut the number of Simon & Schuster
titles it carries. The reduction is reportedly the result of a disagreement over money, but still.
Simon & Schuster, which is owned by
CBS
(CBS)
, is not a small fish. It is not in Barnes & Noble's best interest to shun Simon & Schuster.
By cutting out Simon & Schuster, Barnes & Noble is effectively removing itself from the market for a variety of bestselling titles and some of the most popular writers of our time. As of the week ending March 31, the company had
20 listings on The New York Times Bestsellers'
list. It also counts some big-name authors amidst its ranks, such as Jodi Picoult, Mary Higgins Clark and Ian Falconer's popular "Olivia" children's books.
Moreover, Simon & Schuster may well be positioned to take Barnes & Noble head-on in the book-selling business. The company recently teamed up with Pearson's Penguin Group and Lagardere's Hachette Book Group, and (with the help of more than a dozen other publishers) launched a new
online book site called "Bookish."
News about the site broke last month, so it is still fairly new, but upon its debut the company was offering 1.2 million titles. While Bookish does provide links to purchase books at Barnes & Noble, it is still competition. And, it is competition that provides in-depth reviews and suggestions for similar titles -- a feature that Barnes & Noble's Web site lacks.
Granted, Barnes & Noble is trying to gain footing with its Nook. The company just announced on
Tuesday that in-app purchasing
would soon be available on the Nook, thanks to a partnership with mobile payment processor Fortumo. The new capability means that app and game developers will be able to sell their content directly through the Nook store -- an update that has been a long time in the making.
Amazon's Kindle has long allowed users to make such purchases directly from its device, as has
Apple's
(AAPL)
iPad. I'm not sure if Barnes & Noble's efforts in this direction are too little too late.
It also pushes the Nook into the realm of being more tablet than simply an e-reader. This may help the company gain ground, but I really doubt it will make much difference, especially at first.
Also see: 8 Ways to be Frugal on Easter
With all this going on, I have a hard time believing that Barnes & Noble will be able to reach the $18.40 mean one-year price target, as seen on Yahoo! Finance, let alone the $38 forecast by
Barron's
. While
Microsoft's
(MSFT)
investment in the company last year could point to something, Barnes & Noble is certainly not going to get "there" by shutting out one of the largest book publishers in the world.
I say, short Barnes & Noble. With moves like this, and the way the market is moving toward digital media, the book retailer won't have a leg to stand on before long.
--Written by Renee Butler in Seattle, WA
At the time of publication the author had no position in any of the stocks mentioned.
Follow @ReneeAnnButler
This article was written by an independent contributor, separate from TheStreet's regular news coverage.
Renee Butler is a freelance financial journalist based in Seattle. She has written hundreds of articles and blog posts on hedge funds, the financial markets, investing trends and company developments. Her articles have appeared on MSNBC, MarketWatch, the Motley Fool, The Street and Seeking Alpha, among others. Butler is a member of the National Press Club and the Society of Professional Journalists, and holds advanced degrees in business, financial management, psychology and sociology.