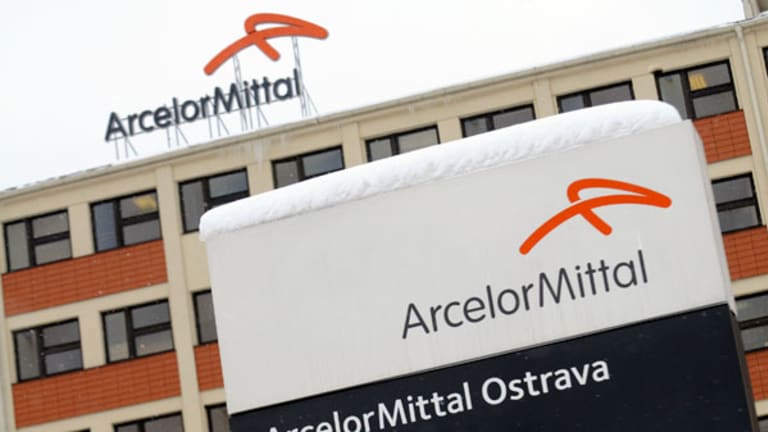 Bargain Shopping in the Steel (Industry) Bin
Shares of ArcelorMittal and U.S. Steel are relatively cheap, but what about their long-term prospects?
Shares of ArcelorMittal and U.S. Steel are relatively cheap, but what about their long-term prospects?
NEW YORK (TheStreet) -- Where's the love for steel?
ArcelorMittal (MT) - Get Report and United States Steel (X) - Get Report, two of the largest steel manufacturers in the world, are trading below levels seen during the Great Recession, despite steady, if unspectacular, growth in the global economy and demand for steel that's projected to increase 3.1% this year, according to the World Steel Association, an industry trade group that represents steel producers.
American depositary receipts of ArcelorMittal were recently trading at $15.14, down 15%l year to date, compared with a 6.1% rise for the S&P 500 Index.
U.S. Steel's shares were trading at $25.90, down 12% for the year.
Steel companies at the end of 2007 had an average price-to-book ratio of 4.1 (Price to book measures a company's stock price to its book value, or assets minus liabilities and intangible assets.)
ArcelorMittal, the world's largest steelmaker, trades at book value of 0.55. That means that its assets and liquidation price are worth almost double what investors are paying for the stock.
Furthermore, ArcelorMittal's PEG ratio (price-to-earnings ratio divided by projected earnings growth rate) stands at 0.37, compared with the steel industry average of 1.07.
U.S. Steel, meanwhile, trades at 0.99 price to book.
The two stocks are cheap by another measure, too. Consider their enterprise value (market capitalization plus debt, minus cash) in relation to their revenue. ArcelorMittal comes in at an EV/R of 0.57, indicating its revenue is almost twice that of its market capitalization and debt combined, and U.S. Steel comes in even smaller posting a diminutive 0.37.
Of course, there are macro-issues in the steel industry, including the glut of steel across the globe, low steel prices and overcapacity. ArcelorMittal, for its part, has been idling excess capacity and selling off non-core assets.
Another issue is the slowing growth of China, the world's biggest consumer of steel. Still, demand for steel in China is expected to grow 3% this year. Meanwhile, steel consumption this year is expected to grow 4.1% in the U.S. and 3.1% in Europe.
The time to buy steel stocks is now while the valuations remain compelling and before the industry, which is already recovering, peaks and stock prices become higher.
ArcelorMittal has posted net losses in each of the past three years, but some analysts estimate it will be profitable by the end of this year or the beginning of next year. On an Ebitda (earnings before interest, taxes, depreciation and amortization) basis, it is projected to earn $8 billion this year, up from $6 billion in 2013.
U.S. Steel, which is also losing money on a GAAP basis, posted Ebitda of $52 million, or 34 cents per share, the first quarter.  
The two steelmakers are sizable companies that offer relatively cheap stocks in an industry that produces an indispensable product. And remember that sometimes you can make the most the most money from buying low on unloved stocks.
Here's What We Think We Know About the Next iPhone
Avoiding the 60-Day IRA Rollover Rule
The Trust About Rental Cars and Insurance
At the time of publication, the author owned shares of ArcelorMittal.

Follow Jason @https://twitter.com/JasonOrestes
This article represents the opinion of a contributor and not necessarily that of TheStreet or its editorial staff.