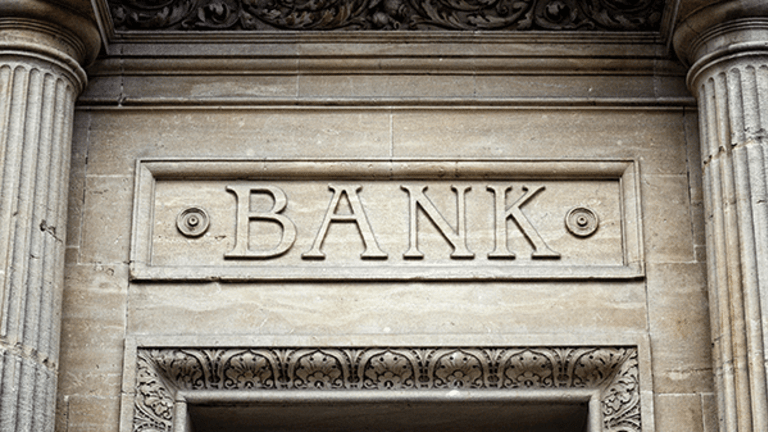 Banks Must Confront Technological Competitors Large and Small
Incumbent banks face numerous competitive threats from technology companies. Here's how they can begin to address them.
The once stable world of banking faces serious competitive threats from technology companies large and small. This is happening as the very notion of what consumers expect from a bank is changing. In order to overcome these challenges, traditional banks need to undergo a period of radical change. They'll have to adapt to a complex environment in which financial service providers have different backgrounds, strengths and operating models.
A number of technology giants already offer services that challenge traditional financial service providers. For example, Alphabet's Google Wallet, Apple's Apple Pay and Facebook'smoney transfer system are threatening the traditional remittance duopoly of Western Union and Moneygram International. These technology companies, along with Microsoft and Amazon, have the financial firepower and the software expertise to rapidly take market share at scale. 
Alphabet, Apple and Facebook are holdings in Jim Cramer's Action Alerts PLUS Charitable Trust Portfolio. See how Cramer rates the stocks here. Want to be alerted before Cramer buys or sells GOOGL, AAPL or FB? Learn more now.
Meanwhile, numerous small financial technology, or fintech, companies are chipping away at various niches: nonconforming credit supply (OnDeck, Kabbage), personal finance (Credit Karma, SmartAssets, BillGuard), institutional investing (Addepar, Estimize), financial research (Seeking Alpha, Stocktagon), retail investments (Motif, Stockr), and consumer banking (Simple, Cardlike). We could go on. These players typically use at least three information technology tools to break into niche markets: online marketing; algorithmic underwriting and other statistical decision making; and automated, touchless back-office processing.
These smaller companies benefit from legislation such as the Dodd-Frank Wall Street Reform and Consumer Protection Act, which requires incumbent banks to be very cautious with their risk appetites and to focus on high-quality credits and conforming mortgages. Because the fintechs typically are not depository institutions, they aren't subject to Dodd-Frank or the Basel Accords. That means they can be nimble with capital and face fewer obstacles in deploying automated systems, which allows them to underwrite loans and process transactions faster.
Some observers say the entire financial services industry is being taken over slowly and broken up by a "fintech swarm." Such a trend is visible, but it probably will not be the dominant one.
As technology challengers of all sizes rise up, incumbent banks have three key problems.
The first is the weight of regulation on depository institutions, whether it be from the Federal Reserve, the Federal Deposit Insurance Corp., the Office of the Comptroller of the Currency or some other entity. Because many fintechs don't take deposits, they're not subject to all that regulation. Of course, the Trump administration could lighten the regulations on banks, but that is not likely to happen quickly because Dodd-Frank can't be simply abolished; it requires a replacement framework. For incumbents, approximately 12% of their operating costs are related to regulatory compliance. This is not the case with either the big software players or the fintechs.
The second problem is legacy systems. Large banks typically have old, complicated, customized computer systems with few connections to modern networks. These aging legacy systems have been carefully integrated over decades, so that they are central to the functioning of these large organizations. They are difficult to change. Where start-ups with smaller and more modern systems can make significant changes in days or weeks, incumbents struggle to respond in months or years. Abolishing or replacing these systems is possible, but it's not easily done, and integrating them is even more difficult. In addition, these institutions have a culture of financial prudence, not IT innovation, and they can have entrenched management resistance to changing long-established internal systems.
The third problem is client experience. Many consumers have had poor experiences dealing with large incumbent banks. The core service of large banks (in the broadest sense) is underwriting, not necessarily client management or using the latest technology to deliver great customer service. Even the best underwriter will lose business to tech-savvy companies practiced in building a compelling experience for large numbers of users via the internet or mobile apps.
So, can these incumbents survive at all? Some observers doubt they can, but the reality is more complex. Some incumbents will transform themselves and become successful in the new world alongside both the IT players and the small fintechs. 
There are some markets the incumbents will surely lose if they do not adapt to rapidly enough. Large chunks of the payment processing market have already gone to both the big IT companies and fintechs. Equally, if the large banks are not amenable to using extensive online selling methods and lending outside the conforming mortgage box, they are going to continue losing market share to fintech lenders.
Of course, the incumbents often have significant resources, and one solution has been to acquire fintechs to fill technology gaps or avoid losing in specific markets. This is not generally an optimal strategy. It is expensive, as the incumbent bank usually has to pay some unrealistic premium for the young fintech, and integrating acquisitions often isn't straightforward. The culture of the fintech can be very different from the large incumbent, and its technology may not be consistent with that of the purchaser.
There are more profound ways in which the incumbents can fight back against both the IT companies and the fintechs, however. They can become tech innovators themselves by understanding and adopting the tools of the big IT companies.
First, they can follow Google in using what's called a "continuous integration system." This system runs test scripts that exercise the company's software to make sure that its millions of lines of code work correctly after any change. This system runs continuously, testing the most recent version of Google's code in minutes, rather than months. Size and complexity, often cited as a barrier to integration at large banks, are not obstacles for Google's centralized continuous integration system. It handles combinations far beyond what human test teams can handle. It runs 100 million tests a day, and even at that scale, it uses some artificial intelligence techniques to figure out which tests to run.
Continuous integration allows Google to release changes in days that would take months in a bank lacking such an automated test tool. And, because this system tests all of the software together, Google can build and test truly integrated systems that share customer data and credentials across all products.
Larger banks would be wise to incorporate continuous integration and related techniques for rapid software improvement into their own DNA. 
This process of continuous integration is now being called a Matrix of Services, or MAXOS. MAXOS is also the name of a consulting team of which the author is a member. It is the only known solution to the difficulties of building large systems, and lends itself to large organizations. All the really big and fast online vendors use a similar set of practices. These practices are available to the incumbent banks if they are ready for a revolution in their IT development practices.
In reality, it is only a few of the largest and most sophisticated incumbents who can make this leap. Goldman Sachs may already be making it. The Enterprise Platform team at Goldman Sachs is, for example, considered one of the most innovative in the banking industry. And it can innovate (and "integrate") on a large scale, while also working within the huge constraints of bank regulation.
Second, incumbents may become cloud technology vendors by selling their internal systems to competitors. They may discover specific niches (e.g., settlement services in certain asset classes) where they have best-in-class software and operations. As cloud computing develops, it becomes a channel for them to sell these capabilities as cloud services. This is what my MAXOS colleague Andy Singleton calls "hyperscaling." Each hyperscaled capability can become the global standard for that aspect of finance used by all players active in that market. The cloud economy is so efficient that we already experience many services this way. Citigroup and BBVA have opened up their internal systems for API access, and Goldman has provided access to their SecDB database, which the The Wall Street Journal called their "most valued trading weapon."
Hyperscaling and conversion of indeed the whole financial services industry to the cloud ecosystem with shared services is one vision of the future. It is in its early days, but Goldman and other big players are already jockeying for position.
The third and last line of defense for some of the big incumbents is not technology, but politics. Just as there is a "Defense-Government" complex, there is also a "Finance-Government" complex in the U.S. Notice how many CEOs of large banks are tapped to serve as Treasury Secretary. There is a deep relationship between these large banks, the Fed and the Treasury, and if nonfinancial players start eroding the market share of the leading incumbent banks, we should expect to see a protectionist legislative backlash against them. The big bank incumbents might argue, for example, that the IT or fintech players are not experienced enough to handle the sheer complexity of financial services regulation, underwriting and the functioning of central features of our complex modern banking architecture. Whether these arguments are disingenuous or not may not matter, because of the deep relationships these banks have with regulators and lawmakers. This is not a long-term fix to inevitable technological change, but it can certainly put the brakes on the encroachment of the IT players and the fintechs.
So where does that leave us? In the foreseeable future, there will be an increasingly diverse mix of competitors in financial services. Some of the sophisticated incumbent banks will adapt, acquire and survive. Other, smaller banks may slowly disappear. (There are some 6,000 banks in the U.S.) The large IT players will clearly continue to encroach on the financial services market, particularly where they can offer a better client experience, and particularly in repetitive processes involving large amounts of data (back-office processing, payment processing, vanilla trading systems, etc). In the meantime, the fintechs will continue picking off market share in particular niches, offering better client services or innovative solutions.
In the long run, we could see a fully open-source-architecture financial services industry, but that's probably some way off. For now, the financial services industry is evolving into a complex melange of incumbents who can adapt, encroaching big IT players and fintechs picking off interesting niches. Managing this future is the central challenge for any incumbent financial institution.
Thanks to Andy Singleton, Ric Merrifield, Brad Power and the rest of the Maxos team for their input on this article.
This article is commentary by an independent contributor. At the time of publication, the author held no positions in the stocks mentioned.
Jeremy Josse is a partner at Brock Capital and the author of Dinosaur Derivatives and Other Trades, an alternative take on financial philosophy and theory (published by Wiley & Co). He has spent more than 20 years in the financial services industry with a range of leading firms including KPMG, Schroders, Citigroup and Rothschild. Josse is also a visiting researcher in finance at Sy Syms business school in New York.