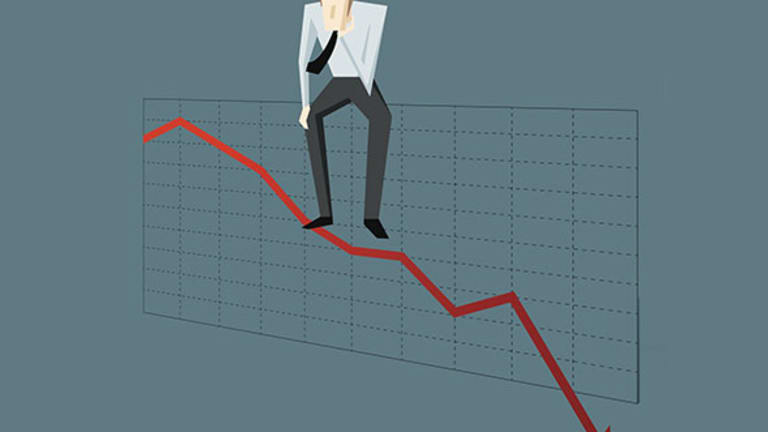 Bankruptcies Suddenly Soar Across Corporate America, Worst First Quarter Since 2009
And it's not just in the troubled oil and gas sector, but in retail, healthcare, mining, finance and more.
NEW YORK (TheStreet) -- "Come down to Houston," William Snyder, leader of the Deloitte Corporate Restructuring Group, told Reuters. "You'll see there is just a stream of consultants and bankruptcy attorneys running around this town."
But it's not just in Houston or in the oil patch. It's in retail, healthcare, mining, finance. Bankruptcies are suddenly booming, after years of drought.
In the first quarter, 26 publicly traded corporations filed for bankruptcy, up from 11 at the same time last year, according to data from bankruptcydata.com. Six of these companies listed assets of over $1 billion, the most since Financial-Crisis year 2009. In total, they listed $34 billion in assets, the second highest for a first quarter since before the financial crisis, behind only the record $102 billion in 2009.
The largest bankruptcy was the casino operating company of Caesars Entertainment (CZR) . Next in line were Doral Financial (DRLCQ) , security services firm Altegrity, RadioShack (RSHCQ) , and Allied Nevada Gold (ANV) . The first oil-and-gas company showed up in sixth place: Quicksilver Resources (KWKAQ) . It joined privately owned natural-gas drillers in crushing their investors.
Among the largest 15 sinners on the list are five more oil-and-gas related companies, but all clustered in the lower half:
This isn't the list of a single troubled sector that ran out of luck. This isn't a single issue, such as the oil-price collapse. It's a broader phenomenon: too much debt across a struggling economy. And now the reckoning has started.
The list only contains publicly traded companies that have already filed. But the energy sector, for example, is full of companies that are owned by private equity firms, such as natural gas driller Samson Resources, which warned in March that it might resort to bankruptcy to restructure its debt. Similar troubles are building up in other sectors.
While stockholders get wiped out and creditors at the lower end of the capital structure lose their shirts, restructuring specialists like Snyder in Houston are licking their chops. For years, the Fed's flood of money kept these companies afloat no matter how badly they were leaking. Now reality is setting in. For restructuring specialists, opportunity has finally arrived.
Corporate bankruptcies are at one end of the spectrum. At the other end? The Fed is so worried that it conducted a workshop evocatively named, "Chapter 9 and Alternatives for Distressed Municipalities and States," during which New York Fed President William Dudley warned about municipal bankruptcies.
This article is commentary by an independent contributor. At the time of publication, the author held no positions in the stocks mentioned.