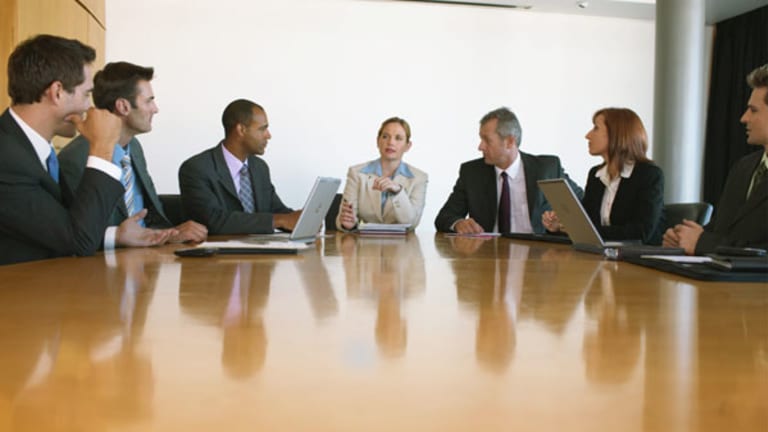 Bankers Should Be Afraid of Their Own Shadow
Traders gone rogue at JPMorgan and Barclays signal that shadow banking is killing the best in banking.
Updated to reflect Diamond letter to Andrew Tyrie, chairman of the U.K.'s Treasury Committe
.
NEW YORK (
) - On Wall Street, no reputation is too great to be broken by the gigantic, opaque and largely unregulated derivatives market, which recently left Jamie Dimon of
JPMorgan Chase
(CJPM)
and Bob Diamond of
Barclays
(BCS) - Get Barclays Plc Report
-- two best of breed managers -- snake bitten.
As JPMorgan and Barclays shares tumble on expectations that losses from inappropriate derivatives trading will multiply, it's now time to view the recently blistered reputations of Dimon and Diamond as a clear sign that high finance needs a drastic overhaul.
In a 'whale' of a derivatives trade gone awry at JPMorgan and allegations of manipulating the setting of short-term interest rates at Barclays, both banks and their leaders are proving, yet again, that even the top minds in finance can't self-regulate the risk taking that occurs in the shadows of the banking system.
After surviving the financial crisis without needing to ask for government bailouts - and even acting as financial safe harbors in the U.S. and U.K. when peer institutions came near collapse -- Barclays and JPMorgan both were among the most vocal and credible critics of financial system reform. Credited with taking over the likes of
Bear Stearns
,
Washington Mutual
and
Lehman Brothers'
North American operations, JPMorgan and Barclays saved thousands of jobs and exited the crisis with a distinguished presence in U.S. and U.K. finance.
That is no longer the case.
Barclays and JPMorgan's respective problems in derivatives trading run amuck leaves the banking sector with few -- if any -- examples left to hold as reason not to go ahead with a sweeping overhaul of the financial sector, highlighted by the 2010
Dodd-Frank Wall Street Reform and Consumer Protection Act's
clamp-down on derivatives markets and Britain's
Independent Commission on Banking
.
In the case of JPMorgan, a unit outside of the bank's everyday operations invested billions of dollars of excess deposits in obscure and illiquid credit derivatives that have precipitated $2 billion in losses, which the
New York Times
said on Thursday
. Since an initial loss estimate was revealed in early May, JPMorgan shares have fallen nearly 15% and it's disbanded the upper ranks of the unit responsible for the losses.
For Barclays, a Wednesday $451 million settlement with regulators in the U.S. and U.K. on its
of short-term interest rates bodes even worse.
In reaction to the settlement and the prospect of lawsuits and a government backlash that could cost CEO Diamond his job, Barclays shares tumbled over 12% in Thursday trading, erasing its year-to-date gain.
The trading loss and a prospect of widespread manipulation in self-regulated interest rate markets are separate instances of the same problem: the shadow banking system - a moniker for esoteric swaps, repo and money market-based trading - is the largest, most profitable and least regulated corner of the financial system. As it stands, the world's largest banks that operate in such markets are believed to have the savvy, the controls and the judgment to operate without the need of burdensome regulators.
But comments from the likes of CEO Dimon in assessing JPMorgan's trading loss and a regulatory investigation by the
Commodity Futures Trading Commission
, the U.S.
Department of Justice
and the U.K.'s
Financial Services Authority
, underscore that such confidence is misguided and drastic intervention is needed.
In testimony to a U.S.
Senate Committee on Banking, Housing and Urban Affairs
, Dimon told lawmakers that the trading loss was a result of a strategy that, "was poorly conceived and vetted." Mirroring issues that caused some Wall Street titans to go belly-up during the crisis, Dimon added that when the unit's trading position soured, the bank's traders, "incorrectly concluded that those losses were the result of anomalous and temporary market movements, and therefore were likely to reverse themselves."
"In hindsight, CIO's traders did not have the requisite understanding of the risks they took," said Dimon, adding that the losses culminated from a strategy that went largely unknown to the firm's management and risk teams. Dimon's comments seem to be a clear acknowledgement that over-the-counter trading, which goes largely unseen to regulators, ordinary investors and even Wall Street's top brass should be brought into the light of day to avoid future blowups.
Allegations of Barclays' manipulation of one of the world's most significant but lesser known financial instruments raises an even greater alarm. Even if banks can be proven to be able to properly monitor their risk taking in shadow markets - or can be proven financially capable to bear the brunt of any losses - revelations of possible widespread collusion in setting Libor and other short-term rates signals that Wall Street cannot be left to police itself.
According to regulators, Barclays traders and employees responsible for determining the bank's short-term funding costs attempted to manipulate or falsely reported benchmark interest rates to bolster profits or minimize losses on derivatives trades. Starting in 2005 Barclays's manipulation "occurred regularly and was pervasive," said the CFTC.
The FSA alleged in its fine that the bank may have violated so-called 'Chinese Walls' between its trading desks and treasury units to collude in manipulating lending rates on hundreds of occasions, and with other banks.
Regulators around the world, including the DoJ, FSA and Japanese and European agencies are investigating manipulation of the setting of the benchmark rates, which are a key part of opaque credit and interest rate derivative markets that have roughly $350 trillion in outstanding market value.
A manipulation of the rates may have unfairly impacted the borrowing costs of homeowners, governments and corporations around the world, as the bank allegedly tried to profit or curb losses tied to floating interest rates at the height of the financial crisis.
In a letter to the U.K. Treasury dated June 28, CEO Diamond called the behavior of some of the banks traders, "wholly inappropriate," but added that improprieties were limited to a small number of traders, with no evidence implicating the firms upper management.
Although Diamond said senior management alerted authorities of the illicit trading when it was uncovered, he conceded, "it is clear that the control systems in place at the time were not strong enough." Still, in spite of apologizing to Treasury and opening an internal probe, Diamond said Barclays is demonstrating responsibility for the crisis-time market manipulation by having some top executives forgo bonuses in 2012 -- hardly an earth shaking move.
Other large banks that set short-term rates may be brought into the fray of an ongoing manipulation probe by the DoJ. In Thursday trading,
Citigroup
(C) - Get Citigroup Inc. Report
,
Bank of America
(BAC) - Get Bank of America Corp Report
,
RBS
(RBS) - Get Royal Bank of Scotland Group Plc Report
,
Lloyds Banking Group
(LBG)
,
Credit Suisse
(CS) - Get Credit Suisse Group AG Report
and
UBS
(UBS) - Get UBS Group AG Report
all slumped on the probe.
It's time to view Jamie Dimon and Bob Diamond as sacrificial lambs, now that they've fallen from haloed status on Wall Street, with few credible advocates for status quo remaining. And while some may push for their ouster, what's really needed is an acknowledgement that where banks once went un-policed, regulatory intervention is now paramount.
So far, some are taking a wait and see approach. The
British Bankers Association
, the governing body of short-term interest rates, said, "this is an announcement with extremely serious implications which need to be carefully considered and the investigation findings will be fully included in the current review of Libor."
-- Written by Antoine Gara in New York