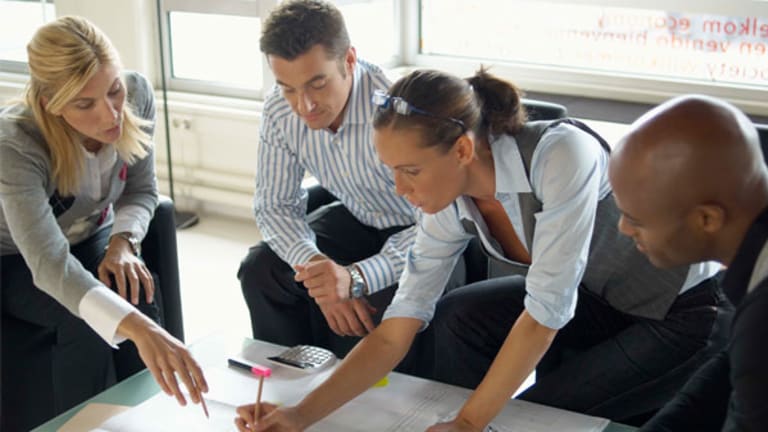 Bank of America's Fourth Quarter Can't Go Well -- and Won't (Update 2)
Even a positive surprise would probably be chalked up to dumb luck.
(Updates to note rise in Bank of America share price on Wednesday.)
NEW YORK (
) --
Bank of America
(BAC) - Get Report
shares have been rallying this year after a dismal 2011. That suggests there's little chance for a positive surprise from the bumbling banking giant when it reports fourth-quarter earnings ahead of Thursday's open.
How else to describe Bank of America, which has stumbled so often since the 2008 crisis it is difficult to imagine the bank doing anything right? Even if it did, investors would probably just chalk it up to dumb luck, and sell the stock anyway.
The current banking environment is not for amateurs. Political and regulatory minefields lurk around every corner. Europe is on the verge of collapse. The U.S. is paralyzed by recession and the short-term thinking of its political and business leaders, who only want to dress up ugly numbers to win the next election or cash in their stock options at the earliest opportunity.
Nowhere are these ills more evident than in the performance of giant multinational financial institutions. Even supposedly well-run companies like
JPMorgan Chase
(JPM) - Get Report
and
Goldman Sachs
(GS) - Get Report
are having a tough time of late.
JPMorgan posted horrible trading results in the fourth quarter as well as a decline in mortgage revenues when it reported its results on Friday. Goldman's quarter was far better than analysts expected, but mostly because it
. Goldman has seen some high-level defections as it struggles to find its footing amid widespread public criticism and the threat of harsh new rules aimed at type of trading that for years formed the heart of its profit machine.
Wells Fargo
(WFC) - Get Report
has bucked the trend, turning in solid results again in the fourth quarter and showing strength in mortgage origination and even capital markets.
But Bank of America is no Wells Fargo. (And remember that billionaire investor Warren Buffett owns Bank of America's preferred shares, not the common stock.) It has been too busy looking for businesses to sell to meet tough new capital rules. Bank of America is in no position to scoop up talented investment bankers on the cheap, as Wells did in hiring several executives from Chicago-based investment firm
Citadel
last year, or to buy a distressed European lending business as Wells did recently in acquiring from Burdale Capital Finance from the
Bank of Ireland
(IRE)
.
With both
Citigroup
(C) - Get Report
and JPMorgan posting poor fourth quarter trading results, it is hard to imagine how Bank of America could do much better. Even if it did, investors would probably view the feat as an unsustainable one-time event. No one is looking for Bank of America to turn into a trading powerhouse -- if such an animal can even be said to exist anymore given how severely new regulations (or merely the threat of them) have clipped the wings of Wall Street traders.
What analysts and investors are hoping to see from Bank of America is evidence that it is putting mortgage litigation risk behind it.
But how can the bank possibly provide such evidence? Don't expect positive news from negotiations between Bank of America and government-sponsored enterprises
Fannie Mae
(FNMA.OB)
and
Freddie Mac
(FMCC.OB)
. Not when the Federal Housing Finance Agency, which oversees the mortgage giants, is under criticism from its inspector general for failing to challenge a $1.35 billion settlement between Bank of America and Freddie Mac over mortgage repurchase clams.
Some analysts are hoping for finalization of a long ago-proposed $25 billion deal regarding mortgage servicing abuses between the banks and attorney generals from a majority of the 50 states in the U.S. Still, a big settlement is hard to envision when attorneys general from several states, including New York, Massachusetts and Delaware, refuse to go along with a deal.
"We look forward to doing whatever it takes to obtain servicing reforms -- whether through a negotiated deal with banks or through regulations issued by the federal Consumer Financial Protection Bureau. But we will not release claims that we are currently investigating," wrote New York Attorney General Eric Schneiderman and his Delaware counterpart Beau Biden in an
for
Politico
.
In addition to mortgage servicing, Schneiderman and Biden are investigating securitization, origination and "the Frankenstein's monster of a recording system called the Mortgage Electronic Registration Systems," they wrote.
JPMorgan, which has far fewer problems than Bank of America, saw its mortgage-related legal costs rise during the quarter, casting an ominous cloud over Bank of America's coming report.
Some analysts are hoping for resolution of Bank of America's proposed $8.5 billion settlement of mortgage litigation between Bank of America, Goldman,
BlackRock
(BLK) - Get Report
,
Pimco
and other large institutional money managers. But with Schneiderman, the FDIC and others arguing against the proposed settlement, it is hard to imagine the deal will go through as proposed.
If it proves more costly, analysts will have to revise upward their projections for Bank of America's mortgage losses. Most of those projections still use that far-from-done $8.5 billion deal as a benchmark.
Bank of America's share price may easily finish 2012 above the $6.48 level where it closed on Tuesday, assuming Europe doesn't come apart in the meantime. Still, anyone who believes the bank's troubles are in the rear view mirror is likely to be in for a nasty surprise.
Indeed, the likelihood of a short-term Bank of America selloff only looked more pronounced shortly before the close on Wednesday, with Bank of America shares up more than 4% to $6.74.
--
Written by Dan Freed in New York
.
Follow this writer on Twitter.
Disclosure: TheStreet's editorial policy prohibits staff editors, reporters and analysts from holding positions in any individual stocks.