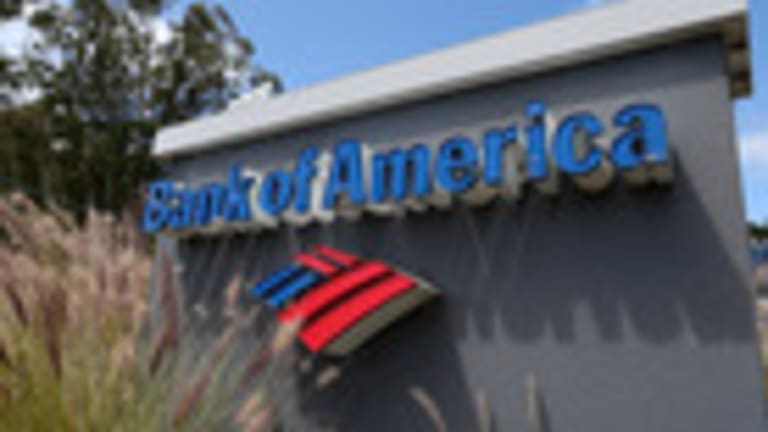 Bank of America Looks Attractive as Regulator, Legal Burdens Fade
BofA's business improvements may help it win Fed approval to increase its dividend and buy back shares, helping its risk vs. reward profile to turn favorable.
NEW YORK (TheStreet) -- Profit expectations for the major banks this earnings season appear more favorable than what is expected in the broader S&P 500 where several multinational companies are dealing with the negative affect of the strong U.S. dollar, which devalues sales in overseas markets.
One of the names to keep an eye on is Bank of America (BAC) - Get Bank of America Corp Report, which reports first-quarter results Wednesday before the opening bell.
The Charlotte, N.C.-based bank is second only to JPMorgan Chase (JPM) - Get JPMorgan Chase & Co. Report among the largest U.S. banks by total assets. But legal expenses, including a recent payment of $16.65 billion to settle charges with the Department of Justice, has kept BofA shares under pressure.
The stock is down more than 12% so far this year, grossly underperforming not only the rest of the market but also the benchmark KBW Bank Index, which is down about 4% this year. Still, there are reasons to be more optimistic about BofA's prospects.
Aside from BofA recently passing its regulatory capital stress tests, investors should be encouraged by what the results revealed.
For instance, in its Tier 1 common ratio, which measures high-quality capital as a share of risk-weighted assets, BofA produced a mark of 7.1%, which is more than 2 percentage points higher than the minimum of 5% allowance level. This means that BofA's business/capital position is less risky.
Likewise, in BofA's Tier 1 leverage ratio, measuring the quality of capital (as a share of all assets), BofA posted a mark of 5.1%, 1.1 percentage points higher than the 4% minimum required by the Federal Reserve. Again, this means that though BofA -- like many other banks -- is navigating a weak low interest rate environment that is pressuring its profits, it is also possible that the bank has already seen the low spell in its operation.
The stock has a consensus buy rating among 34 analysts polled, according toCNN Money.
And BofA has an average price target of $18, suggesting possible gains of 14.5% from about $15 a share. This means that though the stock isn't cheap, trading at 44 times earnings, BofA can still deliver value to investors.
And after posting a 5-cent loss in the year-ago quarter, due largely to legal fees and settlements totaling $6 billion during that quarter, BofA is expected to have earned a profit in the just-ended first quarter and for the rest of the year.
Consensus first-quarter earnings estimates of 29 cents a share is more than just an encouraging sign. It implies that BofA is expected to post the strongest year-over-year earnings growth among the big four banks, including Citigroup (C) - Get Citigroup Inc. Report, JPMorgan Chase and Wells Fargo (WFC) - Get Wells Fargo & Company Report, which are projected to climb 13%, rise 8.5% and decline 6.6%, respectively.
BofA's first-quarter expenses will be an important predictor of what investors can expect in terms of performance/profits for the rest of the year. That the bank has settled legacy issues related to residential mortgage-backed securities would suggest that legal costs though not entirely gone may be less of a factor in the quarters ahead.
And to the extent that these cost savings can help BofA win Fed approval to increase its dividend and buy back stock, the bank would have quickly turned its risk vs. reward profile to a more favorable position.
This article is commentary by an independent contributor. At the time of publication, the author held no position in the stocks mentioned.