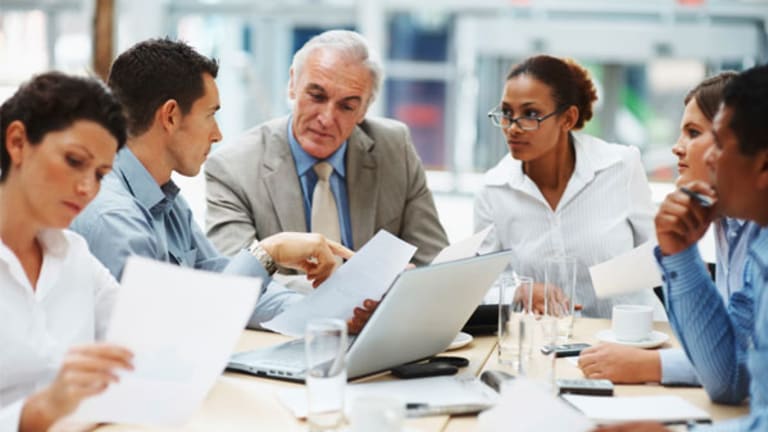 Bank of America Has It Right on Fees, So Back Off (Update 2)
Before a knee-jerk reaction against Bank of America's service fee changes, keep in mind that fees can be easily avoided.
Before a knee-jerk reaction against Bank of America's service fee changes, keep in mind that fees can be easily avoided.
Updated from 11:08 a.m. ET with statement from Bank of America that says new fee structure will only apply to new deposit accounts.
NEW YORK (
) -- Let's put on our thinking caps before the inevitable and tiresome outcry against
Bank of America's
(BAC) - Get Report
coming deposit service and fee changes.
The
Wall Street Journal
on Thursday reported that Bank of America was "working on sweeping changes that would require many users of basic checking accounts to pay a monthly fee unless they agree to bank online, buy more products or maintain certain balances."
A Bank of America spokesperson says that "there is nothing new in the
Wall Street Journal
article," since the company had previously disclosed the "new solutions we are testing in Massachusetts, Arizona and Georgia, and all of them offer ways to avoid monthly maintenance fees. If customers do their basic banking online or via ATM, there are no fees."
The spokesperson confirms that a customer who only has a checking account with Bank of America, can avoid all service fees by switching over to electronic banking, which includes free electronic bill paying.
The company later provided additional detail, calling media reports of new fees for existing customers "inaccurate," and saying "Bank of America is not planning to increase checking account fees with our existing customers."
In a statement, the company added that "since January 2011, Bank of America has been testing checking account options for new accounts only, in Arizona, Georgia and Massachusetts," and that BAC "is continuing to learn from those tests and has not made any decisions about when, how, or if we would change our fees on new accounts."
Bank of America's plan last year to institute a $5 monthly fee for the privilege of using a debit card was not well thought out, and after a predictable outcry, the company backed off.
This time it's different, and the company has no choice. The recent political and regulatory curbs on deposit account service charges began on Aug. 15, 2010, when the
Federal Reserve
implemented new rules requiring banks only to provide expensive ATM and debit card overdraft protection for customers who previously signed up for the service.
The first full quarter of operations under the new rule was the fourth quarter of 2010, when Bank of America's service charges on deposits accounts dropped 36% from a year earlier, to $$1.3 billion, according to
HighlineFI
.
3 Stocks Investors Are Selling But Should Be Buying
When the "opt-in" rule went into effect, Bank of America eliminated all point-of-sale overdraft protection for debit card purchases, which a company spokesperson says "has significantly limited customers' ability to unknowingly overdraw their accounts and eliminates unexpected overdraft fees on these transactions."
For ATM transactions that could cause an overdraft, Bank of America says "we alert customers in advance that a transaction might cause an overdraft and result in a fee, and the customer can choose whether or not to proceed with the transaction."
The company in November settled a class action suit over maximizing overdrafts by processing the largest transactions first on a daily basis, by agreeing to pay $410 million to 13.2 million customers whose debit card overdraft fees had been maximized, when the bank processed larger transactions first.
The latest megahit on fee revenue was the Federal Reserve's clampdown on the interchange fees large banks charge merchants to process debit card purchases, as required by the Durbin Amendment to the Dodd-Frank Wall Street Reform and Consumer Protection Act.
10 Stocks to Own During a Dividend Bubble
The Durbin Rule reduced Bank of America's fourth-quarter revenue by $400 million.
Here's how the "opt-in" and Durbin rules affected the rest of the "big four" U.S. bank holding companies:
JPMorgan Chase's (JPM) - Get Report service charges during the fourth quarter of 2010 -- the first full quarter under the requirement that customers sign up for ATM and debit card overdraft protection in advance -- totaled $1.1 billion, declining 18% from a year earlier. The company said in its annual 10-K filing on Tuesday that "as a result of the Durbin Amendment, its annualized net income may be reduced by approximately $600 million per year."
For Wells Fargo (WFC) - Get Report, fourth-quarter 2010 service charges on deposit accounts totaled $1.0 billion, declining 27% from a year earlier. The company said during the fourth quarter of 2011, it saw a "$365 million decline in debit interchange fees."
For Citigroup (C) - Get Report, which has a much smaller U.S. deposit base than the other "big four" club members, fourth-quarter 2010 service charges on deposit accounts actually increased 1% year-over-year, to $158 million. The company said during the fourth quarter of 2011, main subsidiary Citicorp saw a slight year-over-year increase in retail banking revenue, to $4.1 billion.
The next attack on banks service charge revenue is likely just around the corner, with the new and very powerful Consumer Financial Protection Bureau announcing on Feb. 21 that it had "launched an inquiry into checking account overdraft programs to determine how these practices are impacting consumers," with Director Richard Cordray saying that "overdraft practices have the capacity to inflict serious economic harm on the people who can least afford it."
With the "opt-in" rule already in place, with the most peoples' ability to count, it would seem the CFPB might be overreaching here to protect people from themselves, but it doesn't matter. The bureau exists, and it has the power to hammer through more changes and more revenue reductions for banks.
The CFPB on Thursday announced that it "began accepting consumer complaints about bank accounts, including checking accounts, savings accounts, CDs, and related services."
Cordray said "deposit accounts play a critical role in the lives of most Americans, but these products and the laws governing them are complicated," adding that "consumers need someone on their side to keep banks and credit unions accountable."
The bureau said it expected "to respond to complaints within 15 days and seeks to close all complaints within 60 days," and expected to receive complaints about account opening, closing and management; deposits and withdrawals; ATM and debit card usage; payment transfers; and "problems related to low account funds."
The benefits of electronic banking.
Switching over to electronic banking is a winning proposition for all parties:
With electronic banking, it is very easy to keep track of your records. In this day and age, a three-ring binder of bank statements seems a little dated, and it takes up a lot of room, and Murphy's Law indicates that the key statement you need, will be missing.
With electronic bill paying, you save on postage, you avoid manually writing checks, filling out a check register, etc., and avoid check printing fees. It's also easy to pull up records to prove payments have been made.
You avoid a monthly service charge.
The bank's costs are reduced, since they no longer have to buy paper and envelopes, print and send expensive monthly statements.
When interviewed last week for our coverage of the CFPB investigation on
, FBR analyst Paul Miller said "it costs between $100 and $120 a year to maintain a checking account for your customer," and that if the new regulatory paradigm meant banks were losing money on checking accounts, they would institute fee changes to "either push you out the door, or find a way to charge you."
10 Top Warren Buffett Dividend Stocks
It appears that Bank of America is following a well-thought-out plan this time to address a long-term revenue and expense problem.
The self-styled "consumer activists" will be clamoring, once again, for you to switch over to a credit union. Fine. But keep in mind, you will be giving up free access to a national network of 17,750 ATMs.
--
Written by Philip van Doorn in Jupiter, Fla.
To contact the writer, click here:
.
To follow the writer on Twitter, go to
http://twitter.com/PhilipvanDoorn
.
Philip W. van Doorn is a member of TheStreet's banking and finance team, commenting on industry and regulatory trends. He previously served as the senior analyst for TheStreet.com Ratings, responsible for assigning financial strength ratings to banks and savings and loan institutions. Mr. van Doorn previously served as a loan operations officer at Riverside National Bank in Fort Pierce, Fla., and as a credit analyst at the Federal Home Loan Bank of New York, where he monitored banks in New York, New Jersey and Puerto Rico. Mr. van Doorn has additional experience in the mutual fund and computer software industries. He holds a bachelor of science in business administration from Long Island University.